Equestrian: 10 things learned
Here are the top takeaways from 2015 in the sport.
27 Dec 2015
Imagen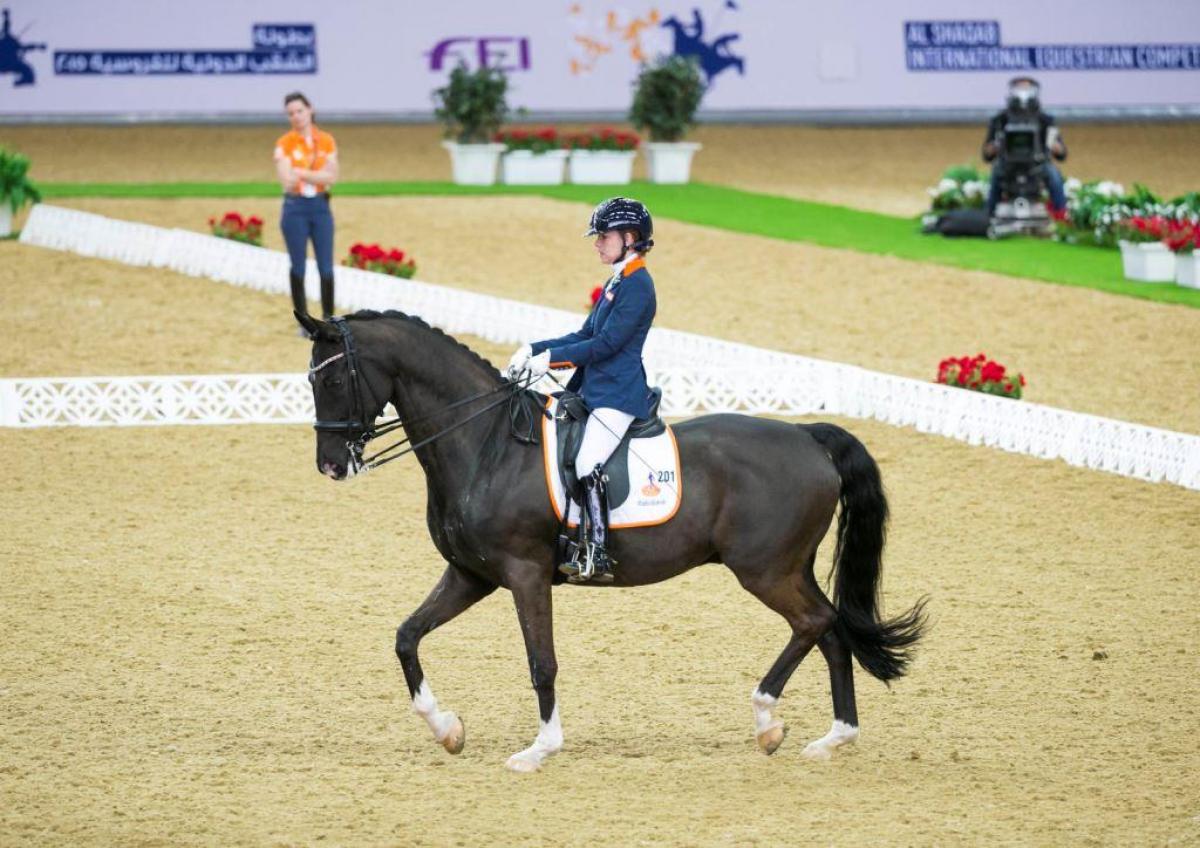 ⒸFEI
By Robert Howell | For the IPC
This year proved to be another great one for the international riders who compete in para-equestrian dressage. Although a relatively quiet year, competition-wise, riders around the world prepared for the big one – the Rio 2016 Paralympic Games.
Here then, in no particular order, are our 10 highlights of 2015.
1. Pearson a double-star: Great Britain's Lee Pearson was a finalist in the British reality TV show "Flockstars" (which is basically celebrity sheep dog trials). Accompanied by his canine companion Skye, the grade Ib 35-time gold medallist at the European, World and Paralympic levels sailed through his first round and semi-final only for his herding technique to desert him in the final, where he finished third.
2. Morganti bounces back: Italy's Sara Morganti shook off a disappointing bronze medal at this year's International Equestrian Federation (FEI) Para-Equestrian Dressage European Championships by recording two personal bests at a competition in Arezzo, Italy. Morganti also finished the year second in the world rankings, just behind her close rival in the grade Ia competition, Great Britain's Sophie Christiansen. Morganti said: "Above all that though I'm the happy owner of the very young and green, but fantastic horse Ferdinand di Fonte Abeti who I am bringing up beside my current horse, Royal Delight."
3. Orange is the new gold: The Netherlands topped the medals table at the European Championships in Deauville, France, one of the stand-out performances of the year. There were golds for Rixt Van Der Horst in the grade II competition, Frank Hosmar in grade IV, as well as silvers and bronzes. The team knocked Great Britain off the top of the table at a major international for the first time ever.
4. Hosmar in the mix: Frank Hosmar's golds are worth a mention too. A popular figure on the international scene, Hosmar had yet to claim a major title, consistently coming second or third in his grade. In Deauville though, it was his moment to shine, and he seized it to take both the individual and freestyle titles.
5. Pepo can overcome: The most emotional winner at the European Championships was Austria's Pepo Puch who won both individual and freestyle golds in the ultra-competitive grade Ib. It was a close run, however, as his horse, Fine Feeling S, took some time to pass the vet inspection, which takes place before every major competition.
6. Pepo outside of competition: And Puch was also a star turn at the first ever Para-Equestrian Dressage Forum, held in Essen, Germany, in March. Riders, officials, judges, and representatives from the FEI gathered for two days of debate and discussion aimed at further developing the sport. Puch enchanted the audience with a personal presentation about his life and journey into the sport, which resulted in a long-standing ovation.
7. Heart of Hart: One of the USA's top riders, Rebecca Hart in grade II, said of her 2015 year: "I had had an amazing competition year with some very good successes with Romani. However, one of my particular highlights was at the Hereditary Spastic Paraplegia Conference where I spoke to some young kids about dealing with their disabilities. A young boy came up to me afterwards and told me that I had made him look at himself differently. He no longer classified himself as 'disabled.' He classified himself as normal and being unique is a great thing. That moment of being able to get someone to look beyond their disability and see the potential in themselves is one of the reasons that I share my story and love the Paralympic Movement."
8. Growth of sport outside Europe: The Canadians continue to go from strength to strength too, making the most of a second European tour to gain valuable experience and competition practice ahead of next year's Paralympics.
9. British riders in multi-sport: It is not just dressage either; two British riders, Sophie Christiansen and Erin Orford, made up part of a team (with Christiansen's boyfriend) to compete in the Tribal Series Para-Triathlon competition earlier in the year. Orford swam the first leg with Christiansen competing the cycling leg.
10. British still the ones to beat: Team GB successfully debuted three new horses at the European Championships in Deauville, taking team gold and a slew of other medals in the process. Christiansen's new ride, Athene, was a double champion in the grade Ia, while Natasha Baker's new horse Sooki St James, took two silvers in the grade Ib. In the grade IV competition, it was two silvers also for Sophie Wells on her reserve ride, C Fatal Attraction.