FEI elect new President and host awards ceremony
Belgian Ingmar De Vos is the new FEI President whilst Sydney Collier and her service dog Journey picked up the Against All Odds award.
21 Dec 2014
Imagen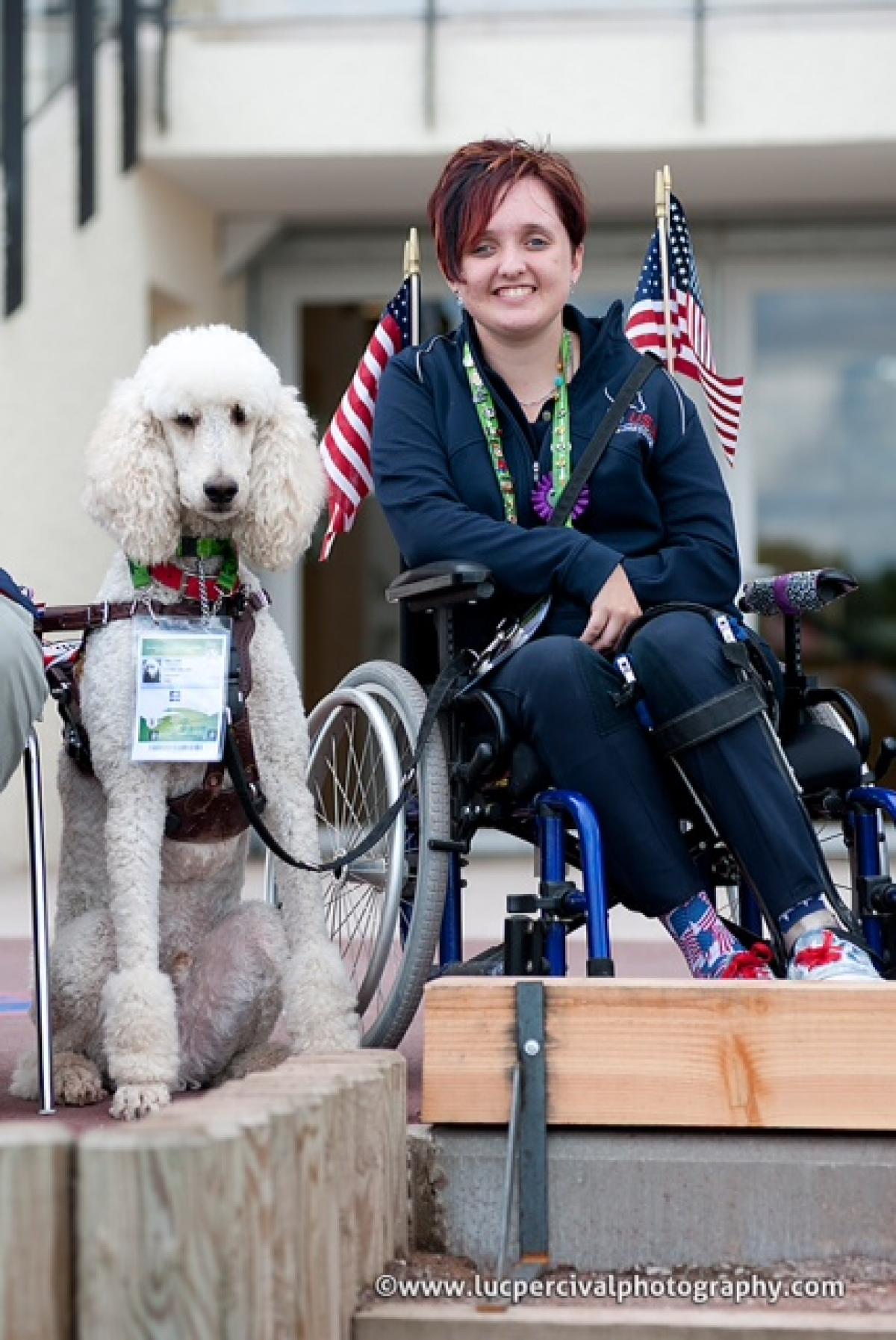 ⒸLuc Percival
By FEI
"In winning this award I now have the incredible opportunity to share with so many others facing similar circumstances that their goals do not ever have to be put aside."
The Fédération Equestre Internationale (FEI) elected a new President last Sunday (14 December) with Belgian Ingmar De Vos succeeding outgoing President HRH Princess Haya at the FEI General Assembly in Baku, Azerbaijan.
De Vos, 51, the Secretary General of the FEI since May 2011 was elected to take charge of the world governing body of equestrian sport by an overwhelming majority in the first round of voting, earning 98 votes out of a possible 131.
The result was announced by HRH Princess Haya with the simple words: "I am pleased to announce we have a new FEI President, Ingmar De Vos". Her words were met with prolonged applause from close to 350 delegates representing 91 National Federations, stakeholders, sponsors and international media.
"I'm really very honoured and overwhelmed by this enormous support," a clearly emotional De Vos said, "and I would like to thank you from the bottom of my heart for your confidence. Baku will be in my memory forever.
"Elections are always difficult, as it splits a little bit the family, but I guarantee that I will be the president of all of you, I will serve all the members of our community and I will work very hard to keep this unity."
He went on to thank his great friend and mentor Jacky Buchmann, who has recently been re-elected as President of the Belgian Equestrian Federation. And finally, with great emotion, he thanked outgoing President Princess Haya.
"Words cannot explain what she has done for our organisation. She has shown leadership, she has guided us through difficult waters, she has innovated us, she has modernised us. She has left us with a great legacy and I believe, together with many of you, that it is our responsibility to preserve the legacy and go on with the roadmap she has shown us. Words are not enough to thank her. Over the years we have become good friends, and I am thankful and grateful for your support. Thank you from the bottom of my heart."
Also in Baku, the FEI Awards Gala 2014, presented by Longines, took place in Baku's Buta Palace with almost 350 guests in attendance.
Five winners were recognised in the "Oscars of the equestrian world" including US para-equestrian dressage athlete Sydney Collier and her service dog Journey who picked up the Against All Odd award from HRH Princess Haya on her final day as FEI President.
Born in Ann Arbor, Michigan, Sydney Collier was diagnosed with the rare Wyburn Mason syndrome at the age of seven. The disease has meant that she has been faced with significant obstacles, but these have not prevented her from reaching her goals. The 17-year-old has undergone a series of operations, including three brain surgeries, is blind in one eye, and a stroke at the age of 11 led to paralysis on her left side.
Despite these challenges, she has pursued her dreams relentlessly, and after competing at the Alltech FEI World Equestrian Games 2014 this summer, is determined to continue training and represent the USA at the Rio 2016 Paralympic Games. In between training in New York, 10 hours away from her family and friends, she also volunteers once a week to speak, motivate and encourage young people of her age who do not have the same motivation and family support that she does.
Sydney Collier was also recently announced 2014 Junior Equestrian of the Year by the United States Equestrian Federation.
Sydney's service dog, the white standard poodle Journey, who became famous during the Alltech FEI World Equestrian Games 2014 in Normandy for being the first dog to get accreditation for a World Championship, created a buzz again at the awards when he arrived on stage at the Buta Palace complete with bow tie. After travelling over 9,000km from New York, Journey took to the stage to receive his own FEI Award, a personalised dog bowl.
"Winning the FEI Against All Odds Award means so much to me as an individual, and as an athlete," Sydney Collier said. "Life has routinely thrown speed bumps and curves on my plans, but my passion for horses and their incredible spirit has repeatedly helped me find a way around obstacles that others might have seen as insurmountable.
"In winning this award I now have the incredible opportunity to share with so many others facing similar circumstances that their goals do not ever have to be put aside. The world out there is filled with wonderful opportunities as long as you are willing to push yourself to reach them. I would like to thank the FEI for creating this award to help continue to inspire every athlete, regardless of challenging circumstances, to strive to be their best every day in and out of the saddle. And to my family and my trainer Wes Dunham who have been beside me every step of the way. I wouldn't be standing here today without each one of you supporting and cheering me on through thick and thin.
"It means even more to me to have my special service dog Journey by my side to accept this award. When Journey was granted his credentials at the Alltech FEI World Equestrian Games a world of opportunity and education was opened. Together Journey and I are now able to share with others the special working relationship and independence that service animals grant their handlers. The icing on the cake? Journey loves horses as much as I do!"
The awards, which were launched in 2009 to reward excellence, commitment, dedication and courage were hosted by Azerbaijani TV presenter Leyla Aliyeva and retiring FEI Endurance Director Ian Williams.
Outgoing FEI President HRH Princess Haya was herself celebrated in a special presentation in acknowledgement of her outstanding commitment to equestrian sport and to the FEI, during her eight year term in office.