Onto the finals
Germany's women's wheelchair basketball team was ecstatic after defeating the Netherland's to advance to play Australia for gold.
06 Sep 2012
Imagen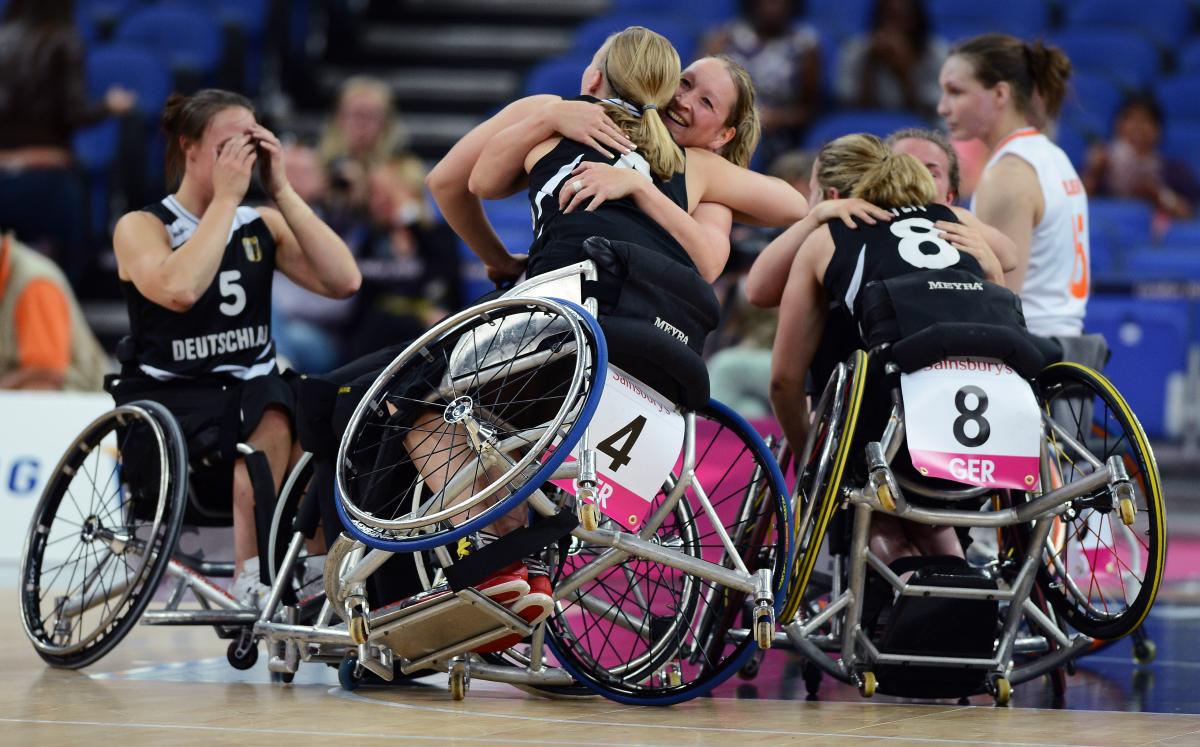 ⒸGetty Images
"Four years ago we went for the gold and we got silver, that sucked. It's definitely time for gold."
At London 2012, Germany's women's wheelchair basketball team is determined to go one step further than at the Beijing 2008 Games and claim the coveted gold medal after becoming victorious against European rivals the Netherlands in their epic semi-final contest.
Germany will now face Australia in the finals after the Aussies defeated USA, 40-39, in a tightly knotted finish earlier in the day in the other semi-final.
At Beijing 2008, Germany were made to settle for silver after being defeated by USA, 50-38.
Captain of the German side, Marina Mohnen, stated how much more that final has made the European giants want to become Paralympic champions in London.
"Four years ago we went for the gold and we got silver, that sucked," she said. "It's definitely time for gold."
This attitude was clear to see as the German team powered their way through against tricky competition from the Netherlands with Mohnen racking up 20 points for her team in a match that finished 49-46.
The 33-year-old scored three vital points in the last 90 seconds that clinched the game for her team.
"I am very, very relieved it worked out," she said. "I was very happy when we got the baskets at the end."
Germany are yet again leading the way for the rest of Europe when it comes to women's wheelchair basketball, as they are set to make their second consecutive Paralympic finals appearance when they face a robust and dangerous Australian outfit.
Australia overcame the USA in their tightly contested semi-final match 40-39, as they defended aggressively and pounced on the American side with a blistering counter attack.
Mohnen commented that her side is fully aware that Australia will look to deploy their rough, in your face style, which has proved very effective so far in shaking up their opponents and exploiting their weaknesses.
"They play a tough defence and they like to foul a lot," she said, "they really try to destroy the teams they play against."
Coach Holger Glinicki explained that Australia will not be able to just count on pure, brute force to win them the game.
"We have to play our game, if they want to try to kill our game, we have a strategy against a defensive press," the coach said.
Glinicki believes his side's speed and quality will create and open game, as he will set his side up to go at the Australian team from start to finish.
He said: "Australia are a very good defensive team, they play a very hard defensive press but with our fast players Edina Mueller and Annika Zeyen, we have more options to play against the pressed defence.
"So I think it will be an open game, similar to the game against the Netherlands, it's more than 50-50 for us."
Germany have dealt with their path to the final with relative ease as they dominated Group A, which included an impressive opening game performance against 2008 Paralympic winners, USA.
The captain emphasised the significance of that victory over USA in building momentum for the rest of the competition.
She said: "Of course it is important to win your first game, beating the USA gave us a lot of self confidence and the momentum to keep progressing through every game."
Victories against France, China and Mexico, saw them breeze through the group stage and set up an interesting quarter-final encounter against Great Britain, in which Germany defeated the reigning European champions, 54-44.
Mohnen will look to lead her team to the gold medal that they desire so much and she has the utmost faith in her teammates.
"I will say to them before the match, 'girls we know what we can do, we are a good team and if we do what we can we will win.'"