French NPC donate low cost equipment to six countries
Benin, Nigeria, Cameroon, Rwanda, Senegal and the Central African Republic all set for low-cost racing chairs
26 Jul 2013
Imagen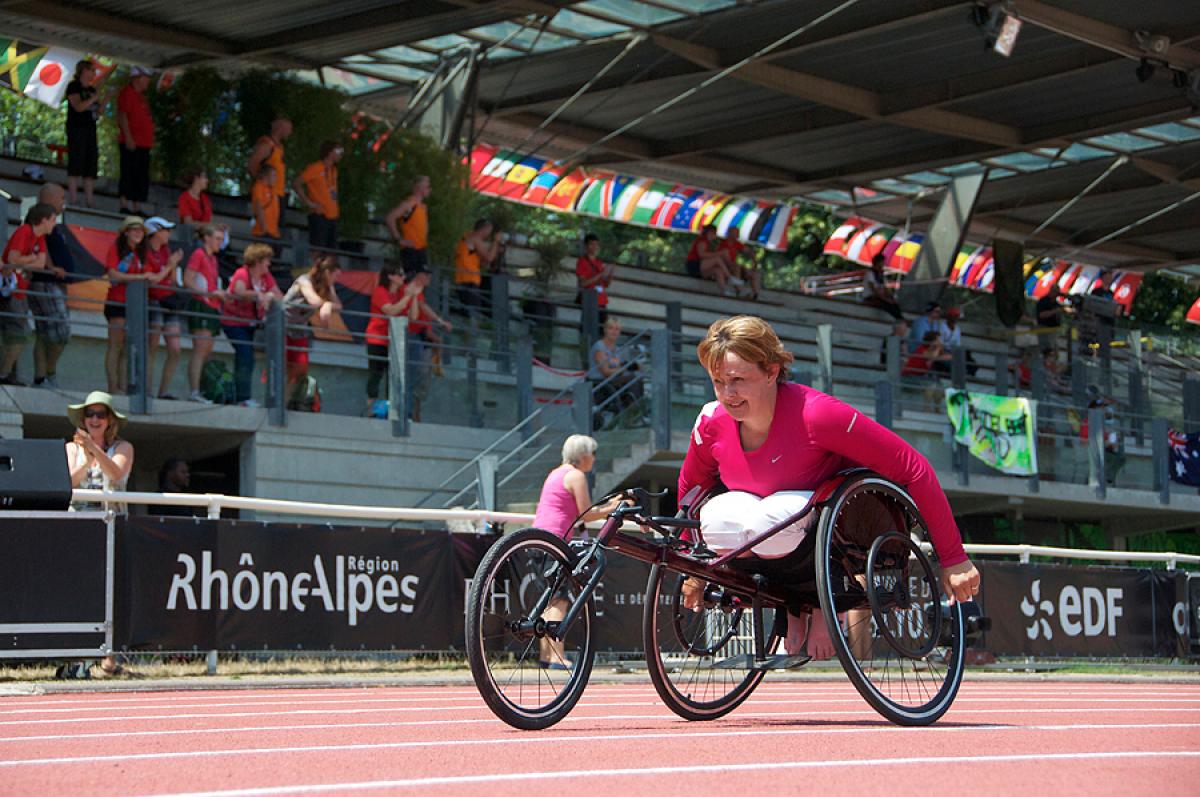 ⒸNathalie Gayda
We are really proud as it's our duty to sustain the development of para-sport in developing countries."
Six French speaking African countries are benefiting from some brand new sports equipment after the French Paralympic Committee donated six racing wheelchairs to them at the 2013 IPC Athletics World Championships in Lyon, France.
The specially designed low-cost chairs were purchased by the Agitos Foundation, the International Paralympic Committee's development arm which aims to be the leading global organization developing sports activities for people with a disability, as a tool for changing lives and contributing to an inclusive society for all.
The chairs, produced by Motivation UK and launched during London 2012, were presented by French National Paralympic Committee President Emmanuelle Assman to the Paralympic Committees of Benin, Nigeria, Cameroon, Rwanda, Senegal and the Central African Republic.
French Paralympic Committee President Emmanuelle Assman said: "We are really proud as it's our duty to sustain the development of para-sport in developing countries.
"This action is in keeping with the athletic internship organized last December in Senegal, in association with the IPC, the French-speaking ministerial conference of youth and sports (CONFEGES) and the future games of disabled persons in Africa (JAPHAF).
"During a week, executives and coaches trained their African counterparts. It's also a way to help these countries and their athletes taking part in the upcoming Francophone countries games that will take place in Nice, France, from 7-15 September."
To mark the handover of the chairs to the six countries, a special Agitos Foundation 4x100m media relay race involving teams from Great Britain, Brazil, France and the Netherlands was organised. Those who took part included Paralympians and Olympians who came out of retirement to try and lead their teams to glory.
Great Britain's BBC Radio 5 Live team which included Baroness Tanni Grey-Thompson – Britain's most decorated Paralympian - Kate Grey, a Paralympic swimmer, and three-time Olympian Alison Curbishley, were victorious against their big rivals Channel 4.
The race was started by IPC President Sir Philip Craven and COMAP and Handisport French Federation President Gérard Masson.
David Constantine, Motivation co-founder, welcomed the French Paralympic Committee decision. He said: "Motivation's high quality, low cost products and training have been transforming the lives of disabled people worldwide for over 21 years.
"Our Flying Start racing chair is no exception. Launched at the London 2012 Paralympic Games, in conjunction with the IPC's Agitos Foundation, it blends cutting edge design with low cost materials and opens up wheelchair racing to thousands of people who simply couldn't afford a chair before."
Through the Agitos Foundation's on-going partnership with Motivation UK, more than 4,000 low cost products including wheelchairs for basketball and tennis, are now in use in more than 50 countries.