German women dominate giant slalom races at Europa Cup Finals
Poland's men win two out of three races on final day of the Europa Cup Finals.
18 Mar 2016
Imagen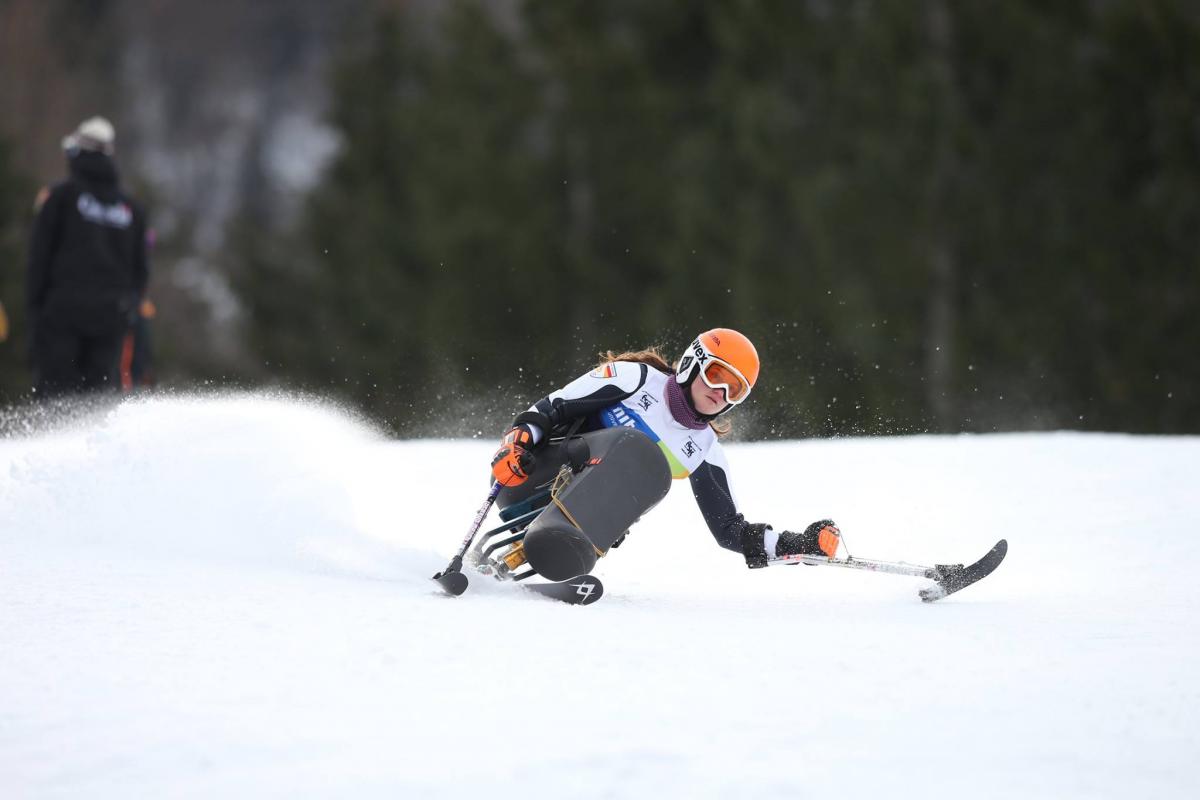 Germany's skiers won all women's giant slalom races on the closing day of the IPC Alpine Skiing Europa Cup Finals in Obersaxen, Switzerland, on Friday (18 March).
Noemi Ristau and her guide Lucien Gerkau won the women's visually impaired with two best times in the first and second run and a total time of 1:57.74. The German beat Belgium's Eleonor Sana (2:01.46), guided by Chloe Sana, and Marie-Morgane Dessart (2:18.33) and guide Antoine Marine Francois to second and third place respectively.
With second place Sana secured first place in the overall Europa Cup rankings with 975 points, ahead of Great Britain's Millie Knight (400) and Russia's Aleksandra Frantceva (370).
In the women's giant slalom standing, Anna-Maria Rieder (1:56.77) took the second German victory of the day in a race where just 0.24 seconds separated first and third place.
Rieder only clocked the third best time in the first run but put on an impressive second run, which was more than one second faster than the rest of the field, to take the win.
Slovakia's Petra Smarzova (1:56.91) finished second, just 0.10 seconds ahead of Dutchwoman Anna Jochemsen (1:57.01), who also finished third in overall Europa Cup rankings with 620 points.
Switzerland's Bigna Schmidt (965) topped the overall rankings, in front of Germany's multiple Paralympic and World Championships medallist Andrea Rothfuss.
Ruth Hagspiel completed the German women's triumph by taking the win in the women's sitting in a time of 2:02.87. The Netherland's Linda van Impelen (2:03.29) finished second, beating Austrian Heike Tuertscher (2:04.83) to third.
Van Impelen finished first in the overall Europa Cup rankings with 680 points, ahead of Germany's Anna-Lena Forster (440) and Hagspiel (330).
The final Europa Cup men's races saw two wins from Polish skiers.
Maciej Krezel and his guide Anna Ogarzynska topped the podium in the men's giant slalom visually impaired in 1:48.51, 0.34 seconds quicker than Slovakia's Marek Kubacka with guide Maria Zatovicova (1:48.85).
Austria's Gernot Morgenfurt and guide Christoph Gmeiner (1:49.12) took third place.
With that finish, Morgenfurt managed to move into second place of the overall Europa Cup rankings (560 points), behind Russia's Ivan Frantsev (630) and ahead of Valerii Redkozubov (530), also from Russia.
Igor Sikorski (1:41.51) took the second Polish win of the day in the men's sitting, putting on two best times in both giant slalom runs. Home favourite Christoph Kunz (1:42.69) had to settle for silver after his victory in the super combined on Thursday (17 March). Dutchman Jeroen Kampschreur finished in third (1:44.96).
Despite not competing in the last race of the Europa Cup season, Austria's Roman Rabl finished first in the overall ranking (770 points), ahead of Sikorski (646) and France's Frederic Francois (590).
In the men's standing, Slovakian Martin France (1:41.26) celebrated his second win of the Europa Cup Finals posting two best times in both runs. He beat Austria's Markus Salcher (1:42.03) – Paralympic bronze medallist in giant slalom at Sochi 2014 – and Swiss Thomas Pfyl (1:42.31) to second and third respectively.
A sixth place finish was enough for Austrian Martin Wuerz to take the overall Europa Cup rankings (1,086) ahead of his teammates Salcher (945) and Christoph Schneider (793).
The giant slalom races were the last races of the 2015-16 IPC Alpine Skiing Europa Cup season.
Complete results are available on the IPC Alpine Skiing website.