Great Britain dominates Hartpury International Festival of Dressage
Brazil and Canadian riders also perform well in last major event before August's Alltech FEI World Equestrian Games.
15 Jul 2014
Imagen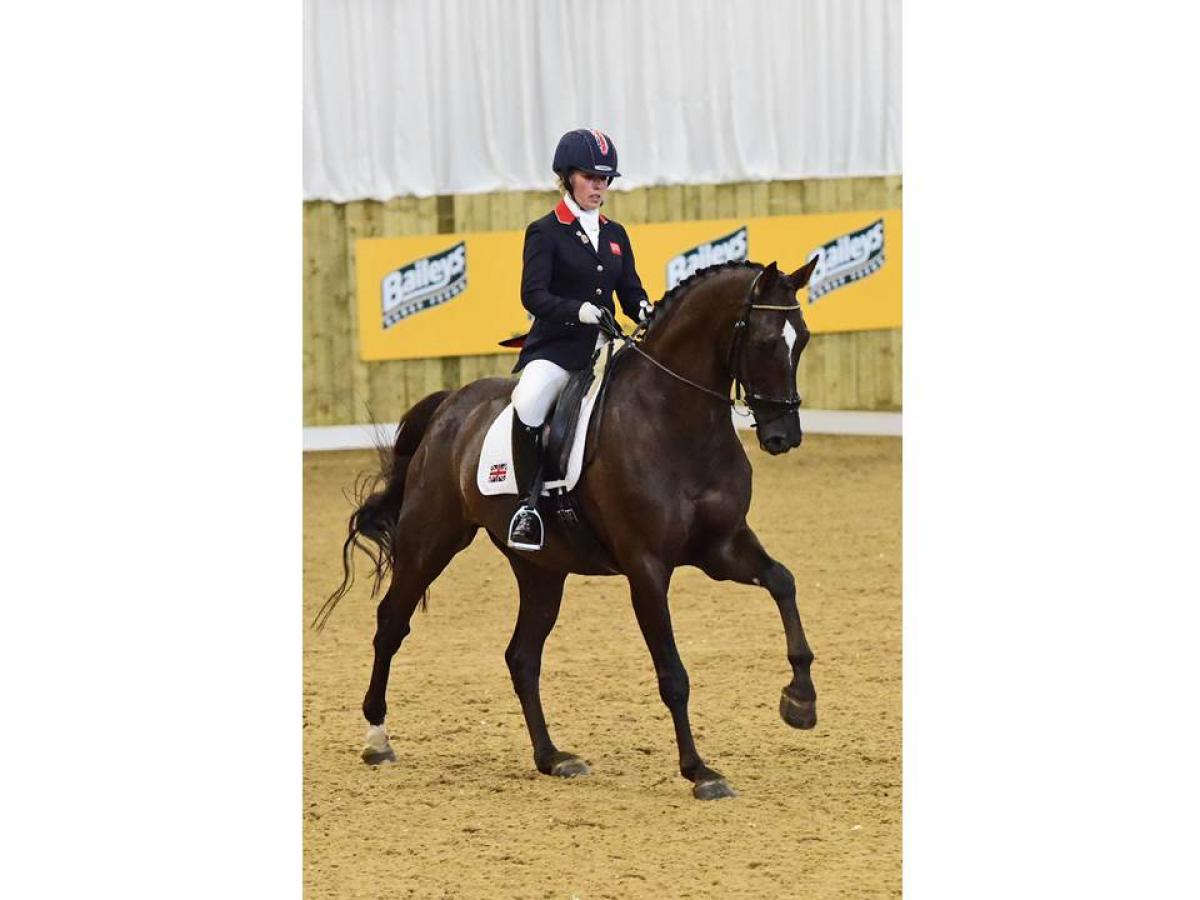 ⒸKevin Sparrow
By Robert Howell | for the IPC
"I haven't got over 80 since London but now I feel it coming back. Rio's looking great and we're back!"
Great Britain was the dominant force at the 2014 British International Festival of Dressage held in Hartpury, Gloucestershire taking the team title and eight of the 10 individual titles in the para-equestrian dressage competition.
The team crown was won with a score of 463.851 with Canada in second place and Brazil third.
In the Grade 1a, Britain's Sophie Christiansen and Janeiro 6 took first place in both the individual test with 77.870 and freestyle with 82.150. Brazil's Sergio Froes Riberio De Oliva on Beck's Gold was second in the individual on 69.826 with Britain's Emma Sheardown riding Claybank Magnet third on 68.304.
Brazil also took the second and third spots in the freestyle test, with Vera Lucia Martins Mazzili and Ballantine scoring 69.450 and De Oliva third with 68.950.
Speaking after the competition and reflecting on her 80 plus score, Christiansen said: "I haven't got over 80 since London but now I feel it coming back. Rio's looking great and we're back!"
Grade 1b was won by Britain's Lee Pearson and Zion, who performed a superb test to achieve a score of 78.862. Second was Pearson's teammate Ricky Balshaw riding LJT Engaards Solitaire to 73.379 with Ireland's Breda Bernie third on Master Mexico and 70.00.
Pearson was named highest overall scorer of the competition and said of Zion: "Technically he's had a few issues that stopped him getting higher scores but I've improved his training and now he's just started to flourish. The judges love him and he loves competing. He's so laid back but then he goes in the arena and he's like 'Everyone's looking at me' and does this big blingy trot work."
It was a similar line up in the Grade Ib freestyle test as well. Pearson came out on top with a competition high score of 83.200 with Balshaw in second place on 75.850. Canada's Ashley Gowanlock and Ferdonia 2 were third with 71.650.
Britain's Natasha Baker took the Grade II title riding Cabral and scoring 75.80 ahead of Brazil's Elisa Melaranci on Zabelle 69.229. In third place was Canada's Lauren Barwick on Off to Paris with 68.457.
The freestyle title was Baker's too, with a score of 78.850. Barwick was second with 73.900; and Brazil's Elisa Melaranci third on Zabelle with 71.500.
Canada's Roberta Anne Sheffield on Double Agent dominated the Grade III competition, winning the individual test with 70.195 and the freestyle with a score of 73.000. Britain's Nicky Greenhill was second in both tests riding Gregorian Chant to 69.610 and 71.750 respectively. Sheffield was also third in the individual on her other horse, Bindro T with 68.927. Third place in the freestyle went to France's Vladimir Vinchon and Rockford 17 with 70.500.
In Grade IV, Britain's Sophie Wells and Valerius won both the individual with 74.548 and freestyle with 80.20. Wells' other horse, C Fatal Attraction gave her second place in the individual test as well with a score of 70.357, while France's Nathalie Bizet was third, on Odate F J with 69.310. In the freestyle Bizet was second, with 73.150 while Great Britain's Kathryn Gallagher and Waragon came third with 68.150.
Wells also competed in the able-bodied international competition - the Monarch Equestrian FEI Intermediate I - on Forever Himself and scored 66.01 to finish in sixth place.
Hartpury attracted an international field including entries from Australia, Hong Kong and the US Virgin Islands. It was the last major international competition before this summer's Alltech FEI World Equestrian Games 2014 in Normandy, France with riders and teams using it to gain valuable experience and qualification scores to make that competition. Teams for the Games will start to be announced over the coming weeks ahead of the start of competition on Monday 25 August.