Han Soo Kim learns from Rio 2016 mistakes
The South Korean boccia player reflected on Rio 2016 and is determined to win double gold at the 2017 Asia-Oceania Championships.
22 Feb 2017
Imagen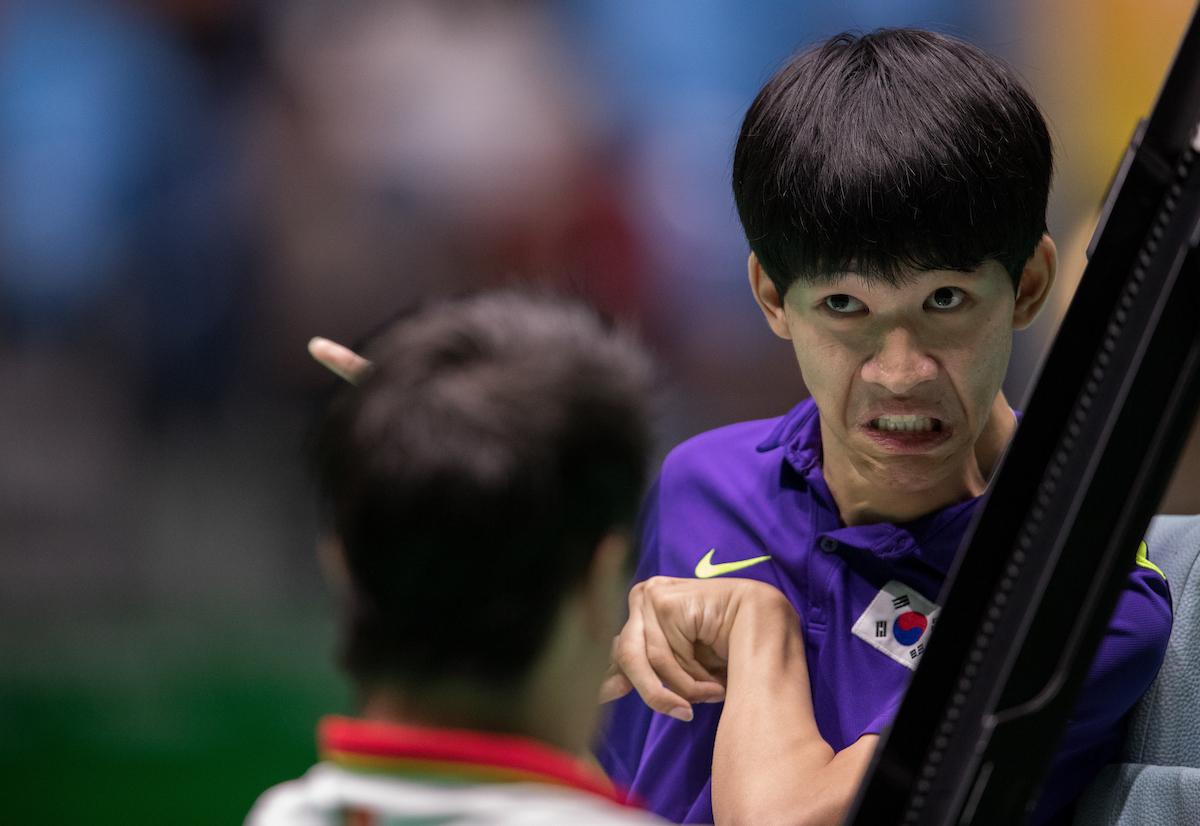 ⒸOlympic Information Services OIS. This image is offered for editorial use only by the IOC. Commercial use is prohibited.
By EJ Monica Kim | For the IPC
"I want to add variety to my original playing styles. It'll be my first step towards the Tokyo 2020 Paralympic Games."
South Korea's Han Soo Kim wants to open his season on a high note, starting with two gold medals at the Boccia International Sports Federation (BISFed) 2017 Asia and Oceania Region Championships, which are just under three months away in Hong Kong.
"The upcoming event is [my] first international competition since last September. Therefore I feel like it is the beginning of the road to Tokyo," Kim said.
At Rio 2016, he claimed his first ever Paralympic medal in the mixed pairs after finishing second behind Brazil.
"The silver medal was very precious for me and my teammates, but at the same time we were quite discouraged of losing out on gold," he continued.
"We had swept gold at all international competitions, ahead of the Rio 2016 Paralympic Games. Moreover in the finals, we were sure about our victory, when Brazil was given a penalty in the fourth end. However, God was not on our side."
Kim recalled that in particular he had many regrets about the individual BC3 event at his second Paralympic Games.
"In the bronze medal match, I couldn't make the best use of attacking chances against my Portuguese opponent [Jose Carlos Macedo], because I couldn't [stay] calm," he explained.
"After missing bronze again, following London 2012, I realised that I should be mentally prepared more in order to concentrate on each match from start to finish."
He resumed training two weeks after coming back from Rio de Janeiro, and kept busy with three national competitions until the end of 2016.
The 24-year-old analysed his performances from last year at the Carioca Arena 3, ahead of the 2017 season.
"With my mother and my club team coach Gwang-Taek Lim, I focused on strengthening my level of fitness and concentration. Also we repaired the equipment."
He will compete in both mixed pairs and individual events at the 2017 Region Championships. The members of South Korea's Rio 2016 trio – Ho-Won Jeong and Ye-Jin Choi – will be back together in Hong Kong.
"All BC3 players are equally outstanding, so I shouldn't loosen up," he said.
"I'm working hard on showing variations in attack and defence. I want to add variety to my original playing styles. It'll be my first step towards the Tokyo 2020 Paralympic Games."
The BISFed 2017 Asia and Oceania Championships will be held 21-29 May. More information can be found on BISFed's website