Haraus, Schaffelhuber, Kurka win super-G globes
A trio of talented teenagers also swept the podium in the men's sitting, previewing an exciting competition for PyeongChang 2018.
15 Mar 2017
Imagen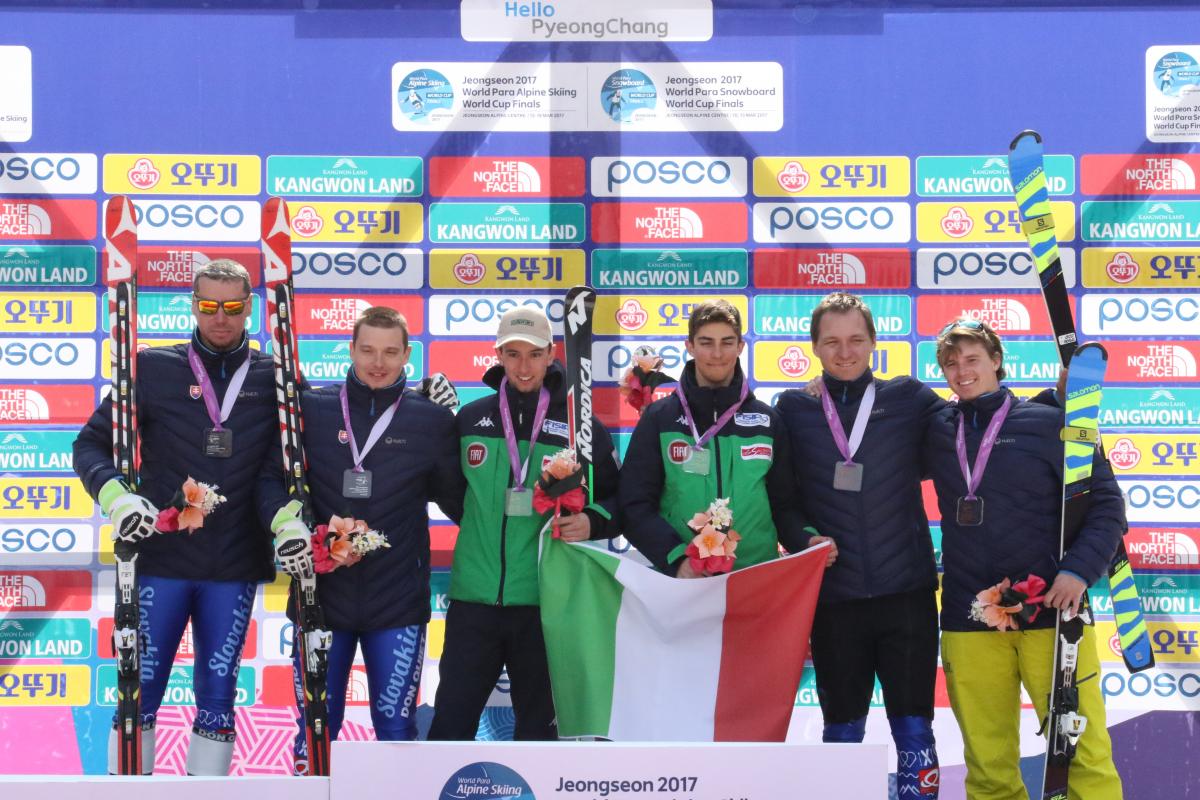 ⒸPyeongChang 2018
By IPC
The men's visually impaired, and men's and women's sitting super-G globes were decided on Wednesday (15 March), as the World Para Alpine Skiing World Cup Finals continued in PyeongChang, South Korea.
Slovakia's Miroslav Haraus, the USA's Andrew Kurka and Germany's Anna Schaffelhuber all left the Test Event for the 2018 Paralympic Winter Games with titles.
Paralympic champion Schaffelhuber took her win in the women's sitting at the Jeongseon Alpine Centre.
It was the third time the 24-year-old topped the podium in PyeongChang. Schaffelhuber won the first super-G on Tuesday (14 March), and secured the downhill title on Sunday (12 March).
"I'm pretty happy about this victory today. I'm really having a lot of fun at the moment. Here with the slope, it's a lot of fun and I'm really happy," Schaffelhuber said.
The German also hinted at her confidence levels for 2018 after her World Cup title: "It's a great feeling. At the end of the season, it's always good when you know you have not only had one good race or a couple of good races but you were the best overall. It's pretty cool and I'm so happy about that, and it's a great feeling for next year."
Japan's Momoka Muraoka claimed second place, and with it the runner-up spot in the World Cup rankings. Germany's Anna-Lena Forster was third in the race.
Austria's world champion Claudia Loesch settled for third in the rankings, finishing fourth on Wednesday.
World Championships bronze medallist Kurka grabbed the men's sitting crystal globe by a narrow margin, finishing third in the race.
A surge from Dutch teenager Jeroen Kampschreur saw him take the win. He was just 0.86 seconds ahead of New Zealand's Corey Peters in second.
"For me it was awesome, I got the gold medal so that's always good after the silver medal yesterday," Kampschreur said. "It's a great surprise for me. I'm more of a tech guy but I still could make it here. It was a tough race, after the inspection we talked a lot about the course and we had a good plan in our head and I could make it happen."
Kampschreur secured second and Peters third in the World Cup rankings.
Italy's Giacomo Bertagnolli and guide Fabrizio Casal were victorious in the men's visually impaired race, but could not stop Haraus from claiming his place at the top of rankings.
Haraus finished second with guide Maros Hudik ahead of third place teammate Jakub Krako and guide Branislav Brozman.
With his result Haraus leaves with the globe. Seventy points behind was Krako in second and Bertagnolli in third.
Another Slovakian world champion Henrieta Farkasova, crowned her super-G season with another race win in the women's visually impaired.
Farkasova was skiing for honours with guide Natalia Subrtova having already sealed the World Cup title on Tuesday.
"The weather was great and the race as well. The snow was quite icy, it was really nice," Farkasova said. "It's a great result that we have achieved so far here and it's also a great indication for next year and hopefully we'll be able to repeat it."
Australia's Melissa Perrine was second, guided by Andrew Bor. Great Britain's Menna Fitzpatrick and guide Jennifer Kehoe was third.
Following Farkasova into second and third in the rankings were the US teammates Danelle Umstead and husband guide Rob, and Staci Manella and guide Sadie de Baun, respectively.
France's Marie Bochet sensationally grabbed a World Cup top three finish with her race win in the women's standing, having been out injured for most of the season.
The world and Paralympic champion finished just 0.34 seconds ahead of Germany's World Cup champion Andrea Rothfuss in second. Canada's Alana Ramsay was third.
Rothfuss had already secured the crystal globe on Tuesday, but with her second place Bochet pushed Ramsay to third in the super-G rankings.
A of trio teenage talents took to the podium in the men's standing with the top three finishing within 0.26 seconds of each other.
France's Arthur Bauchet, 16, showed why he is a face to watch once again, winning the race to claim third in the World Cup.
Just 0.07 seconds behind was Canada's Alexis Guimond, 17. Eighteen-year-old Swiss skier Robin Cuche was third.
All three skiers edged Austria's world and Paralympic champion Markus Salcher into fourth, but he had already claimed the World Cup title on Tuesday. The Netherlands' Jeffrey Stuut was second in the standings.
When asked if his performance gives him confidence for his Paralympic debut, Bauchet said: "Yes, but not too much, because next year there will be another race. I have all summer to train and prepare myself for the Paralympic Games, and I will do what is necessary and we will see."
Full results and World Cup rankings can be found at World Para Alpine Skiing's website.
The giant slalom crystal globes will be the next to be decided on Friday (17 March), followed by slalom on Saturday (18 March).