How Para sports helped Melissa Stockwell
How Para sports helped Melissa Stockwell
21 Nov 2018
Imagen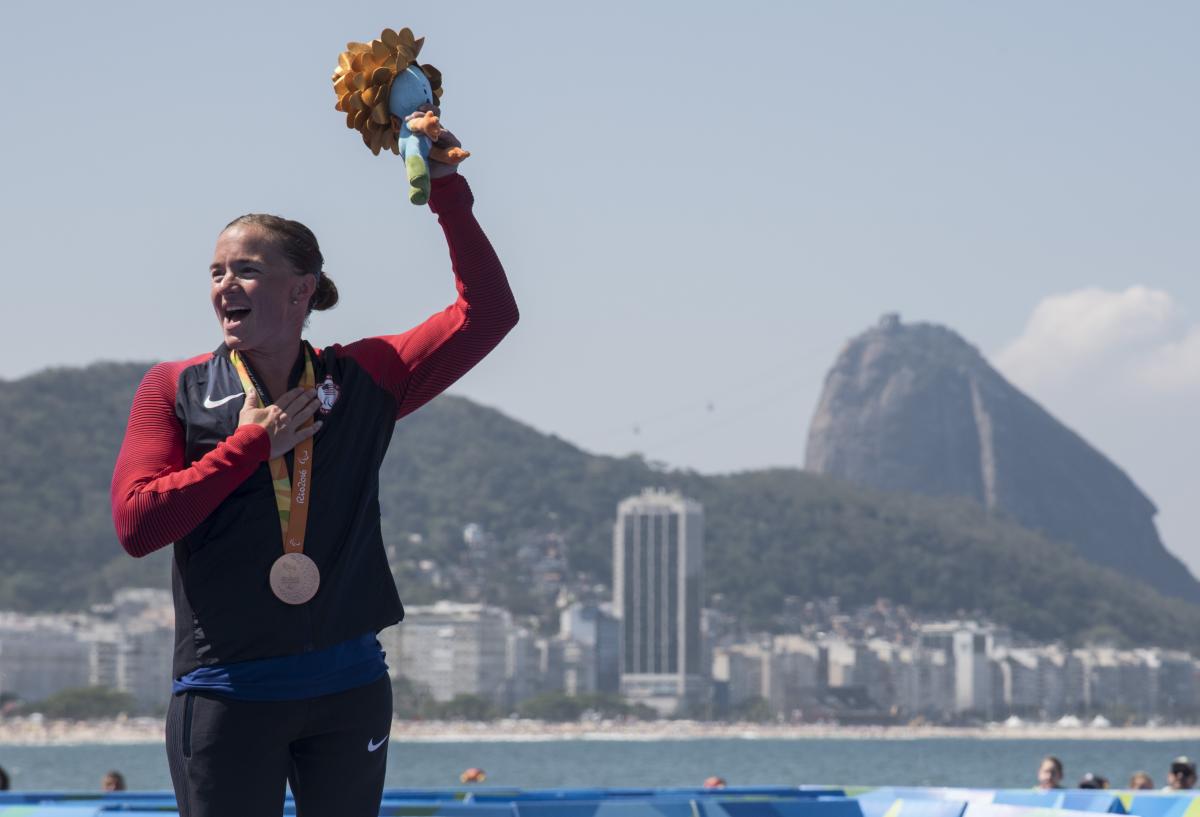 ⒸGetty Images
By Jim Caple | For teamusa.org
War veteran finds renewed hope after losing left leg from bomb explosion
While serving in the Iraq War in 2004, Melissa Stockwell lost her left leg from a bomb explosion, the first female soldier to lose a limb in the war. As horrible as that was, she remained optimistic about her future.
"My initial thoughts,'' she said, "were we're going to get through this and we're going to be OK.''
Four years later, she competed in swimming at her maiden Paralympic Games. Stockwell was not satisfied with her performances there and switched to triathlon, winning bronze at Rio 2016.
She won that medal alongside two other US athletes who took silver and gold — and they did so on 11 September, the 15th anniversary of the 9/11 attacks that led to the Iraq War where she lost her leg.
"We got to see three American flags go up,'' Stockwell said of the medal ceremony. "Standing on the podium and all of us showing the world on 11 September that it was kind of how much the human body is capable of and how much ability is in a disability.
"It was really one of my proudest moments.''
And what should be an inspiration to others.
Her coach Chris Palmquist added:
"The people that have these impairments have not let them slow them down at all. They are just the best people. They don't want to be inspiring, they want to be considered like anyone else. But they really are inspiring.''
Dreaming big
Growing up in Georgia and Minnesota, Stockwell was always an athlete, competing in gymnastics, diving and athletics hoping to one day make the Olympic Team.
"I always lived the athlete lifestyle. I was a big gymnast growing up and an athlete in high school and college,'' she said. "So, after I lost my leg my first goal was to learn to walk and to be independent. But as soon as I did that, I wanted to be an athlete again.''
Competing in those three sports that make up triathlon can be strenuous, but Stockwell always fights hard. Besides the bronze medal in Rio, she has won three gold medals, a silver and a bronze at World Championships.
In addition to her own athletic success, Stockwell gives motivational talks and in 2011 helped start the Chicago-based Dare2tri foundation for athletes with physical disabilities and vision impairments. She tells them to "dream big."
"Be realistic with your goals, but maybe step out of your comfort zone and go for a race or a time and see if you can get there.
"If you can't, well, maybe you will next year when you learn something about training. Think of taking those chances to really see how far you can get.
"I motivate our athletes to try.''
Looking ahead to the future, she is hoping to qualify for Tokyo 2020.
"I will be 40 years old and trying to show everyone that I'm one of the older ones out there, that an old mama, too, can still try to give the Paralympics another shot.
"I'm doing everything I can to make 2020 a reality.''
Full story available at teamusa.org