'I'm still just Lee': Pearson returns to Para equestrian following knighthood
Multi-Paralympic and European champion targets 2018 World Championships
25 Jan 2018
Imagen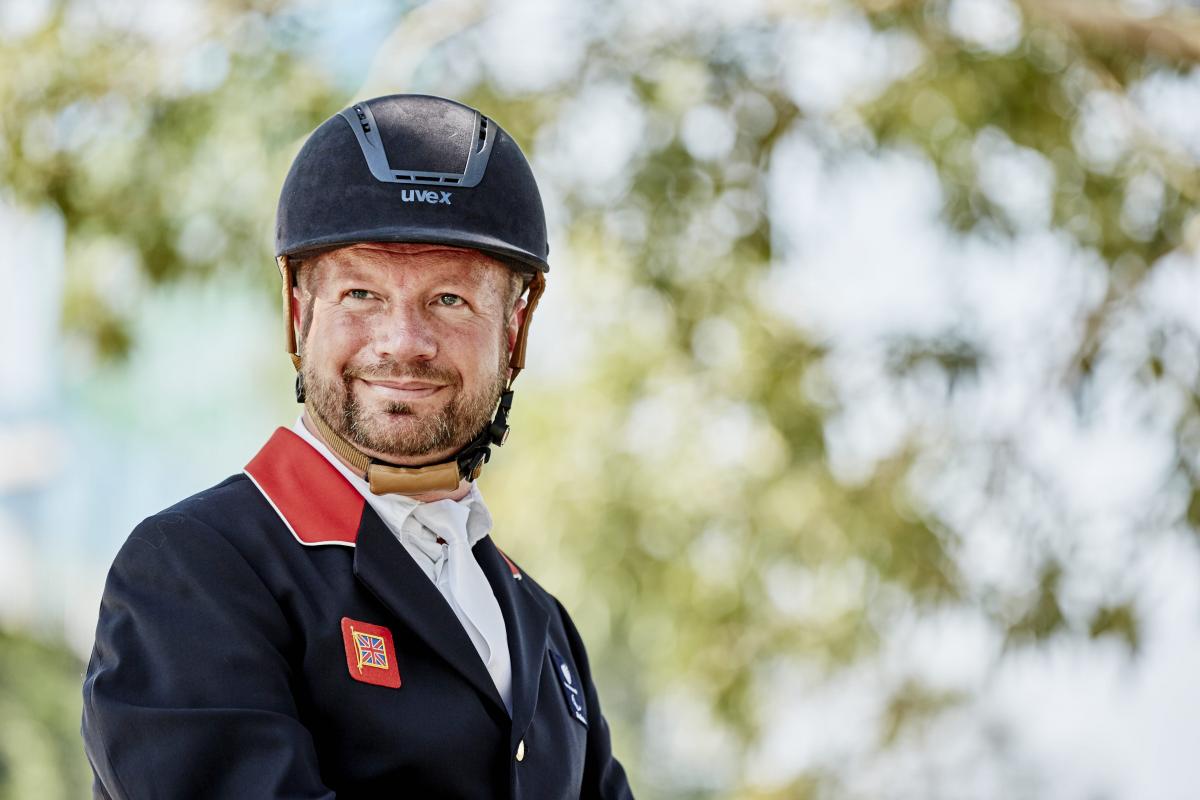 ⒸFEI
By Rob Howell | For the IPC
"It's great for Paralympic sport as well because no other competing Paralympian has ever been knighted and certainly no other competing rider in equestrian sport either. It does take getting used to though, but I'm still just Lee."
The "Godfather" of Para equestrian is back with hopes to make the 2018 World Championships set for Tryon, USA in September.
Now referred to as Sir Lee Pearson, the British rider – winner of 11 Paralympic golds, two silvers and one bronze, as well as numerous world and European titles – has been away from the competition scene for nearly a year.
He spent most of 2017 having a break from the sport while trying to get permission to build his own arena at home.
But the vagaries of the British planning process denied Pearson the chance to do so, and therefore it was back to driving everyday to a rented arena. He has submitted a revised, smaller design. But that has not stopped him from training and developing three horses, two whom he can campaign for a spot on the British team for the Federation Equestre Internationale (FEI) World Equestrian Games – which acts as the Para equestrian World Championships.
Those three are his 2014 World and 2016 Paralympic gold medal winning partner Zion; Styletta, who has been on the scene for a few years but is now coming into her own; and Breezer, a young horse that Pearson is developing with his partner, groom and carer, Richard.
"Zion is a sensitive thug and my best mate," said Pearson, whose last competition was in March in Doha, Qatar. "Styletta [is] the most talented horse I've ever trained. She's not huge – just 16.1 hands – but she's a real powerhouse. The challenge is [to] encourage her to be calm as well as powerful."
In this World Championships year, Pearson is taking a different approach to his horses. "In the run up to Rio, we wrapped Zion in cotton wool. But this year I'm going to compete Zion in Deauville in France in April; and Styletta in Roosendaal in May," Pearson said.
He added that, while any extended period away from competition can affect a rider's confidence, a regime of continuous hacking (riding his horses around the countryside lanes where he lives) and training means he is ready to enter the fray.
"Mentally and physically, [I] feel at home in the saddle. I'm lucky that way."
Battle for places
At last year's Longines FEI European Championships in Gothenburg, Sweden, the four-strong British team included three debutants, two whom collected three gold medals each (team and the two individual titles).
With the new young talent, Pearson's place on the team this year is not guaranteed.
"Competition for a place on the team is so much stronger," he admitted. "The new members of the team in Gothenburg had been chasing our tails for years and you never take your place on the team for granted. The dynamic in the team has changed as well. We used to train the podium team and podium potential groups separately but now we train together, everybody learns from everybody else. It takes some getting used to but it will make Team GB even stronger."
Pearson has already qualified all three horses to compete in Great Britain's Winter Championships, and recently passed his heavy goods vehicle driving exam, joking "I collected my new horse transporter on Christmas Day!"
The other thing to still work on this year? Getting used to being called Sir Lee after his knighthood was awarded in the 2017 New Year's honours list for both his sporting accomplishments and his charity work, which he is an ambassador for three separate organisations and also helps at his local shelter for the homeless.
"It's great for Paralympic sport as well because no other competing Paralympian has ever been knighted and certainly no other competing rider in equestrian sport either," Pearson said. "I love the recognition, not just for me but for all my support too. It does take getting used to though, but I'm still just Lee."