The IPC President's New Year message 2017
Sir Philip Craven reflects on 2016, a year he describes as the most challenging yet, and looks ahead to 2017 and the election of his successor.
01 Jan 2017
Imagen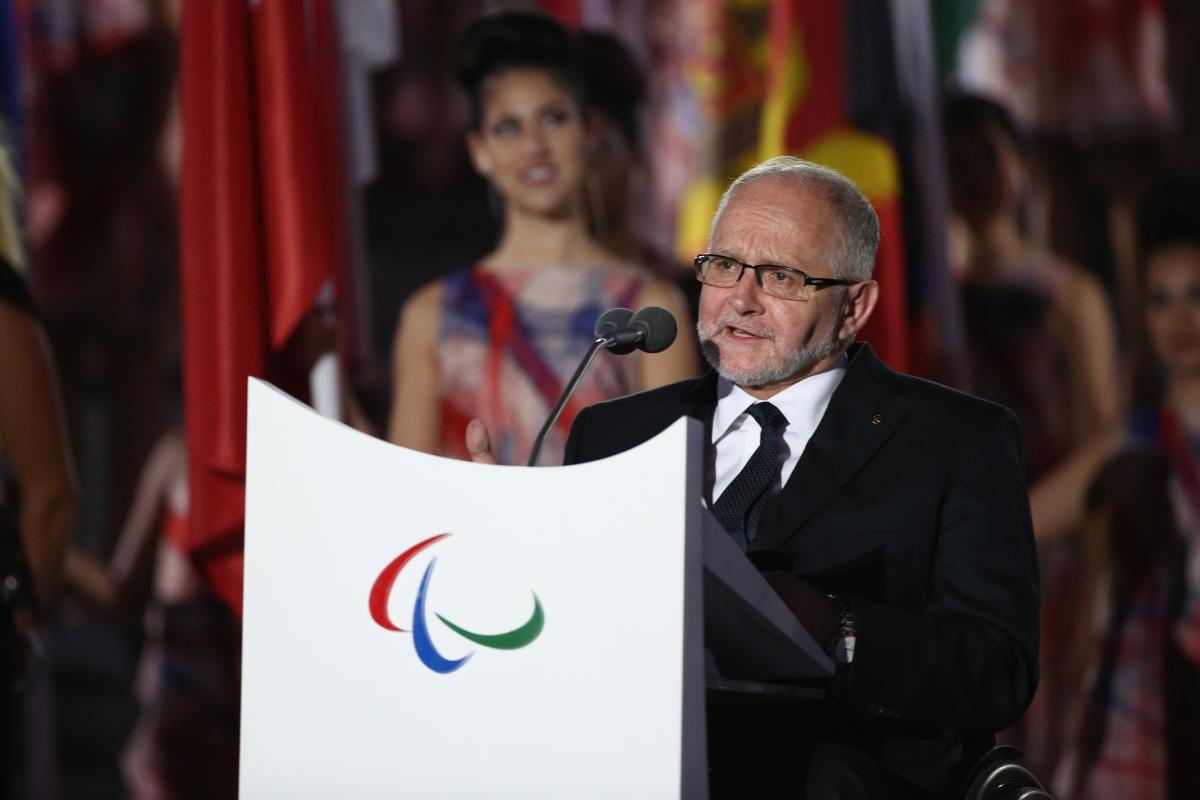 ⒸGetty
"Thanks to the efforts of National Paralympic Committees and International Federations in developing athletes and strong competitions, they were the best ever in terms of athletic performance."
Dear members,
Happy New Year to you all and thank you for your contributions towards a hugely successful 2016!
Before I look ahead, I'd like to reflect on 2016, a year like no other I have experienced in the Paralympic Movement. By quite some distance the last 12 months were the most challenging yet most rewarding of my IPC Presidency.
In my view the Rio 2016 Paralympics were a triumph. Despite the challenges we faced before, during and after the Games, they arguably did more for growing the Paralympic Movement than London 2012.
Thanks to the efforts of National Paralympic Committees and International Federations in developing athletes and strong competitions, they were the best ever in terms of athletic performance. By reaching record global TV and online audiences, they also helped raise awareness of the abilities of Para athletes to new levels.
In my New Year's message 12 months ago, I stressed the importance of Rio 2016 proving that Beijing 2008 and London 2012 Paralympics were not exceptions but the norm. September's Games did just that. They showed that no matter where the Paralympics are staged they will deliver, underlining the growing maturity of the Games as the world's number one sport event for driving social inclusion.
Many said Beijing 2008 was always going to be a hit because they were in China; people said the same about London 2012 as Great Britain is the Paralympic Movement's birthplace. But few predicted Rio would be as good as it was, especially in light of the unprecedented circumstances that we faced.
The secret to this accomplishment was that rather than moaning about last minute cutbacks and changes, the Paralympic Movement united, rolled up its sleeves, and got on with it, working together for the greater good.
As I said in August, it's in our Paralympic DNA to see obstacles as an opportunity to do things differently and that's what we did in Rio. We are problem solvers by nature and I would like to pay tribute to the IPC's Vice President Andrew Parsons for the outstanding role he played in finding solutions to the many problems we faced in Brazil ahead of the Games.
Last year the IPC also made its biggest ever decision following the publication of the first McLaren Report into Russian state-sponsored doping. Our decision to suspend the Russian Paralympic Committee (RPC) was not an easy one, but one that was taken to protect the integrity of Paralympic sport and ensure a level playing field for all Para athletes.
Now that Professor McLaren has published his second report, I strongly believe the best course of action is to draw a line in the sand and look to the future. By fully co-operating and working closely with the IPC Taskforce to fix the broken and compromised anti-doping system in Russia, I hope we can welcome back the RPC as an IPC member sooner, rather than later.
The year ahead
After the thrills and spills of 2016, this year promises to be just as exciting. It is vital that we do not take our foot off the gas after Rio 2016 and continue to work in the six strategic areas outlined in the IPC Strategic Plan 2015-2018.
I think many outside of the Movement believe that non-Paralympic Games years are fairly quiet; they could not be more wrong!
For a start, this is the final full year before the PyeongChang 2018 Paralympic Winter Games. Test events will be held in all six winter sports giving athletes, international federations, officials, spectators and organisers the chance to familiarise themselves with the conditions and surroundings. The final Chef de Mission seminar will also be held.
The IPC will work closely with the Organising Committees of Tokyo 2020 and Beijing 2022 and support the three 2024 bid cities of Budapest, Los Angeles and Paris ahead of September's host city election at the 130th IOC session in Lima, Peru.
Many of the newly rebranded World Para Sports will stage World Championships and the five summer sports will publish new four-year-long strategic plans.
Between January and April, world titles will be awarded in the winter sports of Para alpine skiing (22-31 January in Tarvisio, Italy), Para Snowboard (1-8 February in Big White, Canada), Para biathlon and cross-country skiing (10-19 February in Finsterau, Germany) and finally Para ice hockey (12-19 April in Gangneung). Competition at these events will be fierce with athletes and teams eager to perform well in the last major Championships before PyeongChang 2018.
The summer and early autumn will see World Championships held in Para athletics (14-23 July in London, Great Britain) and Para dance sport (21-22 October in Malle, Belgium). I am very excited about the joint Para swimming and Para powerlifting World Championships in Mexico City in late September and early October. This will be the first time two events of this magnitude have been held together side-by-side.
Away from the field of play, Toronto, Canada, will stage the eighth VISTA conference between 20-23 September. This year's theme is "Opportunities, Challenges in Paralympic Sport Science & Sport Medicine Support" and organisers have lined-up a stellar list of speakers and presenters.
Having signed a memorandum of understanding outlining the principles for a new long-term agreement with the IOC in June, one of the IPC's priorities this year will be finalising this agreement that will extend our partnership through to at least 2032. Such an agreement will further strengthen and support the Paralympic Movement in the years to come, increasing our visibility and ensuring the financial stability and long-term viability of the IPC, the Paralympic Games and the Paralympic Movement.
Finally, 2017 will be a very emotional year for me as I come to the end of my final term as IPC President, a role I have been lucky enough to serve since 2001.
I cannot begin to tell you how proud I am to have overseen the growth and transformation of the Paralympic Movement since 2001. I think the IPC, the Paralympic Movement and the Paralympic Games are unrecognisable from what they were and each member deserves credit for the roles they have played. Following September's elections at the IPC General Assembly in Abu Dhabi, UAE, it is imperative that my successor and the new IPC Governing Board further strengthen the IPC's position as one of the most credible and widely respected organisations in world sport.
To finish, thank you for your continued efforts to make for a more inclusive society through Para sport. I look forward to seeing you all at September's IPC General Assembly.
Sir Philip Craven
IPC President