IPC sends condolences to the family of APC President Jose Luis Campo
Campo passed away on Monday 16 October following a suspected heart attack.
17 Oct 2017
Imagen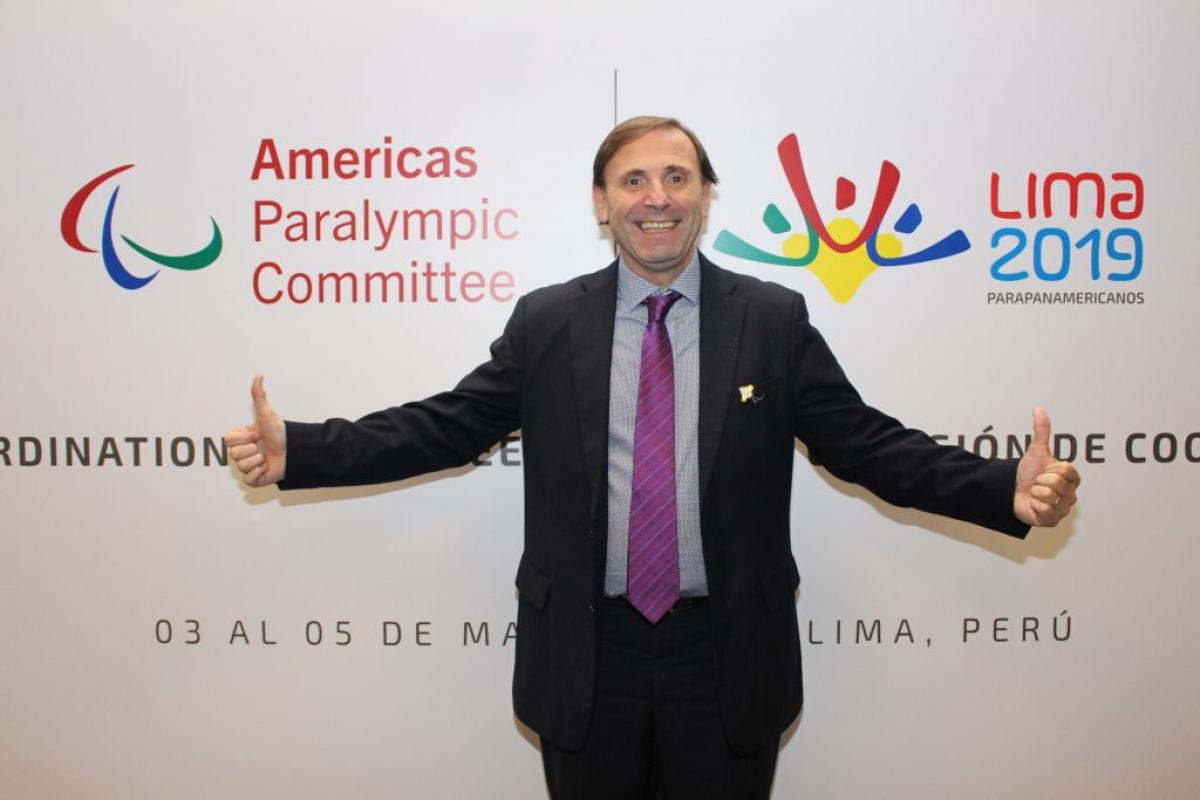 ⒸAPC
The International Paralympic Committee (IPC) led by its President Andrew Parsons has sent its condolences to the family of Jose Luis Campo, President of the Americas Paralympic Committee (APC), who passed away suddenly on Monday (16 October) in Mar del Plata, Argentina.
Campo was a physical education teacher for youngsters with an impairment by profession and was instrumental in the development of the Paralympic Movement in the Americas.
He was elected the APC's founding President in 1997 and served two terms until 2005 working hard to establish and develop National Paralympic Committees (NPCs) in the region. He was elected President once again in 2013 and was currently serving his fourth term following re-election in March 2017 in Sao Paulo, Brazil.
On Wednesday (18 October), he would have celebrated his 60th birthday and leaves behind his wife Sonia Incaurgarat and three children Bernardo, Manuel and Josefina.
Andrew Parsons, the IPC's President who is currently in South Korea, said: "The Paralympic Movement has lost one of its most valuable members. Jose Luis Campo, President of the Americas Paralympic Committee, was an inspiration to anyone who knew him. His passion for the Paralympic Movement had no limits. I called him "maestro" [teacher, in Spanish] as he taught me so much over the years. His commitment with the Movement was beyond any comprehension.
"I will never forget how he organised almost by himself the Parapan Games 2003. It was amazing to see his passion exciting a group of volunteers in Mar del Plata and uniting them around the dream to deliver the best possible Games, with almost no funding, to the athletes of the Americas. He was a fighter, an example of resilience.
"The Paralympic Movement has a lost a good friend. His legacy to the Paralympic sport will live strong forever. It was a privilege and an honour to work alongside him. My thoughts are now with his family: Sonia, Manuel, Josefina, Bernardo."
A huge champion and advocate of athletes with high support needs, Campo during his first term as APC President oversaw the organisation of the inaugural Parapan American Games in Mexico City in 1999. Four years later they were staged in his home city Mar del Plata and he paved the way for the Games to be held in Rio in 2007, in the same city as the Pan American Games.
In order to give young athletes more opportunities in the region, he helped create the Youth Parapan American Games. The first edition was held in 2005 in Barquisimeto, Venezuela, involving athletes from 10 countries. He oversaw the latest edition this March in Sao Paulo with 800 athletes from 19 countries taking part.
In December 2015, months after the hugely successful Toronto 2015 Parapan American Games, Campo signed a historic agreement on behalf of the APC with the Pan American Sports Organisation (PASO).
Under its terms, the two organisations will work jointly on the bid process for future Pan Am and Parapan Am Games. The support also includes APC representatives being invited to join a number of Work Commissions, APC participation in PASO events, and PASO and the APC co-ordinating actions of National Olympic Committees, who are PASO members, to strengthen the working relationships with organisations of Paralympic sport in their respective countries.
During his current term as President, Campo was working closely with the Organising Committees of the Lima 2019 Parapan American Games and Managua 2018 Para Central-American Games, once again, in order to strengthen the Paralympic Movement in the Americas.
Away from the APC, Campo served on the IPC Executive Committee from 1997 to 2005 and was an IPC Governing Board member between 2009 and 2013. He was part of the Rio 2016 IOC Co-ordination Commission overseeing Latin America's first Paralympic Games, an event that saw NPCs from the Americas win more medals than ever before.
Campo passed away in Mar del Plata after suffering a suspected heart attack while participating in a fundraising walk/run event to raise funds to organisations fighting children's cancer.
-ends-
IPC envía condolencias a la família de José Luis Campo, Presidente del APC
El Comité Paralímpico Internacional (IPC), liderado por su Presidente Andrew Parsons, le ha enviado sus condolencias a la familia de José Luis Campo, Presidente del Comité Paralímpico de las Américas (APC), quien falleció súbitamente el lunes (16 de octubre) en Mar del Plata, Argentina.
Campo quien de profesión fuera professor de educación física para jóvenes con discapacidad, fue clave en el desarrollo del Movimiento Paralímpico en América.
Fue elegido primer Presidente del APC en 1997 y lideró por dos mandatos hasta 2005, trabajando duro para establecer y desarrollar Comités Paralímpicos Nacionales (NPCs) en la región. Fue elegido Presidente nuevamente en 2013 y se encontraba sirviendo su cuarto mandato luego de ser reelegido en marzo de 2017 en Sao Paulo, Brasil.
El miércoles (18 de octubre), habría celebrado su cumpleaños número 60. Campo deja atrás a su esposa Sonia Incaurgarat y sus tres hijos Bernardo, Manuel and Josefina.
Andrew Parsons, Presidente del IPC que se encuentra actualmente en Corea del Sur, dijo: "El Movimiento Paralímpico ha perdido uno de sus miembros más valiosos. José Luis Campo, Presidente del Comité Paralímpico de las Américas, fue una inspiración para cualquiera que lo conociera. Su pasión por el Movimiento Paralímpico no tenía límites. Yo lo llamaba ´maestro´ dado que me enseñó tanto durante estos años. Su compromiso con el Movimiento iba más allá de cualquier límite".
"Nunca olvidaré cómo organizó casi por sí mismo los Juegos Para Panamericanos 1003 en Mar del Plata. Fue increíble ver su pasión, motivando al grupo de voluntarios y uniéndolos alrededor del sueño de realizar los mejores Juegos posibles casi sin presupuesto, para los atletas de América. Era un luchador, un ejemplo de resistencia".
"El Movimiento Paralímpico ha perdido un buen amigo. Su legado para el deporte Paralímpico vivirá con fuerza por siempre. Fue un privilegio y un honor trabajar a su lado. Mis pensamientos están ahora con su familia: Sonia, Manuel, Josefina y Bernardo".
Un gran defensor de los deportistas con discapacidad, Campo fue la cabeza de los primeros Juegos Para Panamericanos México 1999 como Presidente del APC. Cuatro años después, este evento se llevó a cabo en su ciudad natal, Mar del Plata.
En pos de crear más oportunidades para los jóvenes atletas de la región, ayudó a crear los Juegos Para Panamericanos Juveniles. La primera edición se llevó a cabo en Barquisimeto, Venezuela, en 2005, con deportistas de 10 países. Como Presidente del APC, también encabezó la última edición en marzo pasado en Sao Paulo, Brasil, con 800 atletas de 19 países.
En diciembre de 2015, meses después de los exitosos Juegos Para Panamericanos Toronto 2015, Campo firmó un histórico acuerdo en nombre del APC con la Organización Deportiva Panamericana (ODePa).
De acuerdo a sus términos, las dos organizaciones trabajarán juntas en el proceso de selección de futuras ciudades para los Juegos Panamericanos y Para Panamericanos. El apoyo también permite que representantes del APC sean invitados a un número de Comisiones de Trabajo y eventos de ODePa. También coordinarán acciones conjuntas para fortalecer las relaciones entre los Comités Olímpicos y Paralímpicos de cada país.
Durante su presente mandato, Campo se encontraba trabajando cercanamente con los Comités Organizadores de los Juegos Para Panamericanos Lima 2019 y los Juegos Para Centro Americanos Managua 2018, siempre buscando el fortalecimiento del Movimiento Paralímpico en América.
Fuera del APC, Campo sirvió como Miembro del Consejo Ejecutivo del IPC entre 2009 y 2013. También fue parte de la Comisión Coordinadora de Río 2016, trabajando duro para el éxito de los primeros Juegos Paralímpicos en Latinoamérica, un evento que vio NPCs de América ganar más medallas que nunca antes.
Campo falleció en Mar del Plata como consecuencia de un ataque cardíaco cuando participaba de un evento de atletismo para recolectar dinero para organizaciones que luchan contra el cáncer infantil.
-ends-