Jaeger wants 2015 World Championships success
German skipper Jens Jaeger believes Germany have what it takes to win the World Wheelchair Curling Championships in 2015, after qualifying in dramatic fashion.
09 Dec 2014
Imagen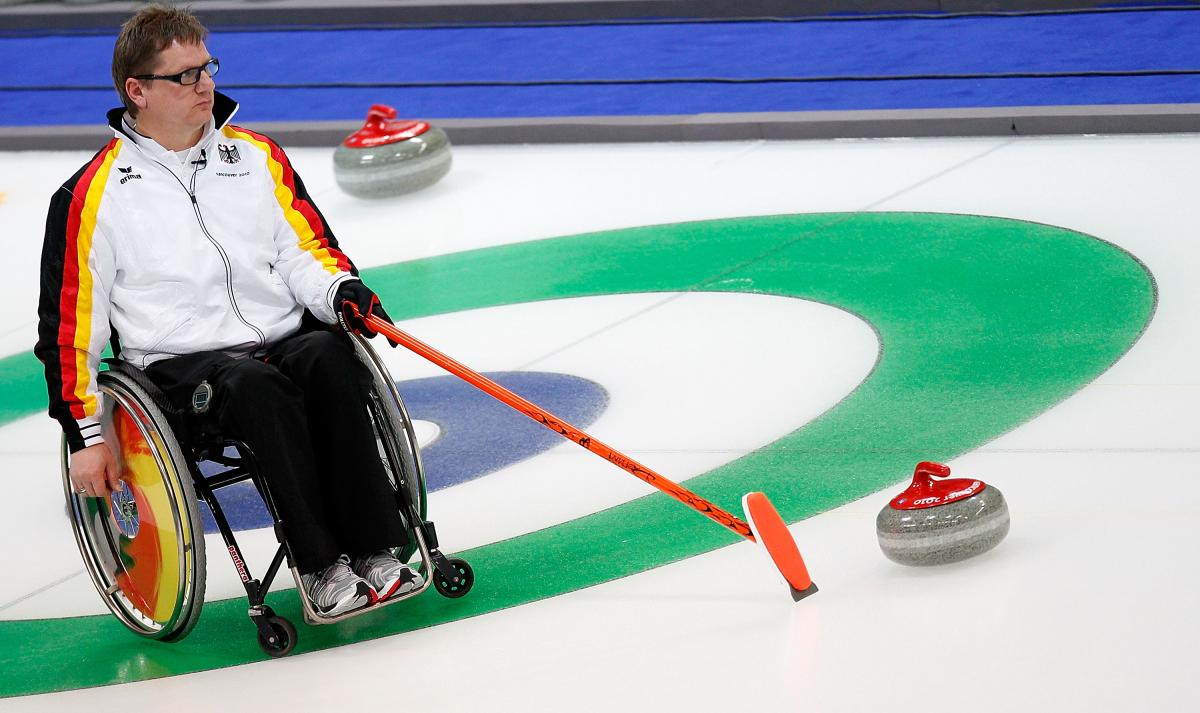 ⒸGetty Images
By Darren Naylor | for the IPC
"We always believed in our ability and the bond we have as a team is amazing. Our team has a 'yes we can' attitude no matter what the circumstances."
Germany qualified for the 2015 World Wheelchair Curling Championships in Lohja, Finland, in the most dramatic fashion as they beat Latvia with their final stone in the qualification playoff. Now German skipper Jens Jaeger has set his sights on winning the world title.
At November's World Wheelchair Curling Qualification event in Lillehammer, Norway, the German team of Jaeger, Christiane Putzich, Martin Schlitt and Heike Melchior overcame stiff opposition to gain second place and secure that coveted spot at next year's competition.
After an early defeat to eventual winners Norway (4-10), they beat Switzerland (9-7), Slovenia (13-1), Italy (8-4) and South Korea (7-6), to reach the qualification playoff against Latvia.
Level in the seventh end at 5-5, qualification for Germany depended on the final stone.
But Jaeger displayed nerves of steel to take his team through to the World Championships.
"As a skip, and with 11 years curling experience, you learn to block out the nerves and the intensity of the match," said Jaeger.
"I managed to focus my mind on the last stone which in the end turned out well for us – we won.
"We always believed in our ability and the bond we have as a team is amazing. Our team has a 'yes we can' attitude no matter what the circumstances. Each player played their part in achieving the end result.
"After our successes against Italy and Korea earlier in the competition, we were in full flow, we brought our best game and we succeeded."
It was a cruel fate for Latvia, who lost in the final against Norway before their defeat to Germany.
And despite being pushed all the way, Jaeger knew that his experience would give his team the advantage in the battle for qualification.
"Latvia are a strong team. They play their game with precision. Luckily for us we have experience against them; we played them twice in October. We won the first game, but lost the second. This helped us understand how we could beat them," he said.
"After Latvia levelled in the seventh end, and knowing we had the hammer in the eighth, it helped ease the pressure and the game was ours to win.
"The team was of course nervous, but we were always fully concentrated. Nerves at this level of competition are normal but we have nothing to gain by living in fear of our opponents, it is just a game after all."
Germany will now join Norway, Paralympic and world champions Canada, China, USA, Russia, Scotland, Slovakia and hosts Finland in the fight for a World Championship medal, and Jaeger is confident Germany can succeed.
"We are going to the World Championships in Finland to win," he said.
"We have tasted success before when we won a bronze medal at the Vancouver World Championships in 2009 and now we are hungry for more. Our first priority however is to stay within the A-group. We will go to Finland with our best game. Everything is possible."
The World Championships are also the first opportunity for teams to gain ranking points for qualification to the PyeongChang 2018 Paralympic Winter Games in South Korea.
For more information, visit the World Wheelchair Curling Championship 2015 website.