Jeongseon Alpine Centre to host Para alpine skiing and snowboard in 2018
The IPC and PyeongChang agree to consolidate venue for Test Events and 2018 Paralympic Winter Games
28 Dec 2016
Imagen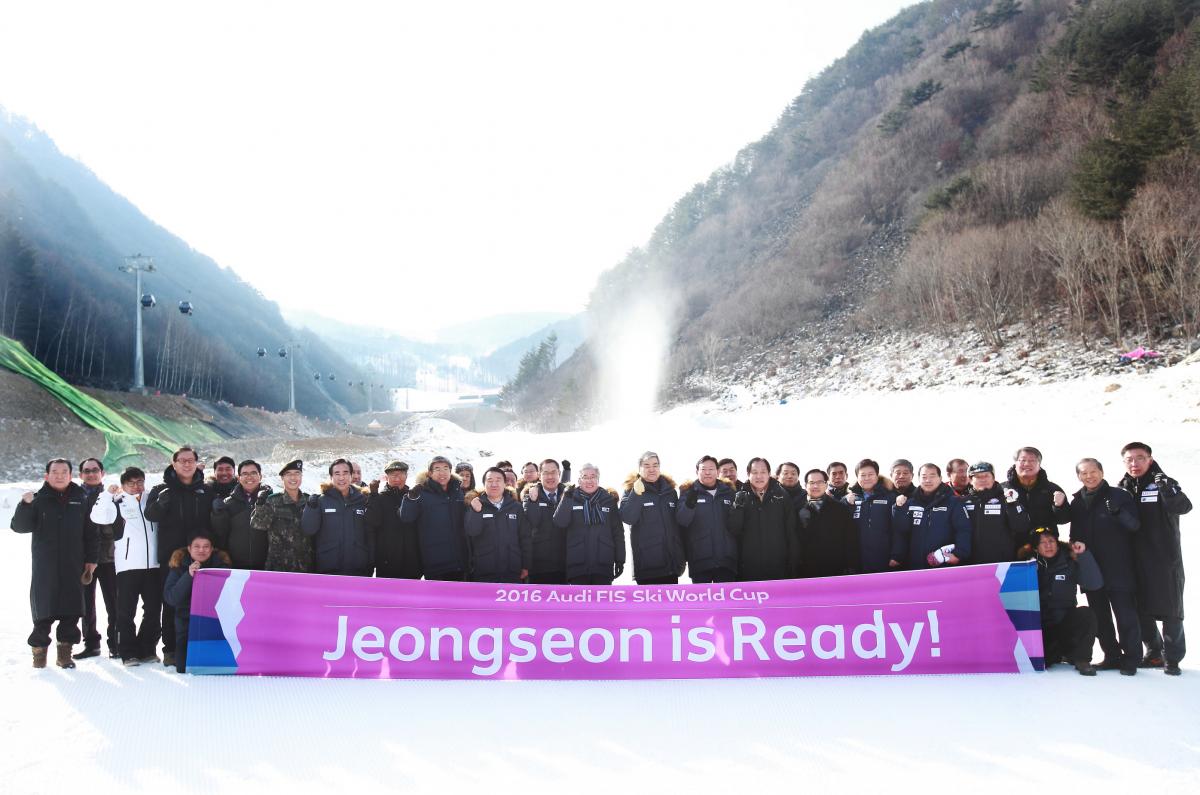 ⒸPyeongChang 2018
"This is a good move for everyone, especially spectators."
The PyeongChang Organising Committee for the 2018 Olympic and Paralympic Winter Games (POCOG) and the International Paralympic Committee (IPC) have announced that Alpine Skiing and Snowboard events will share a venue, with both taking place at the Jeongseon Alpine Centre in March 2018.
By holding both competitions in the same venue, spectators will be able to enjoy more events in one place, creating a rousing atmosphere for everyone involved.
It also ensures easier access and a safer slope width for Alpine skiers and provides separate courses for the events, which eliminates the needs to convert the snowboard track to a Slalom slope during the Paralympic Winter Games.
The original proposal was for the Alpine Skiing Downhill, Alpine Super G and Super Combined to take place at the Jeongseon Alpine Centre, while the Giant Slalom, Slalom and Snowboard would be staged in Yongpyong Alpine Centre. The idea of consolidating the competitions was originally discussed at the IPC Alpine Skiing Asian Cup held at Yongpyong in March of this year, and since then the discussions have moved into feasibility studies, planning and logistics so that the Test Events can also be held at this venue as preparation for the Games.
The Jeongseon Alpine Centre hosted the very first Test Event back in February for the men's FIS Alpine World Cup but this will be the first time that the Para alpine skiers get to experience the venue and the atmosphere. The 2017 IPC Snowboard World Cup Finals will take place from 10-13 March while the 2017 IPC Alpine Skiing World Cup will be held from 11-18 March.
As a result of the consolidation there will be considerable cost savings for POCOG. The number of staff needed will be reduced from 682 to 332 and the overlay construction costs will also be reduced with less infrastructure needed in one venue instead of across two.
POCOG Secretary General, YEO Hyung Koo said: "We expect that this consolidation of events will bring about efficient Games preparation and operations at both the test events next year and the Paralympic Winter Games in 2018, as well as substantial savings."
Xavier Gonzalez, IPC Chief Executive Officer, said: "This is a good move for everyone, especially spectators, allowing people to come an enjoy two of the most exciting Paralympic sports on the programme in a single venue. The Test Events in March will enable us to see well in advance what is working well and to make any necessary improvements. We look forward to continue working with POCOG to make the 2018 Paralympic Winter Games a success."