Jose Luis Campo re-elected Americas Paralympic Committee President
Eduardo Montenegro of Cuba was voted Vice-president for a second consecutive term; USA's Julie O´Neill, Ecuador's Bayron Lopez and Colombia's Pedro Mejia are the new three Members.
19 Mar 2017
Imagen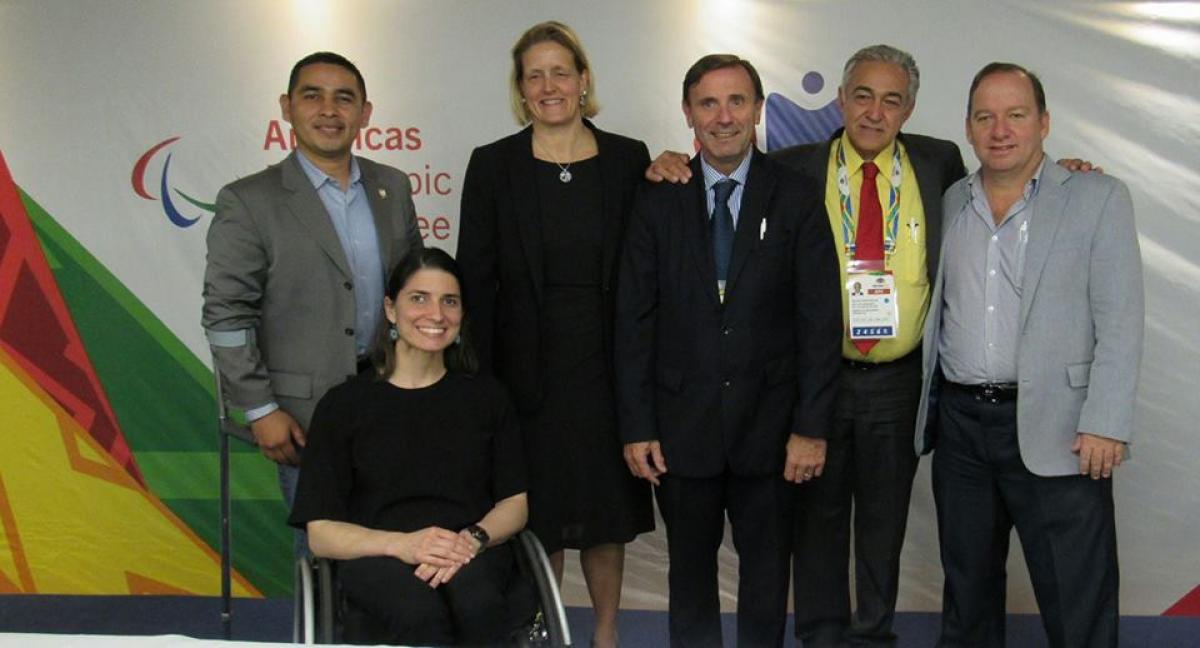 ⒸIPC
Argentinian Jose Luis Campo was re-elected President of the Americas Paralympic Committee (APC) at the APC General Assembly held in Sao Paulo, Brazil, on Saturday (18 March).
Campo received 16 votes; there were two abstentions and one vote was void.
"It is an honour for me to have the support of the region and I am hoping to repay their confidence in me with four more years of hard work and achievements," he said.
Campo was elected APC founding President in 1997 and served two terms until 2005, when he was replaced by Brazil's Andrew Parsons. Colombia's Octavio Londono was President from 2009-2013.
"I presented myself for a fourth term as APC President because I feel I can still contribute to the progress of different areas that can still be improved," Campo said.
"Our aim is to help the NPCs get stronger and more professionalised, and continue raising awareness of the Paralympic Movement across the Americas."
The members for the other four positions on the APC Executive Committee were also elected.
Cuba´s Eduardo Montenegro was elected Vice-president for a second successive term after receiving 10 votes, against eight from the USA's Julie O´Neill.
After one round of voting, Ecuador's Bayron Lopez (17 votes), Julie O´Neill (12) and Colombia´s Pedro Mejia (10) were chosen the three new Members at Large.
Besides the elections at the APC General Assembly, which took place ahead of the Youth Parapan American Games opening on Monday (20 March), Xavier González, CEO of the International Paralympic Committee (IPC), gave the financial report. The current status of the Strategic Plan and its future was presented by outgoing Member at Large Karen O'Neill.
Outgoing APC Members at Large, Dionicio Zeledon of Nicaragua and Eladio Agramonte of Dominican Republic, gave two reports about the development of Para sports in Central America and the Caribbean, respectively.
O'Neill talked about how to get more women involved in the Movement, whilst APC Athlete Representative Ileana Rodriguez encouraged the different NPCs to create an Athlete Council.
Andres Viale of the Lima 2019 Organising Committee gave an update on preparations for the Parapan American Games.
A presentation on the IPC's athlete education programme "Proud Paralympian" and Agitos Foundation programmes that are being held across the continent was given by Programme Development Senior Manager Jennifer Wong and Development Manager Jose Cabo.
Delegates from Argentina, Brazil, Canada, Chile, Colombia, Costa Rica (observer), Cuba, CP Football (observer), Dominican Republic, Ecuador, El Salvador, Guatemala, IWBF Americas, Jamaica, Mexico, Nicaragua, Panama, Peru (observer), Suriname, Trinidad and Tobago, USA and Venezuela were in attendance.
The Americas Paralympic Committee (APC) is the regional organisation, recognised as the sole regional representative of the Americas Region.
Español
José Luis Campo re-elegido Presidente del Comité Paralímpico de las Américas
El argentino fue re-elegido en la Asamblea General del Comité Paralímpico de las Américas (APC) en Sao Paulo, Brasil, el sábado (18 de marzo).
Campo recibió 16 votos; hubo dos abstenciones y un voto nulo.
"Es un honor para mí tener el apoyo de la región y espero poder devolver esa confianza con cuatro años más de trabajo duro y logros", dijo.
Campo fue elegido primer Presidente del APC en 1997 y sirvió dos mandatos hasta el 2005, cuando fue reemplazado por el brasileño Andrew Parsons. El colombiano Octavio Londoño fue Presidente entre 2009 y 2013.
"Me presenté para un cuarto mandato porque siento que puedo contribuir al progreso de distintas áreas que todavía pueden mejorar", dijo.
"Nuestro objetivo es ayudar a fortalecer y profesionalizar los Comités Paralímpicos Nacionales y continuar difundiendo el Movimiento Paralímpico en el continente".
Los miembros para los otros cuatro cargos del Comité Ejecutivo también fueron elegidos.
El cubano Eduardo Montenegro fue re-elegido vice-presidente luego de recibir 10 votos, contra ocho de la estadounidense Juie O´Neill.
Luego de una ronda de votación, el ecuatoriano Bayron López (17 votos), Julie O´Neill (12) y el colombiano Pedro Mejía (10) fueron elegidos Miembros.
Además de las elecciones en la Asamblea General, que se llevó a cabo en las vísperas de los Juegos Parapanamericanos Juveniles que comenzarán este lunes (20 de marzo), Xavier González, CEO del Comité Paralímpico Internacional (IPC), dio el reporte financiero.
El estado actual del plan estratégico y su futuro fue presentado por la saliente Miembro del APC, Karen O´Neill.
Los restantes dos salientes Miembros, Dionicio Zeledón de Nicaragua, y Eladio Agramonte de República Dominicana, dieron dos reportes sobre el desarrollo del Para deporte en Centroamérica y el Caribe, respectivamente.
O´Neill habló acerca de tener más mujeres involucradas en el Movimiento, mientras que la Representante de Atletas del APC Ileana Rodríguez motivó a los distintos NPCs a crear un Consejo de Atletas.
Andrés Viale, del Comité Organizador de Lima 2019, dio un detalle actualizado de las preparaciones para los Juegos Parapanamericanos.
Una presentación del programa educativo para atletas ´Proud Paralympian´ y los programas de la Fundación Agitos que se están llevando a cabo en el continente fue dada por Programme Development Senior Manager Jennifer Wong y Development Manager Jose Cabo.
Delegados de Argentina, Brasil, Canadá, Chile, Colombia, Cuba, CP Fútbol (obervador), Estados Unidos, República Dominicana, Ecuador, El Salvador, Guatemala, IWBF Américas, Jamaica, México, Nicaragua, Panamá, Perú (observador), Suriname, Trinidad y Tobago y Venezuela asistieron a la Asamblea.