Kazakhstani journalists benefit from media workshop
A two-day workshop was held in Astana to train media on how to report and cover Paralympic sport.
31 Jan 2017
Imagen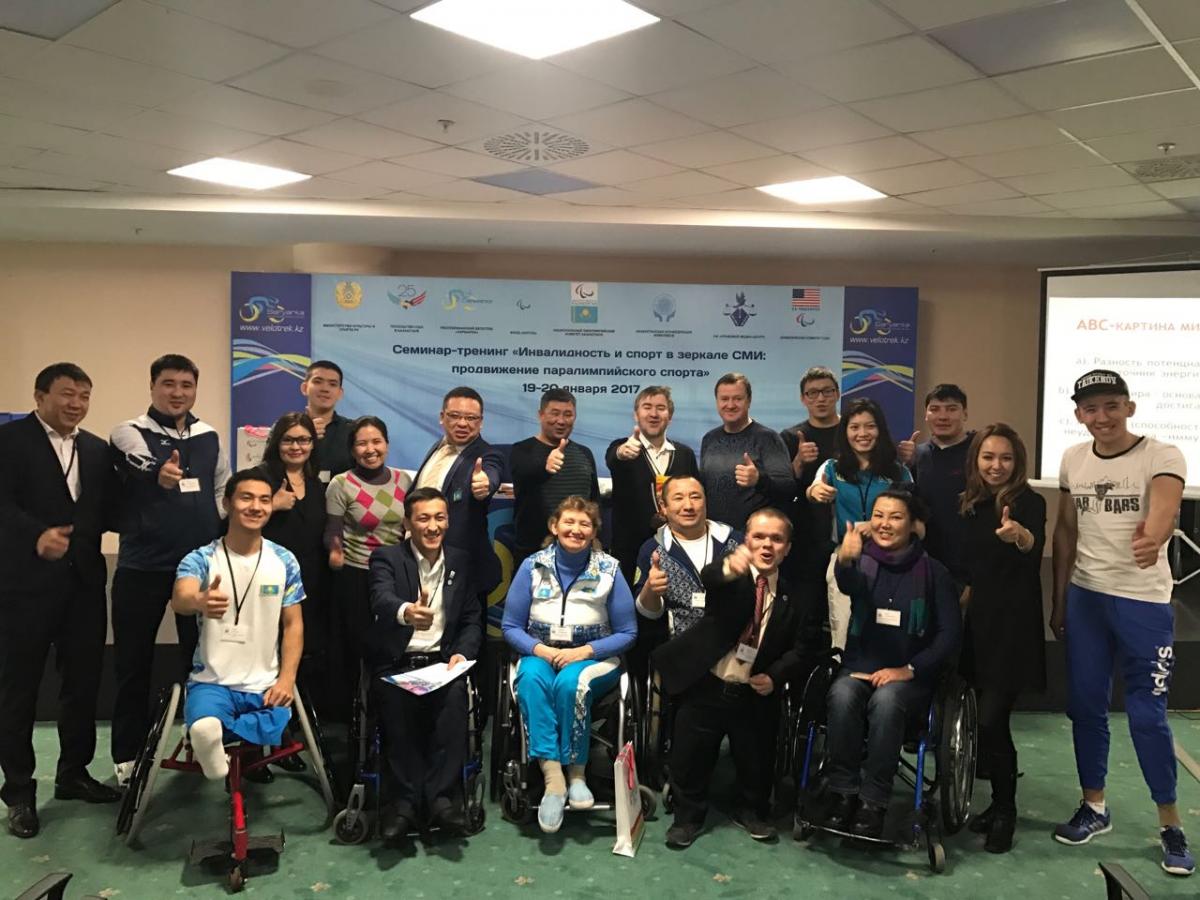 ⒸNPC Kazakhstan
By NPC Kazakhstan and IPC
"It is very important to pay attention to achievements of all Paralympic athletes of Kazakhstan in media materials."
Journalists in Kazakhstan received valuable training and knowledge after a two-day media workshop called "Disability and Sport through Mass Media Vision: Promotion of Paralympic Sport" was held 19-20 January in Astana.
Participants received tips on how to interview Para athletes, report information with correct Para sport terminologies and briefed on media law. They also got to see the perspective of a Para athlete by trying out various sports.
The workshop brought in speakers and presenters from different areas of the media field, including John Register – a representative of from the United States Olympic Committee (USOC) and long jump silver medallist from Sydney 2000 – whose experiences include live broadcasting and commentaries and TEDx speaking.
Local presenters included Ayan Tolegen, a sport TV journalist and commentator of Kazsport TV channel; Diana Okremova, director of Legal Media Center as well as an experienced social journalist; and media lawyer of Legal Media Centre Gulmira Birzhanova who discussed legal topics and the latest corrections and additions into Civil Codex and Mass Media Laws. Veniamin Allayev from Almaty also trained participants on practical usage of law in mass media.
The second day was full of practical knowledge in interviewing and presenting athletes to the public. Participants also learned about standards of public relations and branding, which was delivered by NPC Kazakhstan Public Relations Manager Gulnara Jeilan. Executive Director of NPC Kazakhstan Yerlan Suleimenov also spoke about the Paralympic Movement and its history.
In the seminar "Sport Inspite of Everything. Sport for All," media participants had a chance of play sitting volleyball, goalball and wheelchair tennis.
Rio 2016 gold medallist in the women's 100m freestyle S3 Zulfiya Gabidullina and powerlifter Raushan Koishibayeva, silver medallist in the women's up to 67kg at Rio 2016, were honorable guests.
Gabidullina said: "It is so pleasant that everybody recognises us. It is great that we are as popular as Olympic champions and every mass media is trying announcing the news about us: me and Raushan Koishibayeva. It is very important to pay attention to achievements of all Paralympic athletes of Kazakhstan in media materials."
Counselor for Press, Culture and Education at the US Embassy in Kazakhstan Anthony Pahigian said: "Discussions like the one we are having today help bring awareness to issues that disabled people face on a daily basis, challenge stereotypes and influence the way we think about disability in a broader sense. This is an opportunity for all of us to see beyond disabilities and to motivate young people with disabilities to follow their dreams, and never give up."
At the end of the seminar every participant was granted a certificate.
The seminar was organised by the National Paralympic Committee (NPC) of Kazakhstan under support of Ministry of Culture and Sport of Kazakhstan, USA Embassy and the International Paralympic Committee's (IPC) development arm the Agitos Foundation. It was an initial part of advocacy project within Agitos Foundation aimed to develop the Paralympic Movement in Kazakhstan.
The project was designed last year with support of the US State Department, the University of Tennessee Team and the USOC in frames of Global Sport Mentoring Programme.