Leading referee to bid farewell to Paralympics in PyeongChang
Johnathan Morrison has officiated Para ice hockey since 2006
10 Jan 2018
Imagen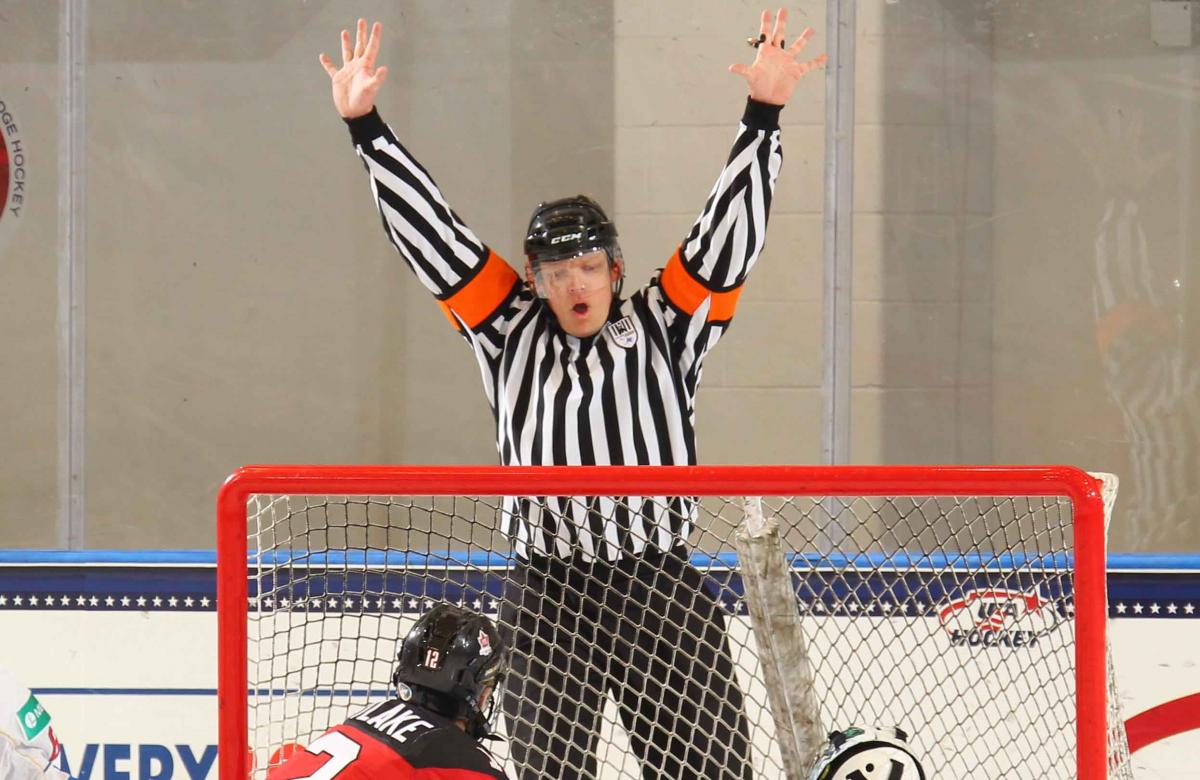 ⒸBill Wippert
By Stuart Lieberman | For USA Hockey
While officiating an ice hockey game in September 2005, Johnathan Morrison took a puck to the face that broke his cheekbone and sidelined him for six weeks.
It was not the ideal way to start a season.
The next month, just as he was nearing full health again, he got a phone call from the International Paralympic Committee (IPC). It was Scott Brinkman, the former international head of officiating for the sport of Para ice hockey.
It was a recruiting call. Brinkman asked Morrison if he was interested in officiating a three-team tournament (Canada, Germany and the United States) the following February in Colorado Springs, USA, and then three weeks later, working the Torino 2006 Paralympic Winter Games.
Morrison, admittedly, was caught off guard.
"At this time, I had heard of sled hockey, but I had never seen a game on TV, live, nothing," Morrison said. "When you're refereeing able-bodied hockey, your head is up and about. When a referee in able-bodied hockey drops his head, that's a big no-no because everything happens high. But in sled hockey, it's completely different. Everything happens low. You're looking down the entire time. Not only are you looking down the entire time, but you need to be right on top of the play, right next to it, because the penalties are the holdings, hookings and those subtle things that are difficult to see."
Figuring he had nothing to lose, Morrison agreed, and quickly grabbed hold of a bundle of Para ice hockey DVDs to study the game. Next thing he knew, he was flying to Colorado Springs and then on to Torino.
Since that winter, Morrison – whose officiating career includes on-ice experience in the United States Hockey League, American Hockey League, East Coast Hockey League, Western Collegiate Hockey League and Ontario Hockey League – has turned into one of Para ice hockey's most experienced and respected officials in the world. He can be found at nearly every World Championship and USA Hockey Sled Classic, and many tournaments in between, and he is now gearing up to work his fourth and final Paralympic Games in PyeongChang this March.
Tougher than ever
Throughout Morrison's decade on the ice, Para ice hockey has arguably been the fastest growing Para sports in the US, with players becoming quicker and tougher, and Paralympic and World Championship games being televised nationally by NBC Sports.
And with an influx of double amputees into the game over the last decade, the game-calling has shifted from teeing-penalty heavy to interference-heavy, with double amputees being able to turn their sledges quickly at the last second compared to single amputees.
That is certainly changed the landscape for officials in the sport, too.
"Now, while you may be the best local sledge hockey official in whatever community the US has to offer, if you've never worked a high-level game whether it's juniors, college or pro, you can no longer just step into a Paralympic Games or World Championships, because it's a lot of pressure," Morrison said.
"High-level able-bodied experience is a must. You've got to be able to manage the big moments. You just don't learn that by learning the finer points of a new sport. When it comes down to it in those huge games, it takes a ton of experience to manage those moments."
More than a referee
From 2009-2016, Morrison gained experience off the ice, too, coordinating the transportation and logistics for USA Hockey's officiating development programme.
He has also helped lead USA Hockey's Para ice hockey officiating camps to develop and teach the country's next generation of referees and linesmen in the sport.
No other country in the world has a programme like it, made specifically to train Para ice hockey officials.
The camps, held in conjunction with USA Hockey's Para ice hockey tryouts for the development and national teams each year, bring in six officials from around the country with varying levels of background and on-ice experience. For five days, they officiate Para ice hockey games, watch extensive video and learn the intricate differences between the US and international Para ice hockey rulebooks.
"They now get an experience that was better than my first sledge hockey experience, even when I had Canada, the US, and Germany on the ice," Morrison said. "You can't develop a sport and not develop the officials otherwise the officials will drag the sport down. You see this in able-bodied as well. There are countries throughout the world going to the A-Pool Championships, but these countries don't put such an emphasis on developing their officials like USA Hockey does."
Although he has a decade of international on-ice experience under his belt, Morrison, who is respected by all of the world's best players and considered a game-changer for the sport by today's younger officials, can still be found quizzing himself with Para ice hockey flashcards at his airport gate before boarding flights to tournaments.
Next March, he will be flipping through his flashcards one final time, as he awaits his flight to South Korea.
"I never expected to do one, let alone four Paralympics," Morrison said. "There's now other people we have ready to get involved in the US at this level, so I can say with a lot of confidence that I'll still remain in the sport, but this will be my last Paralympics as an on-ice official."
The Paralympic Winter Games take place in PyeongChang, South Korea from 9-18 March. Tickets can be purchased here.