Liukuey and Thorneycroft lead the way for Australia
Full review of first day of 2013 Asia Oceania Boccia Championships in Sydney, Australia.
22 Oct 2013
Imagen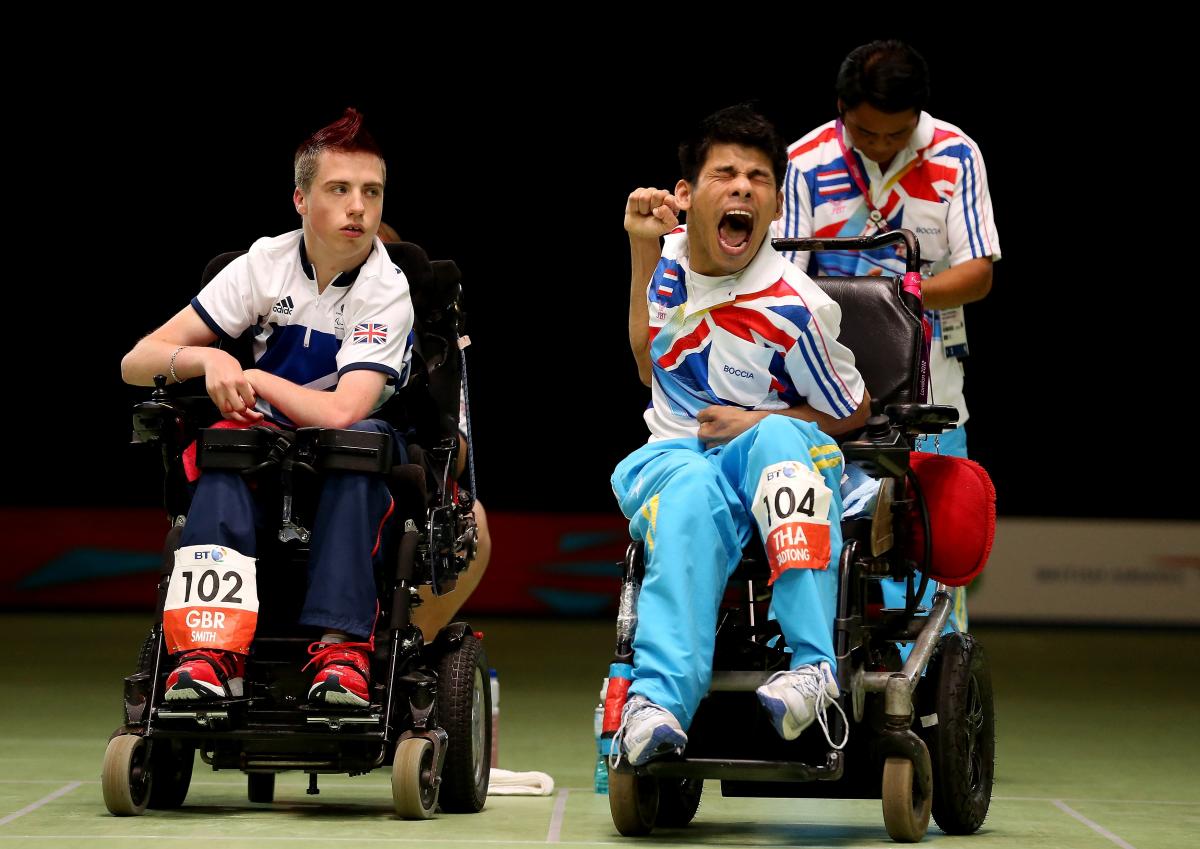 ⒸGetty Images
On the opening day of the 2013 Asia Oceania Boccia Championships in Sydney (21 October) Jason Liukuey led Australia from the front with two remarkable wins against two of the world's best players in the world, while teammate Gavin Thorneycroft also enjoyed two wins.
In his first international competition, Liukuey made short work of the Beijing 2008 Paralympic gold medallist Karen (Hoi Ying) Kwok of Hong Kong with a 4-2 win in the BC2 class, before following it up with a 3–2 defeat of world number six Hiu Lam Yeung, also from Hong Kong.
The Brisbane-based athlete only took up boccia full time last year, and Australian Boccia Head Coach Peter King says his remarkable progress was on show for all to see.
"Jason is handling the international pressure well - he has beaten some highly credentialed opponents here today," said King.
"It's early days yet but he is on track and could possibly win his pool, which would be just great."
Thorneycroft enjoyed his first win at the expense of fellow Australian Angie McReynolds, defeating her 3-2 in his first BC3 game of the tournament. He went on to secure his second victory against Thailand's international debutante Suraphol Chandee, 5-3.
Meanwhile, 18-year-old Australian debutante Daniel Michel defeated Lieguo Dong of China 8-2 in the BC3 class, just hours after completing his final school French exam.
Michel, who uses a ramp to propel boccia balls on to the court, was able to switch his frame of mind from exam to boccia with ease and deployed great strategy to secure his first international win.
"Dan has a big week with the competition falling in the middle of his final school exams. He's got immense talent and I'm hopeful he will have another win tomorrow," said King.
Also making his international debut, fellow Australian Jean-Paul La Fontaine secured a sizeable 11-0 win over Japan's Akira Kinoshita in the BC4 class to kick start his bid for Paralympic qualification.
Sydney Olympic Park's Sports Centre was wall-to-wall boccia on day one of competition, with some of the best players across the Asia and Oceania regions in action.
The tournament boasts Thailand's world number one and London gold medallist Pattaya Tadtong who defeated Australian teenager Mecenzi Howard 12-0 in the BC1 class, as well as China's world number one Zhiqiang Yan who notched two easy wins to lead the BC2 class.
"We've seen some inevitable nerves from our guys in their first matches but at the same time, I can see nerves in some of the most experienced players here. The level of competition has been very good today and it is shaping up for a tight competition for the rest of the week," said King.
Pool rounds continue on Tuesday (22 October) before individual finals on Wednesday. Teams and pairs competition begins Thursday.
For full results visit www.boccia2013.com.au.