London 2012 ceremonial cauldron details announced
Cyclist Simon Richardson will light the Paralympic ceremonial cauldron outside City Hall in Cardiff on Monday.
26 Aug 2012
Imagen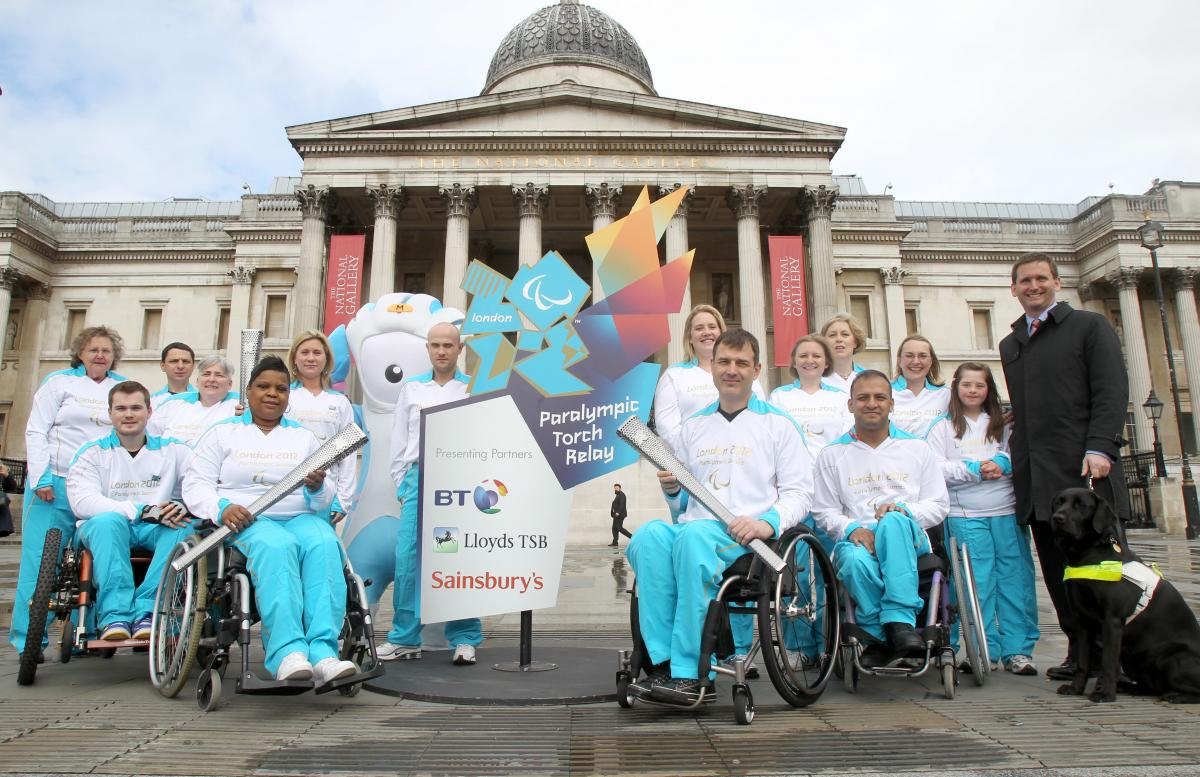 ⒸGetty Images
The lighting of Cardiff's cauldron will be performed by cyclist Simon Richardson, who won two golds and a silver medal at the Beijing 2008 Games for ParalympicsGB.
Following Belfast and Edinburgh, Cardiff will light its ceremonial Paralympic cauldron in Cardiff city centre on Monday (27 August) at 8:00. The flame was kindled at the summit of Mount Snowdon, Wales' biggest peak, by a group of disabled and non-disabled scouts.
The Welsh flame will then continue on to Stoke Mandeville, the birthplace of the Paralympic Movement, where the national flames of England, Scotland and Northern Ireland will be combined with the Welsh Flame ahead of a 24-hour relay onto the Olympic Park starting on Tuesday evening.
The lighting of Cardiff's cauldron will be performed by cyclist Simon Richardson, who won two golds and a silver medal at the Beijing 2008 Games for ParalympicsGB.
Richardson was involved in a car accident in 2001 which left him seriously injured and with no feeling down his left hand side. In 2005 Richardson began to cycle again after his rehabilitation, and soon after he was competing nationally and internationally.
Richardson was awarded an MBE in 2008 for his services to disability sport, before suffering another serious injury in 2011 in a hit and run incident while he was cycling. He suffered a number of severe injuries with fractures to the spine, a broken pelvis, a broken breastbone, cuts to his legs, and a detached lung.
Throughout the day lanterns will be lit from the cauldron to visit the local community of Cardiff, at Rockwood Hospital and the House of Sport Coaching Academy.
The day of celebrations will conclude with the Flame Festival at 19:00, where specially chosen Torchbearers will be accompanied by a spectacular lantern procession of over 200 people as the flame moves from the city centre down to Cardiff Bay. T
The Torchbearers include:
Simon Weston, who was on board the Sir Galahad when it was destroyed in Bluff Cove on the Falkland Islands. Weston had to overcome his 46 per cent burns and 70 major operations. He was made an OBE in 1992 and was also awarded the Freedom of the City of Liverpool in 2002 in recognition of his bravery and his charity work in the region.
Nazim Erdem, who became a quadriplegic in 1990 when he dove into shallow water and broke his neck. In 1992 Erdem began playing wheelchair rugby and made his debut for the Australian team in 1997. The greatest sporting moment of his life is winning a silver at his home games in 2000.
Andrew Burt, who has been a dedicated judo coach in Pontarddulais teaching both disabled and non-disabled children with behavioural problems the discipline and team working benefits of learning a martial art. Burt had to have his leg amputated due to septicaemia a few years ago and he says that although fighting in the Olympics was his dream, being involved in London 2012 would be the highlight of his life.
Sarah Murray, who has already run several marathons, is planning to run 2,012 miles in 2012, with the ultimate aim of raising £201,200 to fund a holiday home for use by families of children with disabilities. Sarah has a son with down syndrome and autism and has supported hundreds of families as they came to terms with having a child with disabilities.
Robyn Johnson and Timothy McVea, who were both nominated by athletes who they had supported on their journey through training and Paralympic competitions.
Sarah Anderson and Mark Williams, who were both nominated through their work in Sainsbury's stores where they helped customers who needed urgent medical attention.
Once the flame has arrived at Roald Dahl Plass in Cardiff Bay, there will be various entertainment for those attending. Attractions include steel drum bands, pop star Joe McElderry, and many interactive experiences, including one where people can light their own virtual Paralympic Cauldron.