Marcoux wins downhill gold at Panorama 2015
Canada's Mac Marcoux took the title for the hosts as Austrian Claudia Loesch fulfilled her dream, taking her first downhill World's title.
04 Mar 2015
Imagen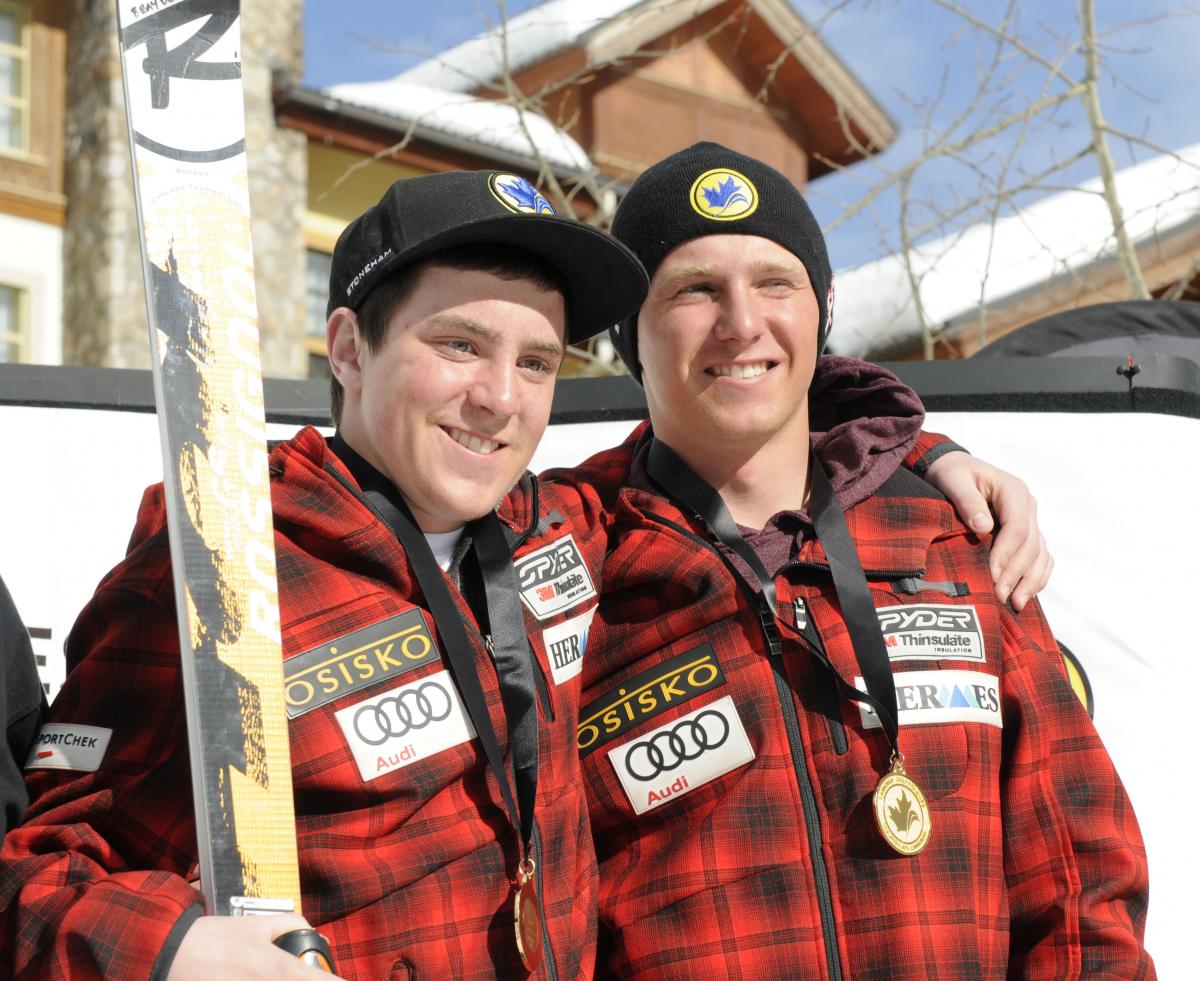 ⒸAlpine Canada
Canadian Mac Marcoux, guided by his brother BJ, took gold in the men's downhill visually impaired at his home World Championships in Panorama on Wednesday (4 March), his first career world title.
"We just skied, see what happens," Mac said "It was a good run. There's such a good surface on the hill. I'm pretty stoked."
Marcoux (1:29.68) stylishly added the win to his bronze medal in the event from Sochi 2014 in the perfect start to his campaign, leading the USA's Mark Bathum (1:31.89) and guide Cade Yamamoto into second. Slovakia's Miroslav Haraus (1:32.12) and guide Maros Hudik were third.
Australia's Melissa Perrine (1:45.80) collected her first career world title in the women's visually impaired with guide Andrew Bor. In a close race, Perrine led the USA's Danelle Umstead (1:46.32) and her husband guide Rob into silver. 2013 silver medallist Russian Aleksandra Frantceva (1:51.57), guided by Semen Pliaskin, was third.
Austrian Claudia Loesch (1:33.29) fulfilled her dream of winning the women's downhill sitting world title, completing a stunning run to beat third placed German Paralympic champion Anna Schaffelhuber (1:38.06).
"It's the last cornerstone of my career," Loesch said. "I knew at the start that I just had to ski it and rock it. I am just so happy and relieved right now, I'm close to tears. It was amazing. It was so much fun skiing down today and I can't believe it. I'm so incredibly happy."
Loesch gave it everything she had, barely taking her foot off of the accelerator to take gold on a crystal clear day. Schaffelhuber was pushed into bronze by Japan's Momoko Muraoka (1:35.95).
With the trees casting longer shadows over the course as the afternoon wore on, New Zealand's Corey Peters (1:28.06) won the men's sitting for his inaugural career gold. Austria's Roman Rabl (1:28.80), improving all the time, sealed silver and Japan's Taikii Morii was third.
France's world and Paralympic champion Marie Bochet (1:32.81) got her Worlds campaign off to a great start in the women's standing, clearing German silver medallist rival Andrea Rothfuss (1:36.83) by over four seconds. Russia's Mariia Papulova (1:42.12) collected her first major international medal in third.
Russian 17-year-old slalom and super-combined Paralympic champion Alexey Bugaev (1:27.60) eased to gold in the men's equivalent, rounding off the four skiers to win their first world titles at Panorama 2015.
Austria's Matthias Lanzinger (1:29.71) picked up silver, leading Buagev's bronze medallist teammate Alexander Vetrov (1:31.25) onto the podium.
Races continue on Thursday (5 March) with super-G, beginning at 11am (MST).
Panorama 2015, featuring over 100 athletes from 23 countries, runs until 10 March and will be streamed live at www.Panorama2015.com alongside live results. Viewers in the US can watch via US Paralympics website and in Canada at CBCSports.ca.
Official results are available at IPC Alpine Skiing's website.
Images from each day will be available at the IPC's Flickr page. Media wishing to receive high resolution images should contact [email protected].
Broadcast interviews will be available from a selection of winning athletes on each day. For access please contact [email protected].
Live updates and behind the scenes will be available at IPC Alpine Skiing's Facebook page and Twitter account and @Paralympics Instagram.