Mareike Miller: Words can't describe emotions at Rio 2016
The German wheelchair basketball Paralympic silver medallist looks back at her second Games experience.
20 Oct 2016
Imagen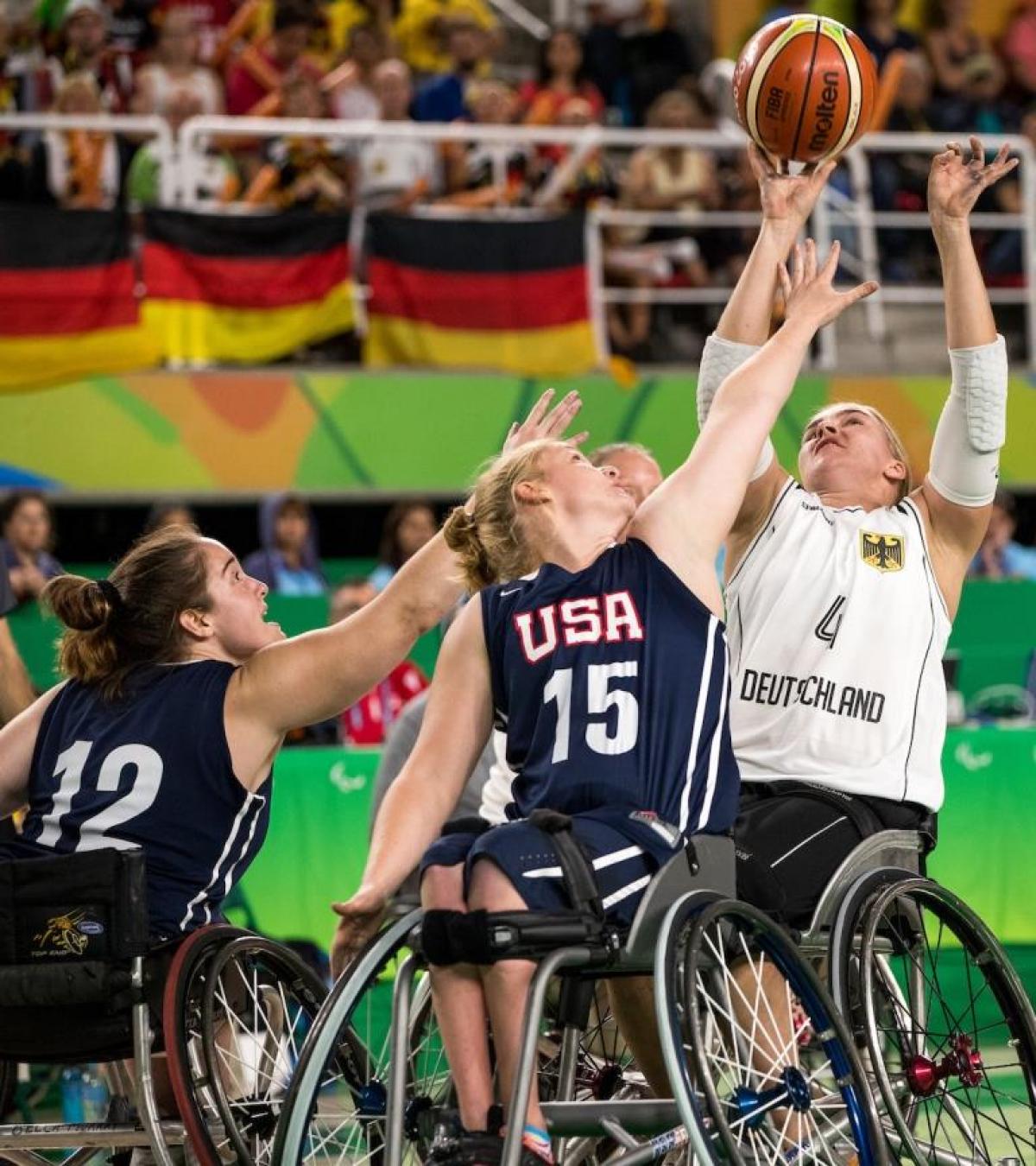 ⒸAl Tielemans for OIS/IOC
By Mareike Miller | For the International Wheelchair Basketball Federation
About a month ago, German women's wheelchair basketball player Mareike Miller took home a bittersweet silver medal from the Rio 2016 Paralympic Games.
The Paralympic Games in Rio de Janeiro, what an incredible experience and honour to say I was there, competed and won a silver medal. What great pleasure it was to get to play in front of thousands of enthusiastic Brazilians cheering us on or booing during our free throws giving us additional challenges. Really, it's been (about four) weeks since it finished and I still can't seem to find the right words to describe the emotions it caused; the many ways we got to enjoy playing the sport we love on the best of all stages.
Aside from the general knowledge of large crowds, loud gyms and great competition, let me tell you more of my personal experiences for a closer look of what it's like: being an athlete at the Paralympics is a fun but exhausting adventure. Between daily practices and games, team meetings and video sessions barely a few minutes remain to relax and let the nice Brazilian winter sink in. The balcony that we equipped with some nice lounging furniture was the greatest location for a little retreat during these times. We had lots of fun, joking and playing games with my teammates while overlooking some of the Village. Having a nice view to the lake nearby made for some great downtime when we could find any.
Competition being as great as it was left its mark, and while I love being on the court day and night, at times I was thankful to be able to get some rest even during Games. Playing seven games in eight days at your personal best is exhausting, and doing it all with the pressure of wanting results takes everything out of any athlete, no matter what level of play or training. But the reason I love this sport is for these moments. Nothing feels better than trying to push myself and my teammates to be at our best at the sport we all care so much for.
Sometimes we joke because our team is currently one of the top teams with the most non-professional athletes as most of us work full-time or study in programmes that don't allow for consistent daily practices. Most of our competitors are in programmes or have their national team training together all-year round.
Nonetheless, we made it happen and competed in our 10th final of a major competition in the last 10 years. This was a result of us knowing what it takes to push each other to the limit even with little time to prepare. When we are at the Paralympics and competing, we know what we want and need to do. It's not always easy to put that out on the floor and be as consistent as we've been. Especially this year, while our team bond was stronger than ever, we struggled at times to play our best during preparation and even in our first tough game at the Paralympics against Great Britain. But yet we had the desire, determination and cleverness it took to step it up at the right time and make it to the final once again.
I'm grateful to have been able to be part of the German women's wheelchair basketball national team and share some of their decade of success. And while, just like many teams after a Paralympics, we may have some restructuring to do in the future, I look forward to continuing to show what great skill and personalities come from.
I'm thankful Rio was much more than what was being communicated in the news beforehand. The apartments were great, we had everything we needed to be successful and enjoyed an incredible three weeks at the Paralympic Games. The German Paralympic Committee once again outdid itself by incredible support for us, press work and celebrating our accomplishments together.
I'm also excited to have a few more banquets and celebrations coming up to highlight these achievements in Germany and get the chance to meet more athletes, governors and sports enthusiasts supporting the great developments over the next few months.
Taking the necessary time to let it sink in – another Paralympic medal won, another incredible year representing Germany. Moments that I wish had never ended and it makes me excited to look forward to continue competing at the highest level and even having the World Championships in Germany in two years' time.