Medals and London Paralympic Qualifiers Decided at IFDS Sailing Worlds
09 Jul 2011
Imagen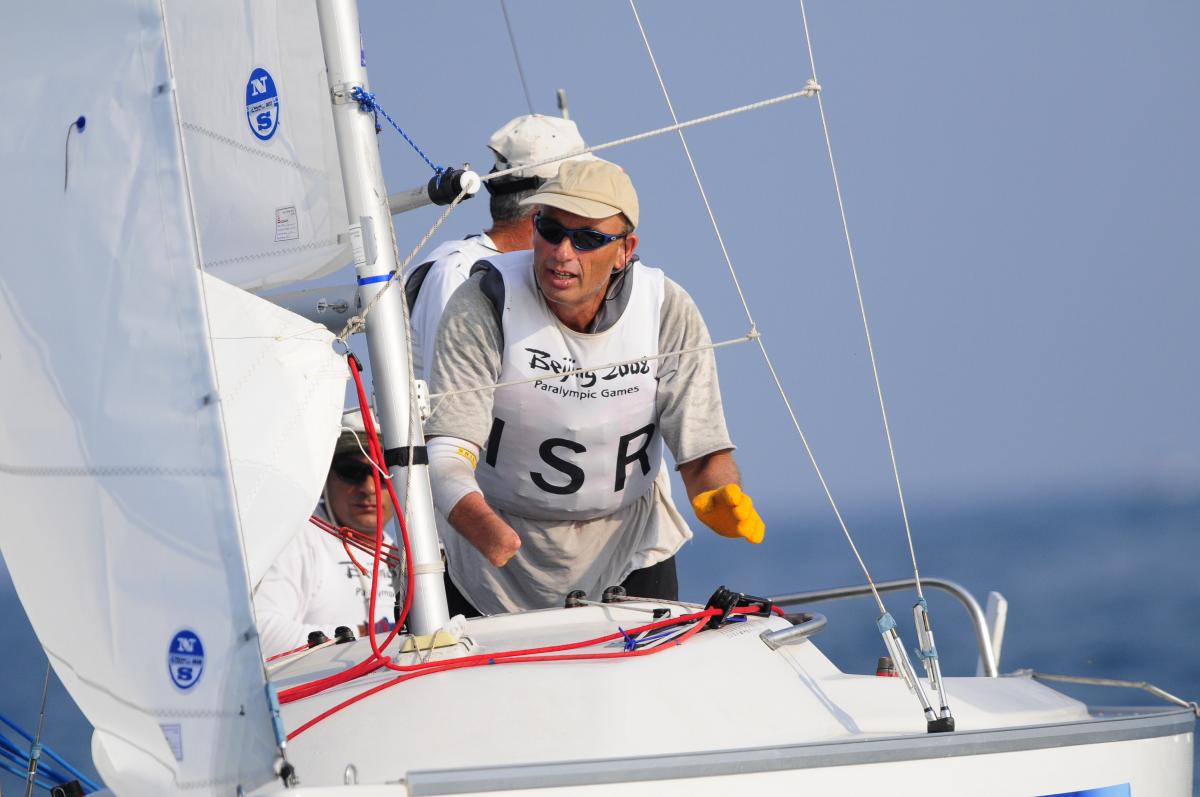 ⒸGetty Images
By IPC
The Netherlands, Great Britain and Israel topped the podium on the final day of the IFDS Disabled Sailing Combined World Championships, the final chance to qualify for the London 2012 Paralympic Games. Strong breezes in Portland Harbour denied the sailors the chance of one last race on Friday 8 July.
Winds gusting up to 30 knots at the Weymouth and Portland National Sailing Academy venue meant so that, despite the best efforts of the race management team, it was not deemed safe enough to send the sailors out racing so the decision was made to abandon proceedings around midday.
That meant for the third successive year the Netherlands' Thierry Schmitter wrapped up the 2.4mR World title, with a 12-point gap between he and fellow countryman Andre Rademaker, who claimed silver.
At the past two Worlds, Schmitter's winning margin has been significantly tighter, snatching the gold medal on the final day of racing on his home waters of Medemblik last year. But having led this regatta since race four, Schmitter was crowned deserving champion.
He said: "It's a new experience to win with such a big lead, it's a good feeling. I think being a three-time World champion may take some time to realise but as you come closer to the Paralympic Games every result starts to be important and this Championship has more weight than, for example, the Championship in 2009. I've been pleased with the diverse conditions we've had over the week. I've been able to win in every condition, in light airs and heavy airs, which is what pleased me the most this week."
On the impact of two Dutchmen finishing in the top spots he added: "Training together and winning together is a very good feeling for Dutch 2.4mR sailing and we're happy to see that to be the best we don't need the rest of the world anymore, we can do it in our own kitchen! The idea is for the 2012 selections to be as late as possible so we don't really focus on that, we more focus on training together and sparring."
With the overnight positions holding, Skandia Team GBR's Helena Lucas was delighted to win her third World Championship medal since 2006.
She said: "I had a great start to the regatta which was key, and I never dropped out of the top four. I think on the second day I was fourth but the points were so tight and I just managed to stay in the medal positions all the way through the week. If you look at the points it's just so close, so close. Going into Friday there were four or five people who stood a chance of getting bronze so there was certainly a real scrap for it.
"I knew what the forecast was on Thursday and I knew it was key to try and make sure I finished on Thursday in the medal places just in case we didn't race on Friday. Ian 'Billy' Barker, my coach, was great, he said 'right, we're going down to the dock and put the sails on' just to make sure I was in the right frame of mind to go racing rather than sitting on the dock praying that the wind would keep up!"
There was a delay of almost two-and-half hours before Athens 2004 Paralympic champions Dror Cohen, Benni Vexler and Arnon Efrati (ISR) were confirmed as Sonar champions.
Following the decision to reinstate the Israeli team after an initial race 10 OCS last night, a decision which put them at the top of the leaderboard four points clear of Britain's John Robertson, Hannah Stodel and Steve Thomas, the British crew protested their Israeli rivals on Friday for having film equipment on their boat, an alleged infringement of the class rules.
The protest was upheld by the jury, who found that the presence of the video camera did breach the class rule but imposed zero penalty and recommended that for future events, the class rules should be reviewed. The British boat's subsequent request for redress against the race 10 OCS decision was also dismissed, meaning the Israeli crew were crowned Sonar World champions for the first time.
Cohen said: "It's great, after so many years! We have been twice second, we won the gold medal in the Paralympics but to win the World Championship is something very special especially as there are so many good sailors around, the 10 top boats could easily get the medals, it was a tough, tough competition and it feels good to win when it's like that. Protests are part of sailing but we always prefer to finish things on the water; competitively find the spirit of sport, sportsmanship and friendship. Of course there's tackles but that's part of sailing. Now we've got our new boat fine tuned and I think we'll be a strong competitor for the Paralympics."
Robertson said: "A silver medal's not bad at the Worlds but it's what could have been really. We went into last night seven points in the lead but overnight the Israelis managed to get back into the lead. We've had a couple of run-ins in the protest room this week and sometimes it doesn't work out for you, it's tough but you get on with it. Saying that a silver medal means we've got a better chance of being selected to compete at the Paralympics. The only way not to end up in those situations is to become faster and sail better."
Alex Wang-Hansen, Per Eugen Kristiansen and Marie Solberg (NOR) took bronze.
Alexandra Rickham and Niki Birrell enjoyed probably the least stressful day of all the leading competitors having completed their Worlds hat-trick of titles with a day to spare on Thursday.
Birrell said: "It was awesome when we did the maths and worked out on Thursday that we had won with a day to spare. We were delighted that all our training had paid off because we've worked hard this year to get ready for this event, now we focus on the next one. Our ultimate goal for the whole campaign is to win the Paralympics next year; definitely win a medal and hopefully a gold one so we will have a few days off this week and then start thinking about how we can sail faster and be more prepared for next year.
"What really won us this regatta was when we were down in a few races we managed to come back to some creditable scores. This was the biggest fleet we've ever raced in and with just over a year to go until the Games everyone's been training really hard and it showed. Our goal for this year was to get a medal at Skandia Sail for Gold and the Worlds and hopefully win one. We got silver at Sail for Gold and have won here so we're happy."
The USA's Jennifer French and J-P Creignou were confirmed as silver medallists with Dan Fitzgibbon and Liesl Tesch (AUS) winning bronze.
As the last chance for nations to qualify a boat in each of the three classes for next year's Paralympics, the final list of qualified countries is now complete as follows:
2.4mR – GBR, NED, GER, CAN, FRA, NOR, DEN, GRE, USA, NZL, FIN, ARG, AUS, ITA
SKUD 18 – GBR, USA, AUS, CAN, SIN, MAS, NZL, ITA, ISR, ESP, BRA, FRA
Sonar – GBR, NED, GER, ISR, GRE, FRA, ITA, NOR, USA, IRL, AUS, CAN, AUT, JPN
The IFDS Disabled Sailing Combined World Championships 2011 have been organised, and run, by the Royal Yachting Association (RYA), supported by UK Sport.