Mentel-Spee, Mayrhofer, Roundy all secure World Cup doubles in Aspen
The three snowboarders secured their second snowboard-cross wins at the IPC Snowboard World Cup at Aspen Snowmass on Saturday (6 February).
07 Feb 2016
Imagen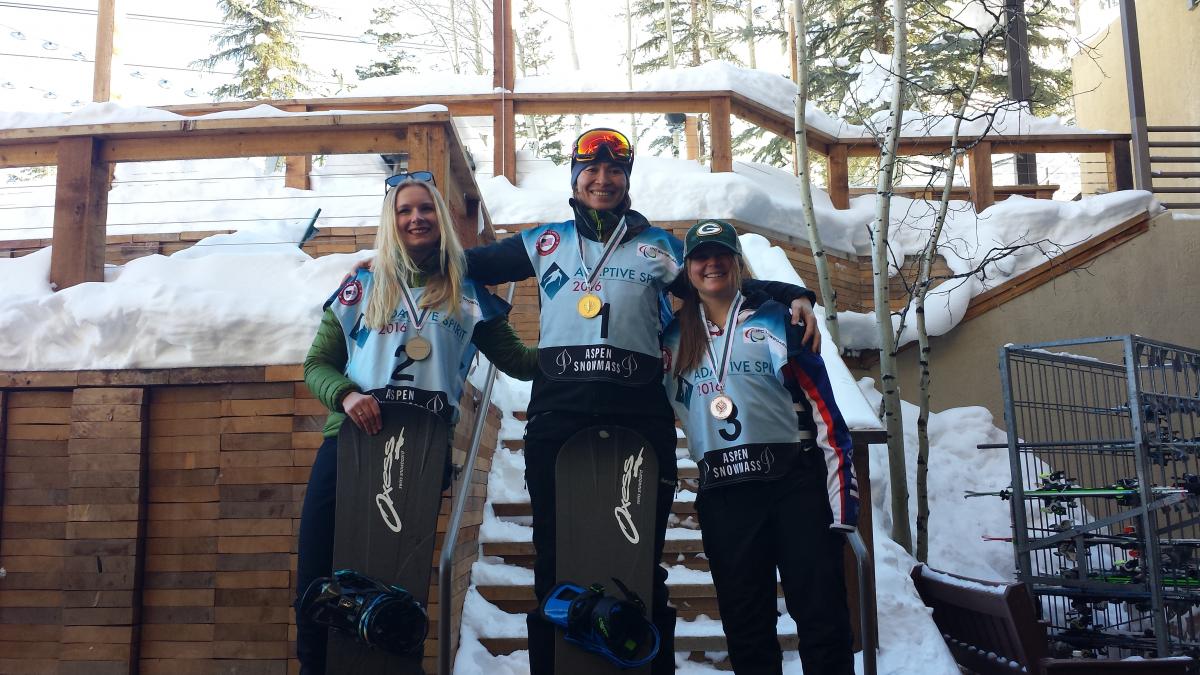 ⒸUS Paralympics
By IPC
Three athletes – the Netherlands' Bibian Mentel-Spee, the USA's Nicole Roundy and Austria's Patrick Mayrhofer - all secured back-to-back snowboard-cross wins at the IPC Snowboard World Cup at Aspen Snowmass, the USA, on Saturday (6 February).
Paralympic and world champion Mentel-Spee, competing in her first World Cup races since treatment for cancer, added to her win from Friday with gold in the women's SB-LL2. In the final she beat teammate Lisa Bunschoten, whilst the USA's Heidi Jo Duce added a bronze medal to her silver from Friday.
World champion Mayrhofer also picked up his second World Cup win at Snowmass in the men's SB-UL class. Italy's Manuel Pozzerle returned to the silver medal position with US Marine Corps veteran James Sides taking his first trip to the podium with bronze.
Roundy secured her second gold by cruising to victory in the women's SB-LL1 against teammate Megan Harmon.
Arguably the performance of the day came from the USA's Mike Schultz who secured his first World Cup win of the season in the men's SB-LL1.
The 2016 X Games champion advanced to the final with a come-from-behind win against Austria's Reinhold Schett. In the final he defeated world champion Chris Vos to get revenge for his defeat against the Dutch athlete in Friday's final.
"I'm really excited about how the whole week went," Schultz said. "My family's here and I love being in Colorado. It's almost my second home state between snowmobiles and snowboarding, so having the support here is awesome and makes it that much better.
"[Chris] has been flying these past few days and to beat him on the last day here was pretty awesome because I've been finishing second to him since the beginning of the season.
"To finally get this big win is huge. This is my first three days on a snowboard-cross course in a year so I'm pretty pumped about how well I'm doing," Schultz added.
Finland's world champion Matti Suur-Hamari came off of an X Games win last weekend to reclaim gold from the USA's Mike Shea in the men's SB-LL2 class. Shea, a 2014 Paralympic silver medallist, won Friday's snowboard-cross matchup against Suur-Hamari but encountered trouble after a turbulent turn mid-course. His teammate and Paralympic bronze medallist in Sochi, Keith Gabel, also made his return to the podium with bronze after finishing fourth on Friday.
"I'm super stoked to be back on the podium," Gabel said. "I didn't race very well yesterday so I just analysed what I did wrong and came out with a clear head and reset."
Athletes will travel to the next snowboard world cup in Big White, Canada, where they will race in snowboard-cross and banked slalom, between 10-13 February.
Full results are available here.
Updates and pictures are available @IPCSnowboard and Facebook.com/IPCSnowboard.