Minor and Badenhorst win again on star studded day at Treble Cone
First Para snowboard World Cup also sees home favourite Murphy medal
02 Sep 2017
Imagen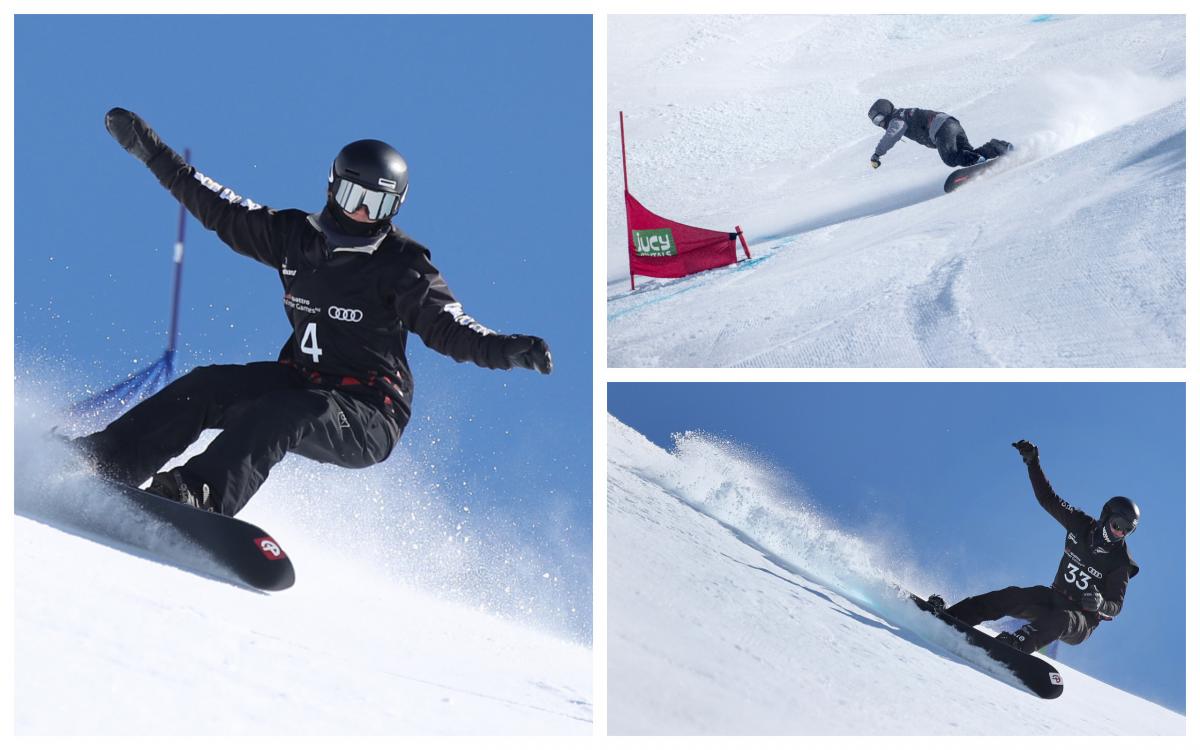 ⒸWinter Games NZ
By Winter Games NZ and IPC
"It feels amazing to have won. We all have found it pretty challenging out there today. I had a great first run with my fastest time. This is our first qualifier for the PyeongChang 2018 Paralympic Winter Games so I could not be happier."
There was more success in New Zealand for Australia's Joany Badenhorst and USA's Mike Minor, as both finished on top of the podium for the second successive day at the Audi quattro Winter Games NZ.
Badenhorst and Minor followed up wins in Friday's (1 September) Southern Hemisphere Cup with victory in the women's SB-LL2 and men's SB-UL respectively in the first World Cup of the season.
Badenhorst - who won in a time of 1:10:52 - said, "The course is pretty amazing. It is really challenging and quite difficult, making the riders put their best ride forward. I have been snowboarding for going on four years, with back to back seasons since Sochi 2014 and I have seen a lot of courses. There has been so much work put into this course by the designers and they have nailed it."
Great Britain's Cassie Cava took silver (1:18.52) and USA's Brittani Coury the bronze in a time of 1:20.68.
The first men down the mountain were the Men's SB-UL classification where Minor won his second gold of the weekend in a time of 1:08.04, followed by Simon Patmore of Australia (1:08.66) and China's Zhuo Chen (1:09.15).
Minor said, "It feels amazing to have won. We all have found it pretty challenging out there today. I had a great first run with my fastest time. This is our first qualifier for the PyeongChang 2018 Paralympic Winter Games so I could not be happier."
Home fans at Treble Cone also had reason to celebrate, with New Zealand's Carl Murphy securing bronze (1:01.21) in the SB-LL2 to move one step closer to qualification for PyeongChang 2018.
"I'm wrapped with the podium finish today, it was not quite the win but it is part of the building phase and I will take it. Yesterday was more of a training day for me, building into today's World Cup. The field was stacked with Paralympic medallists so it is good to know that I can still be competitive against the best in the world."
The result extra special for the 38-year-old who nearly retired from the sport during the past 12 months due to injury. "I always race to win not to come third, but given what I have been through with my injuries I'm still rebuilding in some ways. To come away with a podium finish at a World Cup is epic. The rehab was brutal and I wasn't progressing quite as fast as what I wanted. I guess it shows my determination in some ways, I just really want that Paralympic gold. I just want to go to PyeongChang and ride the way I know that I can ride and be competitive. Obviously, I want the gold."
The USA's Michael Shea was the eventual winner in the SB-LL2 with his final run of 59.00. Australian teenager Ben Tudhope won silver in 59.28.
Shea said, "It was great fun out there and I have always enjoyed more of an alpine snowboard set up. After this event, I will be taking my fiancé for a vacation to Paris before the season really gets underway. From November right through to Christmas we will be on the road in Europe, so I just wanted to take advantage of some downtime. I have been part of this sport for nearly eight years. I have seen this sport grow exponentially. The level of riding has now gone up so much that you have to be on your A game if you want to get anywhere near the podium. PyeongChang is going to be really good."
The women were the first to take on the steep sun soaked course on Saturday (2 September) with China's Qiaorong Pang winning the Women's SB-UL in 1:26.23. American Nicole Roundy won the Women's SB-LL1 in 1:19.58.
Roundy said, "I was racing against the clock today and the outcome was good. I was excited to see what I could achieve at Treble Cone. It was a great first step in my training so early in the season."
Team USA took gold and bronze in the Men's SB-LL1 with the USA's Noah Elliot topping the podium in a time of 1:06.95. Less than one second behind was Daichi Oguri of Japan in 1:07.79 and Elliot's US team mate Mike Schultz in 1:08.06.
Elliot said, "It felt awesome out there today and I had a lot of fun. Today was a great way to build on all the great memories I am making on my first trip out of the States here in New Zealand. I'm really stoked with my runs today. I know I will have made Mum proud."