Multiple winners sweep alpine skiing Europa Cups
The rivalry between Germany's Anna Schaffelhuber and Austria's Claudia Loesch came alive in Pitztal, Austria.
13 Dec 2016
Imagen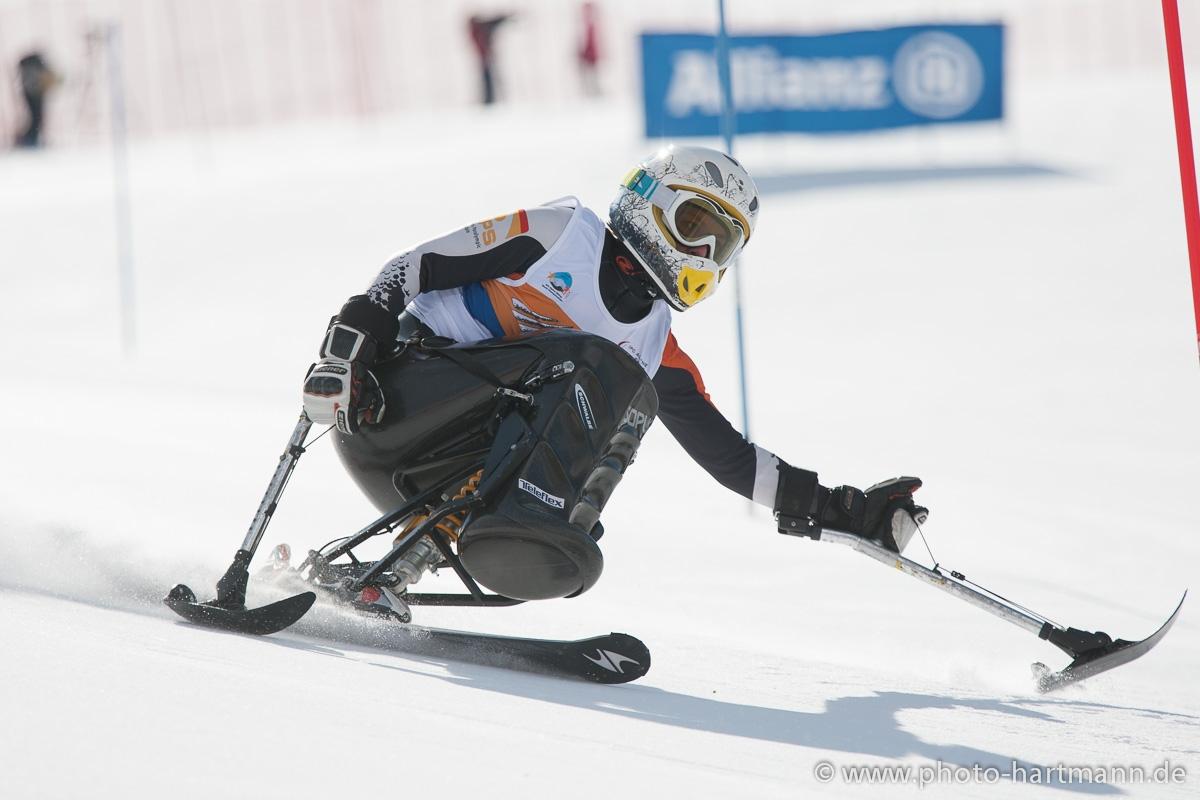 ⒸMarcus Hartmann
Alpine skiers from Austria, Germany, Slovakia, Switzerland and Australia all reached the top of Europa Cup podium multiple times between 12-13 December, as they swept the giant slalom and two super-Gs in Pitztal, Austria.
The results are a good indicator of form ahead of the opening World Cup of the season, which gets under in Kuhtai, Austria, on Thursday (15 December).
The rivalry between Germany's world and Paralympic champions Anna Schaffelhuber and Austria's Claudia Loesch reignited in the women's sitting, with both skiers taking victories.
Schaffelhuber triumphed in the giant slalom on Monday (12 December), just over one second ahead of Loesch in second place. Loesch improved on her second run but it was not enough to take the win. The Austrian ended up splitting two Germans, as Anna-Lena Forster was third.
In the first of two super-G races on Tuesday (13 December), Loesch came out on top. That left world and Paralympic title holder Schaffelhuber in second. The Netherlands' Linda van Impelen was third.
In the second super-G, Loesch doubled up to once again lead Schaffelhuber onto the podium in second. This time Forster rounded out the podium.
In the men's giant slalom sitting, up-and-coming German Georg Kreiter claimed victory on his Europa Cup season debut. Improving from sixth to first place on his second run, Kreiter just edged the USA's Tyler Walker. South Korea's Sang Min Han had a promising finish with third.
Both of the super-G races went to Switzerland's Christoph Kunz with Kreiter in second twice.
Austria's Roman Rabl claimed third place in the first super-G, whilst later in the day the USA's Andrew Kurka took his place during the second.
Germany's world and Paralympic Games silver medallist Andrea Rothfuss swept all three races in the women's standing.
However Rothfuss nearly lost out to Canadian newcomer Mollie Jepsen in the giant slalom. Jepsen, 17, posted a leading time on the first run, only for Rothfuss to come back and finish just 0.67 seconds ahead of the teenager overall.
Italy's Melania Corradini also registered two top three runs to secure third.
Both of the super-G races were led by Rothfuss, but the Netherlands' Anna Jochemsen snuck in to second on both occasions. Corradini also sealed a tripe podium sweep in third.
In the men's standing Switzerland's Thomas Pfyl became the latest skier to secure a trio of wins.
Leading the giant slalom by a narrow margin of 0.67 seconds, Pfyl was the victor over Austria's World and Paralympic medallist Markus Salcher. Slovakia's Martin France completed the top three.
In the first super-G, Pfyl led once again. Switzerland's Robin Cuche, nephew of Swiss skiing legend Didier Cuche, had a successful return to the snow after missing last season due to injury.
Cuche was second ahead of France in third.
The Netherlands' Jeffrey Stuut finished a close second to Pfyl in the second super-G, whilst France sealed his third podium finish.
Australian World Championships silver medallist Melissa Perrine registered two leading runs in the women's giant slalom visually impaired to claim first with guide Andrew Bor.
The USA's Staci Manella, guided by Sadie De Baun, was second ahead of Belgium's Eleonor Sana and guide Chloe Sana.
Perrine took the top spot in the first super-G ahead of Sana and US skier Danelle Umstead with guide husband Rob, with the top three mirrored exactly in the second race.
On the men's side, Slovakia's Miroslav Haraus and guide Maros Hudik squeaked past former world champion Yon Santacana Maiztegui, guided by Miguel Galindo, in the giant slalom.
Slovakia's Marek Kubacka, the only completely blind skier in the field, was third with guide Maria Zatovicova.
Haraus and Santacana Maiztegui were second and third respectively in the opening super-G.
Haraus's teammate Jakub Krako was third with guide Branislav Brozman.
In the second super-G, Haraus and Krako were the top two as Santacana Maiztegui came back to claim third.
Full results are available at World Para Alpine Skiing's website.
All skiers are under 50 days away from the 2017 World Para Alpine Skiing Championships in Tarvisio, Italy, which get underway on 22 January.
Tarvisio 2017 will feature around 150 of the world's best skiers from 30 countries, competing in the last major Championships on the road to the PyeongChang 2018 Paralympic Winter Games.
Live results from the Kuhtai World Cup, which will feature slalom and giant slalom, will be available at World Para Alpine Skiing's website between 15-17 December.