Naciye Cakir's 27 points lead Turkey in Frankfurt
Turkey recorded a big win against Italy in the women's preliminary round of the IWBF Wheelchair Basketball European Championships.
03 Jul 2013
Imagen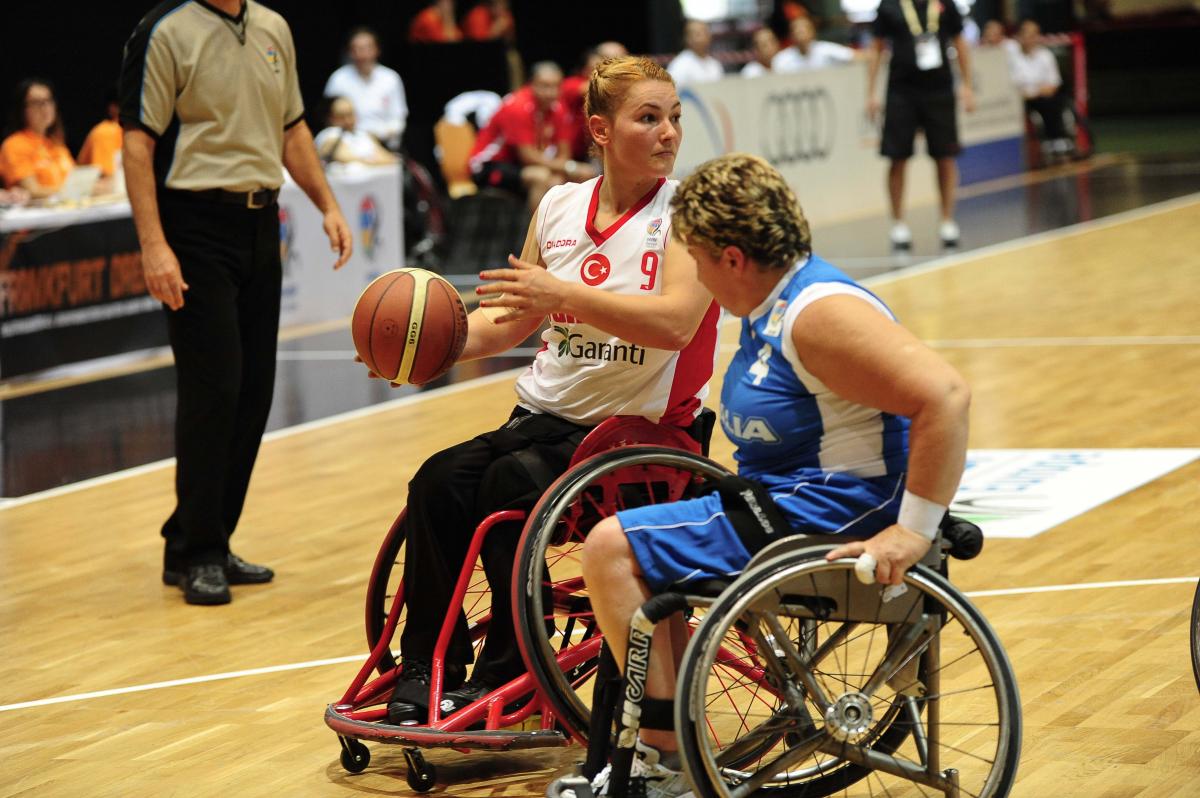 ⒸUli Gasper
By IPC
"We already lost two games, so today we had to win this match against the Italian team."
Despite a sloppy first half, Turkey's women's wheelchair basketball team woke up in the second half of their preliminary round game against Italy at the IWBF Wheelchair Basketball European Championships on Tuesday (2 July) to come away with a decisive 59-30 victory.
Naciye Cakir dominated the paint, scoring 27 points for Turkey, while Silvia Giacobbo Dal Pra led Italy with 12 points.
"We already lost two games, so today we had to win this match against the Italian team," Turkish head coach Kamuran Ozdemir said. "We did our best and had a hard training."
Germany 70, Spain 38 (women)
Germany recorded another clear victory to position themselves in first place heading into the playoff rounds with an undefeated record.
Gesche Schunemann had 15 points for Germany, while Marina Mohnen netted 14 and Mareike Adermann chipped in 11. Maria Alonso led Spain with 15 points.
France 74, Israel 15 (women)
The French women handed the Israelis their third straight loss, meaning they can no longer qualify for the quarter-finals.
"They pressed the whole time, they played very hard," said Israel's Moran Samuel. "But it's their job to do their best and we try to do what we can. There were many mistakes. But we learn from every game. We are a very new team. I try to take the good things and try to see if we can work on all the mistakes."
Great Britain 83, Italy 75 OT (men)
The British team defeated a strong Italian squad in overtime in what was an evenly matched contest all the way until the final minute.
"Well what a super game for the crowd, the spectators and the team," said British head coach Haj Bhania. "Italy was just excellent, they fought a really good game. At the end it was the free throws that decided the game."
Germany 79, Switzerland 39 (men)
Germany immediately built a 10-point lead in the first quarter and never looked back, as the Swiss side were unable to shut down their attack at the basket.
Dirk Passiwan sank 27 points for Germany, while Andre Bienek and Thomas Bohme each scored 15. Nicholas Hausammann had 12 for Switzerland.
Belgium 60, Netherlands 56 (men)
Belgium pulled out a surprising victory against the favoured squad from the Netherlands, giving themselves the chance to fight for a spot in the quarter-finals.
"They played well, they defended well and they shot well, but we knew how they play and this was, what we used (to our advantage," said Belgian head coach Frits Wiegmann.
Spain 63, Poland 45 (men)
Despite a poor third quarter, Spain still managed to pull out a dominant victory against Poland, backed by 16 points from Alejandro Zarzuela. Dominik Mosler led Poland with 12 points.
France 58, Israel 47 (men)
France took the upper hand in this match, as Israel could not keep up with their quick pace. Nicolas Jouanserre led the French with 17 points.
Turkey 70, Sweden 58 (men)
Turkey pulled away with the game after Sweden were unable to complete a comeback despite being down by just four points in the fourth quarter.
Ozgur Gurbulak led Turkey with 26 points, while Joachim Gustavsson had 22 points for Sweden.