Overall alpine skiing World Cup globes decided in Aspen
Great Britain, Germany, Russia and Japan all enjoy overall victories in men's and women's sitting and visually impaired classifications for the 2015-16 season.
05 Mar 2016
Imagen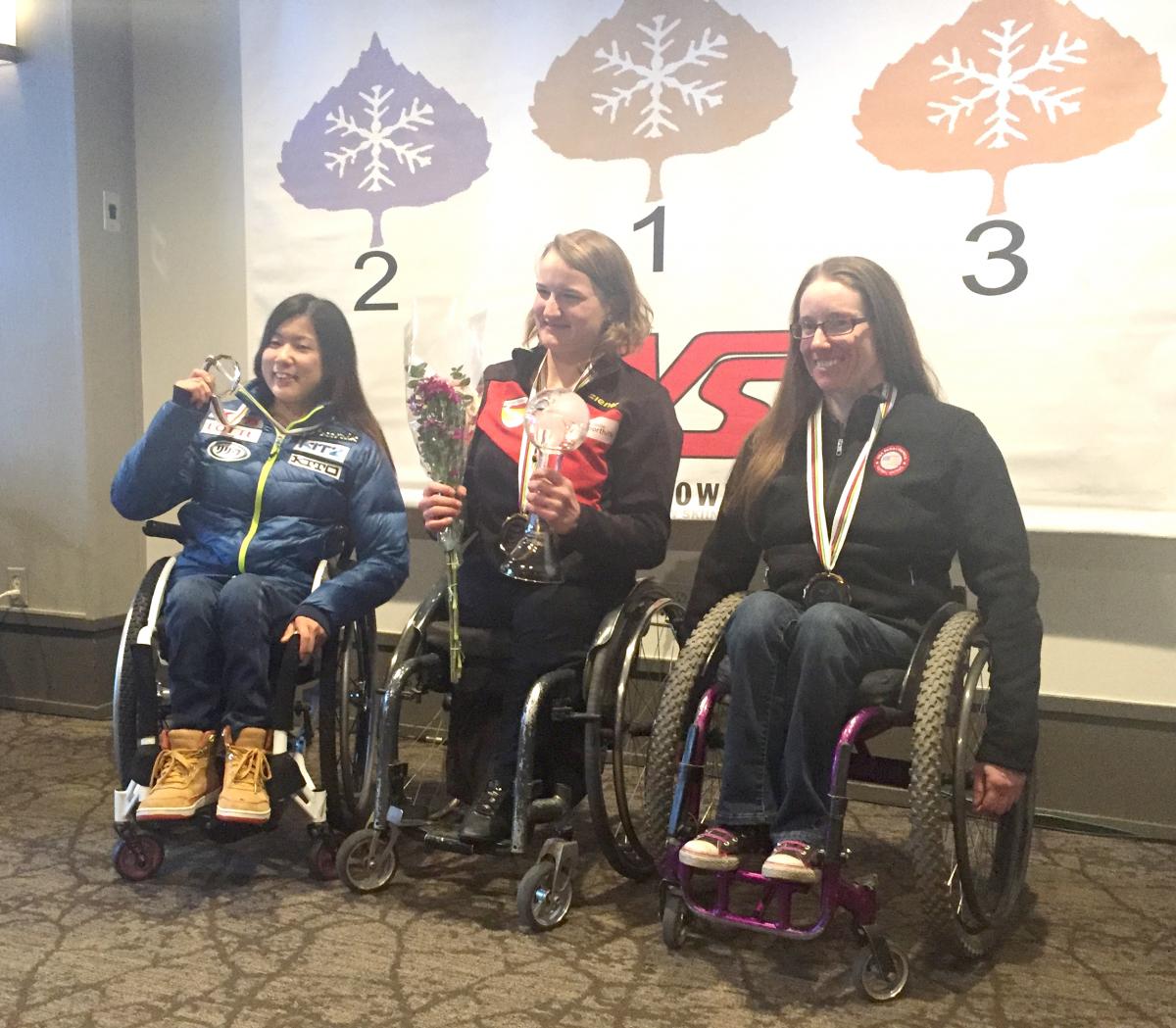 ⒸAspen Valley Ski and Snowboard Club
By IPC
"During the summer the training will be hard. There will be some changes in my training. Next season I will fight for gold and I will do everything in the summer for my dream."
A series of skiers secured overall World Cup victories for their classifications on Friday (4 March), with podium finishes in super-G on the final day of the IPC Alpine Skiing World Cup in Aspen, USA.
The winners of the super-G crystal globes and Nations Cup were also decided after a tense day of action.
The final rankings for the 2015-16 season can be found at IPC Alpine Skiing's website.
British teenagers Menna Fitzpatrick, guided by Brett Wild, and Millie Knight with guide Jennifer Kehoe made it onto the podium for the fourth consecutive day in the women's visually impaired.
Seventeen-year-old Knight (1:30.08) led the race on Buttermilk Mountain but it was Fitzpatrick (1:32.48), also 17, who did enough to claim the overall globe for the classification with her second place finish.
Great Britain's Kelly Gallagher (1:32.92), guided by Gary Smith was third in the race.
The overall top three for the women's visually impaired is headed by Fitzpatrick, the USA's Danelle Umstead with guide husband Rob in second, and Knight in third.
The World Cup super-G standings saw Knight seal the top spot, ahead of Fitzpatrick and Gallagher in second and third respectively.
Canada's World Championships silver medallist Mac Marcoux (1:21.99), guided by his brother BJ, was the victor in the men's visually impaired, handing him the super-G globe for the season.
Spain's Jon Santacana Maiztegui (1:22.85), guided by Miguel Galindo, was second with his best speed result of the season.
Russia's Ivan Frantsev (1:23.27) was third with guide German Agranovskii.
Following Marcoux into the overall super-G top three was Italian Giacomo Bertagnolli, guided by Fabrizio Casal, in second and Frantsev in third.
Bertagnolli takes home the men's visually impaired globe, ahead of Frantsev and Marcoux in second and third respectively.
In the women's sitting German Paralympic champion Anna Schaffelhuber (1:29.08) led the field in the race.
The USA's Laurie Stephens (1:31.30) was second, just ahead of Japan's Momoka Muraoka (1:31.87).
However it was Schaffelhuber's teammate Anna-Lena Forster who gets to pack the crystal globes for the overall super-G and women's sitting into her suitcase. Despite finishing fourth in the race, Forster picked up enough points to see off her competitors.
New Zealand's world champion Corey Peters (1:22.61) climbed onto the top of the podium in the men's sitting, securing his overall win in the super-G standings for the season.
"I'm just totally ecstatic. It's been a really good year," Peters said. "The speed events have really come together and I just build on my confidence every day, in every race. It's awesome to be consistent in the speed and come out with the victory in the super-G."
Austria's Roman Rabl (1:22.89) was second, followed by Japan's Akira Kano (1:24.07) in third.
Rabl sealed second place in the super-G World Cup with his result, as the USA's Andrew Earl Kurka finished third.
In the overall men's sitting Japan's Taiki Morii led the way ahead of Rabl and Canada's Kurt Oatway.
After sweeping four World Cup disciplines on Thursday (3 March), France's multiple world and Paralympic champion Marie Bochet finished her World Cup season unbeaten in the women's standing.
Bochet (1:26.53) came back from a slower first section to lead the USA's Stephanie Jallen (1:31.99) and Canada's Alana Ramsay (1:33.25) into second and third respectively.
The Frenchwoman also takes home the overall women's standing globe with Jallen in second and Ramsay in third.
Austria's Paralympic champion Markus Salcher celebrated securing the overall super-G in the men's standing with another victory on Friday.
Salcher (1:21.09) went unbeaten in super-G this season, leading Slovakia's Martin France (1:22.91) into second.
"Today was great. The season was very long and I'm pretty exhausted but it was a perfect race for me," Salcher said. "It was a great competition, great snow, great weather."
Speaking of reclaiming his super-G and downhill world titles which he lost in 2015, Salcher heads towards the 2017 World Championships determined: "During the summer the training will be hard. There will be some changes in my training. Next season I will fight for gold and I will do everything in the summer for my dream."
There was drama in the race for the final place on the podium, as Australia's Mitchell Gourley and New Zealand's Adam Hall both finished in 1:23.68 to share third.
Russia's five-time world champion Aleksei Bugaev did enough to grab the overall globe in the men's standing. Salcher was second and Gourley third.
In the Nations Cup, the combined points of US skiers led them to the victory in the women's, ahead of Germany and Great Britain.
In the men's Russia led the top three with the USA in second and Austria in third.
Full results from the super-G can be found IPC Alpine Skiing's website.
Next up is the IPC Alpine Skiing Europa Cup Finals in super-G, super combined and giant slalom between 16-18 March in Obersaxen, Switzerland.
There will also be two Asia Cups in YoungPyong, South Korea, on 8-10 March and Hakuba Nagano, Japan, on 20-23 March.