Overall biathlon and cross-country skiing World Cup titles decided
Final races of the season in Surnadal, Norway, brought the curtain down on the 2014/2015 IPC Nordic Skiing season.
22 Mar 2015
Imagen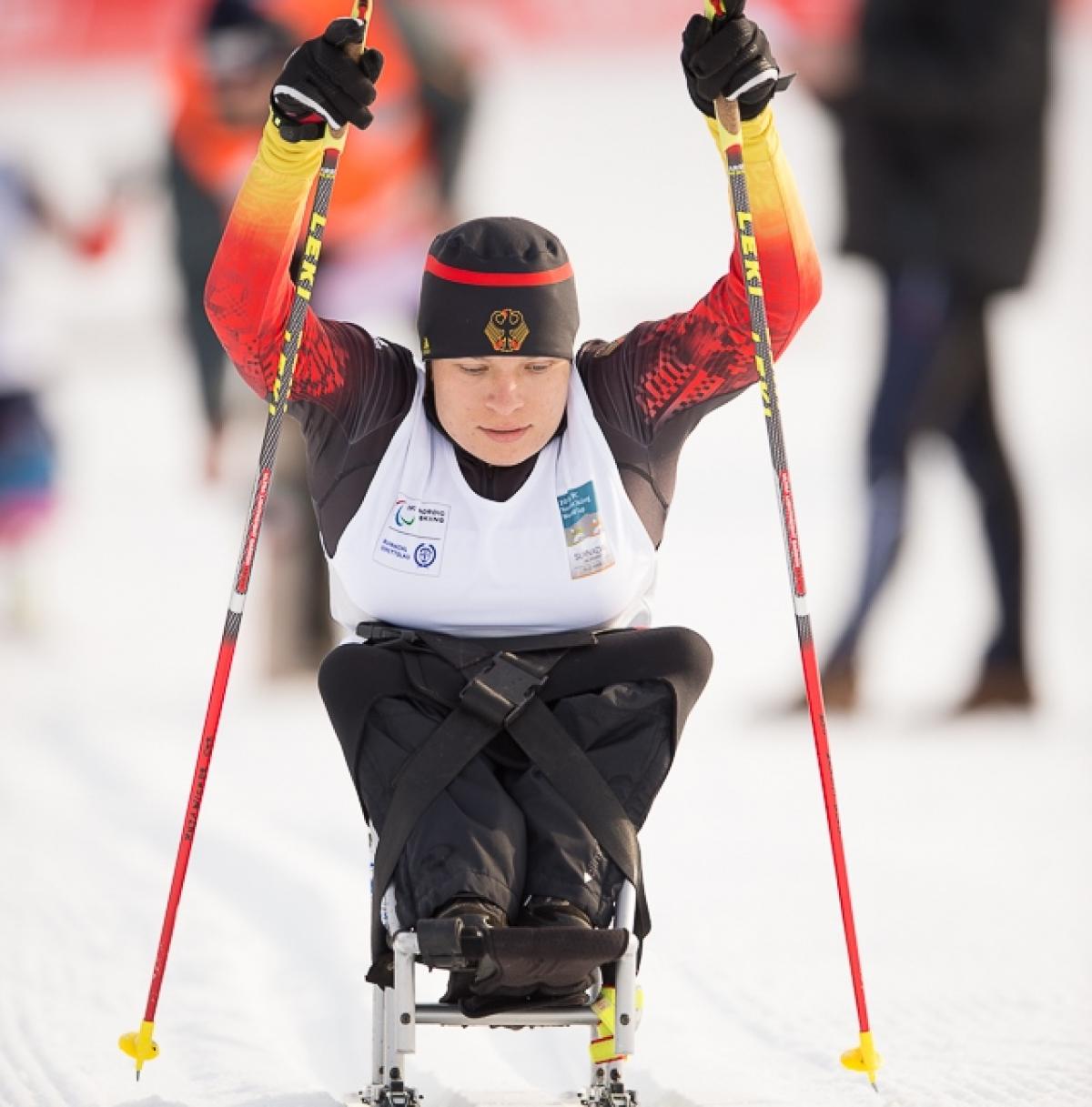 ⒸLediard Foto AS
By IPC
Wins for Germany's Anja Wicker and Ukraine's Oleksandra Kononova in middle distance biathlon races in Surnadal, Norway, on Sunday (22 March), the final day of the 2014/2015 IPC Nordic Skiing World Cup season, secured them both overall end-of-season titles.
Kononova's World Cup title added to the six gold medals she won in biathlon and cross-country events at January's IPC Nordic Skiing World Championships in Cable, USA.
On Sunday the 24-year-old (39:46.2) easily won the women's biathlon over 12.5km to finish on 825 World Cup points, 165 points of her nearest rival and teammate Liudmyla Liashenko (43:16.6) who was third in the final race of the season.
Canada's Brittany Hudak (41:36.6) was second to finish the year in tenth overall.
Victory for Wicker (48.46.5) in the final women's sitting race of the season saw her overtake Russia's Marta Zaynullina for the overall end of season title.
The German dropped just two shots in her final race to finish ahead of Russia's Natalia Kocherova (49:16.3) and Belarus' Lidziya Hrafeyeva (50:17.1) on the podium.
Wicker was not the only German to top the podium on Sunday.
Martin Fleig (49.32.1) won the men's sitting event over 15km to ensure he finished third in the end of season rankings.
Russia's Aleksandr Davidovich (49:46.5) finished second with Norway's Trygve Steinar Larsen (52:07.5) third.
Despite finishing sixth in Sunday's race, Russia's Alexey Bychenok took the overall men's sitting World Cup title, 36 points ahead of teammate Davidovich.
The closest race of the day was the men's standing where Ukraine's Ihor Reptyukh (42:17.6) took top spot just one second ahead of his Norwegian rival Nils-Erik Ulset (42:18.6). Russia's Vladislav Lekomtcev (43:15.7) was third, a finish that ensured him the end-of-season title.
The men's visually impaired race was won by Russia's Stanislav Chokhlaev and guide Evgenii Fatkhullin, whilst the women's equivalent was claimed by Ukraine's Olga Prylutska and guide by Borys Babar.
Clean shooting helped Chokhlaev (40:17.4) take the win but left him agonisingly close to the overall title. That honour, by just 14 points, went to his teammate Nikolay Polukhin, guided by Andrey Tokarev, (41:13.3) who finished second in Sunday's race. Ukraine's Anatolii Kovalevskyi and guide Oleksandr Mukshyn (42:40.2) finished third.
Prylutska (40:30.6) was joined on the podium by Russia's Elena Remizova, guided by Maksim Pirogov (41:00.1) and Germany's Vivian Hosch, guided by Florian Schillinger, (41:10.5) in second and third respectively.
Despite finishing fifth, the overall biathlon World Cup title went to Iuliia Budaleeva. This ensured the Russian completed the double after she also topped the overall women's visually impaired cross-country rankings with a third place finish in Saturday's middle distance event.
Other race winners in Saturday's women's cross-country races included Remizova and guide Pirogov (14:43.6/visually impaired), the USA's Oksana Masters (14:19.0/sitting) and Kononova (14:38.2/standing).
Chokhlaev and Fatkhullin (25:07.8/visually impaired), the USA's Daniel Cnossen (25:37.0/sitting) and Russia's Rushan Minnegulov (24:36.3/standing) were the winners in the men's races.
Masters' win secured her the overall women's sitting title, whilst teammate Andrew Soule won the men's equivalent. Soule finished third in Saturday's race.
Other overall title winners included Canada's Brittany Hudak (women's standing), Norway's Eirik Bye (men's visually impaired) and Lekomtcev (men's standing).
Official results from the IPC Nordic Skiing World Cup Finals can be found here.
The final World Cup rankings for both biathlon and cross-country skiing can be found here.