Paolorissi sets sights on first Parapan Am Games
The Argentinian archer is excited about his Parapan American Games debut in Toronto, Canada.
09 Aug 2015
Imagen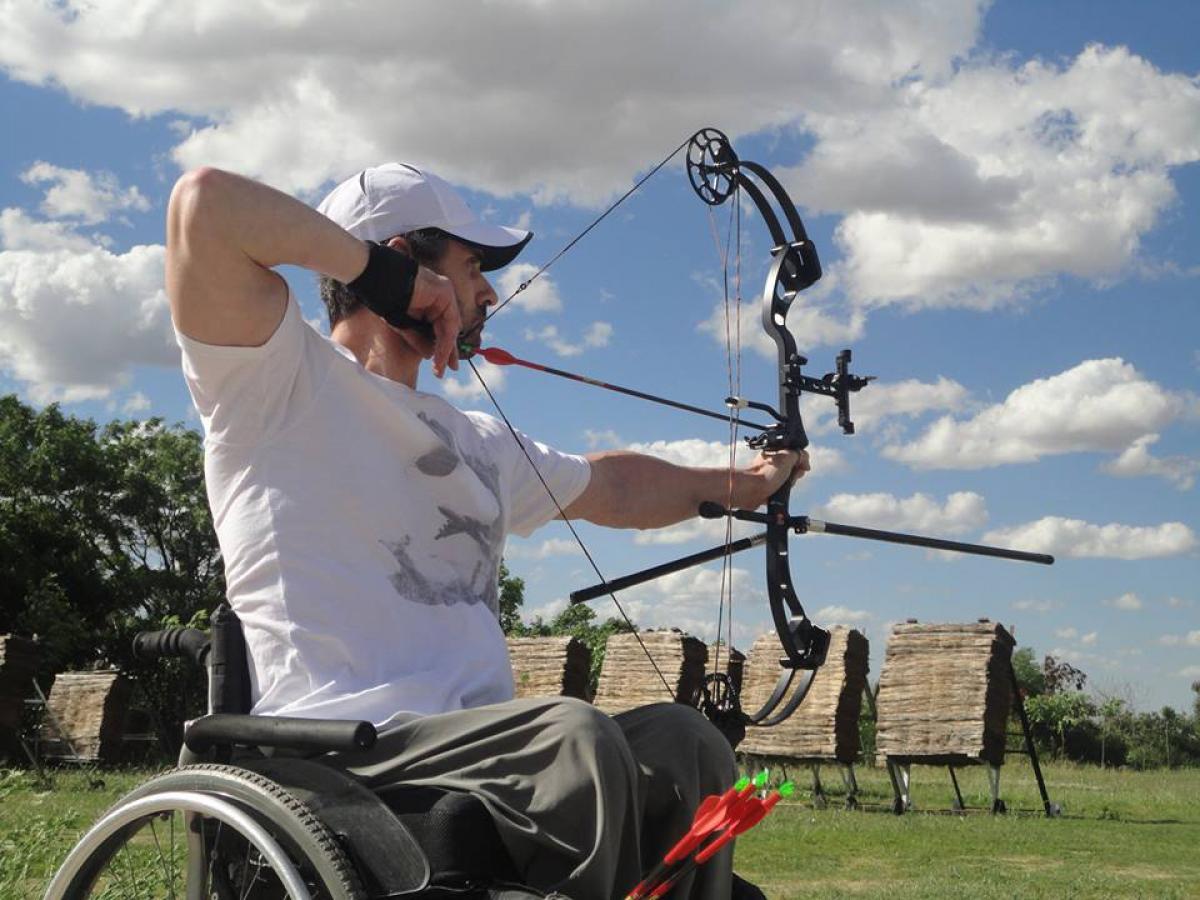 ⒸFerderico Paolorossi
By Hernan Goldzycher
With the Toronto 2015 Parapan American Games now underway, Argentine archer Federico Paolorossi is hoping to perform the best he can.
The 35-year-old will line-up for the first time on Sunday (9 August) when he competes in the men's compound open at Varsity Stadium.
"Every athlete wants to achieve the gold medal and hopes to represent its country the best she or he can, but I know there is going to be a high competitive level in Toronto," he said.
"I was chilling and drinking 'mate' with a friend at the work office when I got an email from José María Valladares, Argentina NPC's President, where he told me I was going to be part of the country's delegation at the Parapan Am," he said.
"I told my family and friends and I suddenly started receiving greetings from a lot of people," he added. "I am still not totally aware of the magnitude of the event I am going to compete at."
Although Paolorossi had his first encounter with archery 11 years ago, he did not start practising hard until last year.
"I did not plan it," he assured. "I went to a guns exposition, I tried it, I liked it and I have not stopped practising since then.
"I did not expect everything to go so fast. Just one year ago, archer Néstor Gaute suggested that I start training harder. And I did. One year after, I am going to compete at the year's biggest Paralympic event in the world. I still cannot believe it."
He describes himself as a "sports lover". He had practiced football, swimming, rugby, basketball, tennis, paddle, equestrian sports and palette ball, before deciding to devote himself to archery.
Paolorossi trains six times per week. Besides, he is an architect, so he does not have much free time left. However, when he does, he likes "cooking and creating traditional braiding, made in raw and horse leather."
"If there is someone I want to thank it is my coach Rebeca Serrano. She is responsible for what I have accomplished so far. With her, I feel I can achieve greater things, continue representing Argentina at international events, keep training harder and strive for excellence," he dreamed.
Archery is one of 15 sports that will make-up the Toronto 2015 Parapan American games which will involve 1,600 athletes from 28 countries.
To buy tickets for Toronto 2015, please visit Ticketmaster
PAOLOROSSI SE ILUSIONA CON SUS PRIMEROS JUEGOS PARAPANAMERICANOS
El arquero argentino se muestra entusiasmado con miras a su debut parapanamericano, en Toronto.
A días del inicio de los Juegos Parapanamericanos Toronto 2015, el arquero argentine Federico Paolorossi espera poder tener su mejor actuación posible.
El argentino de 35 años competirá el lunes 9 en Abierto Masculino Compuesto, a llevarse a cabo en el Varsity Stadium.
"Todos los atletas quieren obtener la medalla de oro y desean representar a su país de la mejor forma posible, pero sé que habrá un alto nivel competitivo en Toronto", admitió.
"Estaba descansando y tomando mate con un amigo en la oficina del trabajo, cuando recibí un email de José María Valladares, presidente del Comité Paralímpico Argentino, en el que me decía que sería parte de la delegación de mi país en los Juegos Parapanamericanos", agregó.
"Le conté a mi familia y amigos, y de repente comencé a recibir las felicitaciones de un montón de personas", dijo. "Todavía no soy del todo consciente de la magnitud del evento en el que voy a competir".
Aunque Paolorossi tuvo su primera experiencia con el tiro con arco 11 años atrás, no comenzó con el entrenamiento más duro hasta el año pasado. "No lo planée", aseguró. "Fui a una exposición de armas, probé, me gustó y no paré desde entonces".
"No esperaba que todo fuera tan rápido. Apenas un año atrás, el arquero Néstor Gaute me sugirió empezar con un entrenamiento más duro. Y lo hice. Un año después, voy a competir en el evento paralímpico más grande del mundo en el año. Aún no lo puedo creer".
Se describe a sí mismo como un amante del deporte. Practicó fútbol, natación, pelota paleta, rugby, básquetbol, tenis, paddle y equitación, antes de dedicarse de lleno al tiro con arco.
Federico entrena seis veces por semana. Además, es un arquitecto, por lo que no tiene demasiado tiempo libre. Sin embargo, cuando sí lo tiene, le gusta "cocinar y la 'soguería', es decir, el trabajo en tientos y cuero".
"Si hay alguien a quien le quiero agradecer es mi entrenadora Rebeca Serrano. Ella es responsable por lo que vengo logrando. Con ella, siento que pueda conseguir cosas aún más grandes, seguir representando a la Argentina en eventos internacionales, continuar entrenando duro y buscar la excelencia", cerró Federico, soñando despierto.
El tiro con arco es uno de los 15 deportes que componen el programa deportivo de los Juegos Parapanamericanos Toronto 2015, en el que competirán alrededor de 1600 atletas provenientes de 28 países.