Para archer Drahoninsky the main target at Rio 2016
After recently winning European gold, the Czech Republic's David Drahoninsky remains the one to beat in the men's W1.
16 Jul 2016
Imagen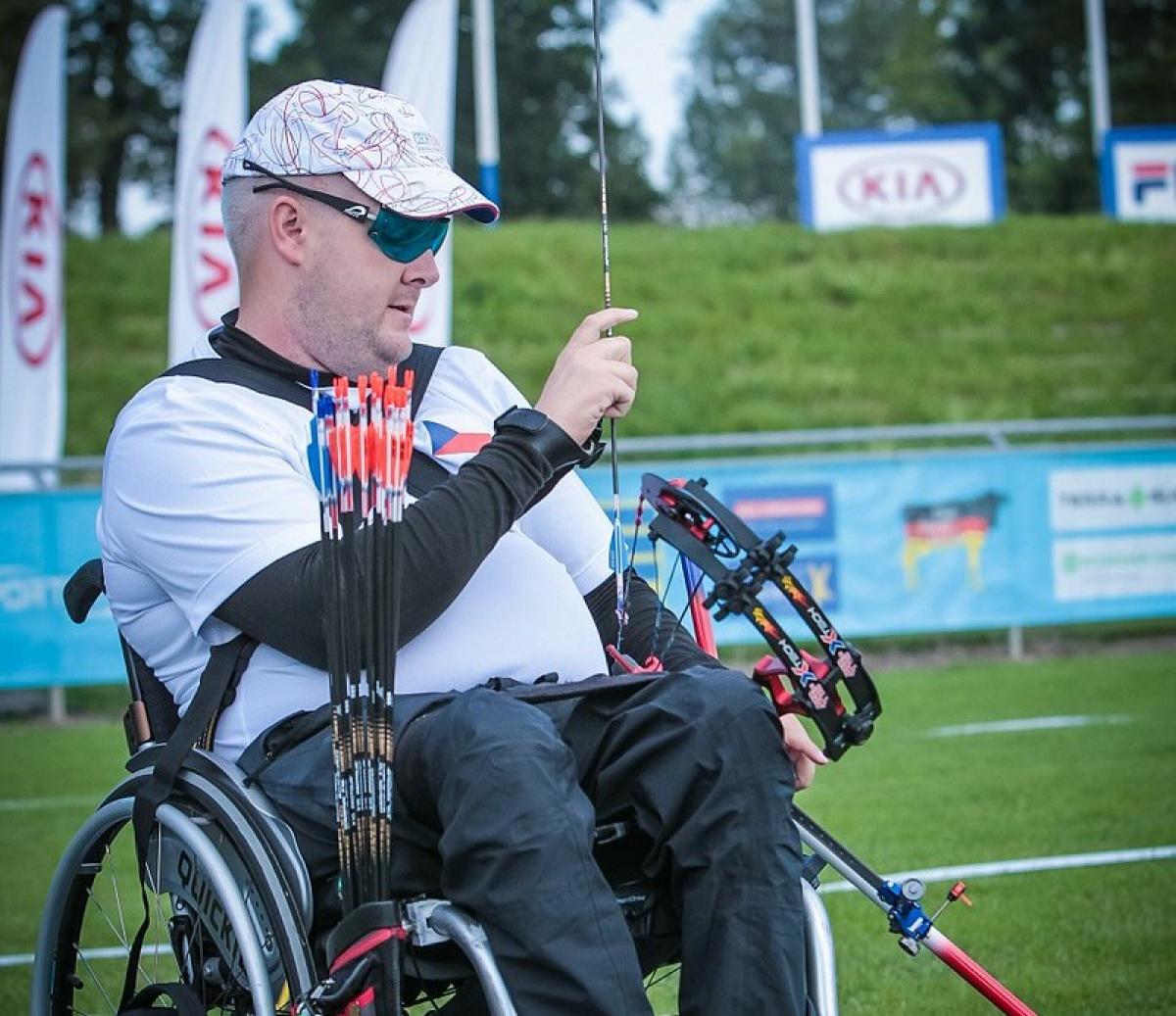 ⒸWorld Archery
By Emily Bayci | For the IPC
"Everyone has some dream; I did my dream in Beijing when I won gold."
Following a successful 2015 season, the Czech Republic's Para archer David Drahoninsky appears back in golden form heading into the Rio 2016 Paralympic Games.
He is the current No. 1 in the world in the men's W1, the defending world champion and the current world record holder. In April, Drahoninsky claimed gold at the 2016 Para Archery European Championships in Saint Jean de Monts, France.
The 34-year-old seems to have all the necessary momentum leading into Rio.
"I think Rio will be great competition and I'm very happy that I'm going there in September," he said. "It will be my third time in the Paralympic Games and I know what I have to do for my success."
Gold has not come easily for Drahoninsky. He took bronze at the 2011 World Championships and silver in 2013 before finally claiming world gold last August.
He admitted it can be hard to motivate himself, so he looks to his opponents to push him. Sometimes, losing can be the key to improving.
"I've met a lot Para archers," Drahoninsky said. "They are great athletes and I can learn a lot when I spend some time with them in competition."
He won the gold medal at the Beijing 2008 Paralympics but failed to defend his title at London 2012, where he narrowly took silver behind the USA's Jeff Fabry.
"I know what I have to do for my success in Rio and I do it," Drahoninsky said. "Archery is a physically and mentally demanding sport. In my training I work hard."
Drahoninsky started archery in 2001. He said the sport is what helped him adapt to life using a wheelchair.
"Archery helped me for my comeback in life," Drahoninsky said. "Sport taught me to lose and I learned so much and now I could start winning."
He made his international debut in 2003 and has picked up a number of rivals during his decade of international competition. This includes Finland's Jean-Pierre Antonios, who beat Drahoninsky for gold at the 2013 World Championships.
But at the World Championships last August in Donaueschingen, Germany, Drahoninsky won that elusive gold medal, putting his name back into contention for Rio.
He also shot eight 10s in 15 arrows and was just one short of his own world record mark.
Then in France – the final major European archery event before the Paralympic Games – Drahoninsky re-affirmed his status as the gold medal favourite.
He knows, however, he has a target on his back.
"In my class in Rio there will be 16 archers and everyone fought his place for Rio and everyone works to prepare hard for success in Rio," Drahoninsky said.
"Everyone has some dream; I did my dream in Beijing when I won gold. I wish all athletes that they could [reach] their dreams."
__
Sport fans from around the world can now buy their Paralympic tickets for Rio 2016 from authorised ticket resellers (ATRs)
The IPC's Global ATR is Jet Set Sports, and Rio 2016 tickets and packages can be purchased on the CoSport website.
Residents of Brazil can buy 2016 Paralympics tickets directly from the Rio 2016 website.
Visa International is the exclusive payment card and the official payment system for the Paralympic Games.