Paralympians celebrated at Hall of Fame Ceremony
Champions past and present celebrated at Canadian Paralympic Committee Hall of Fame and Sport Awards Ceremony
12 May 2013
Imagen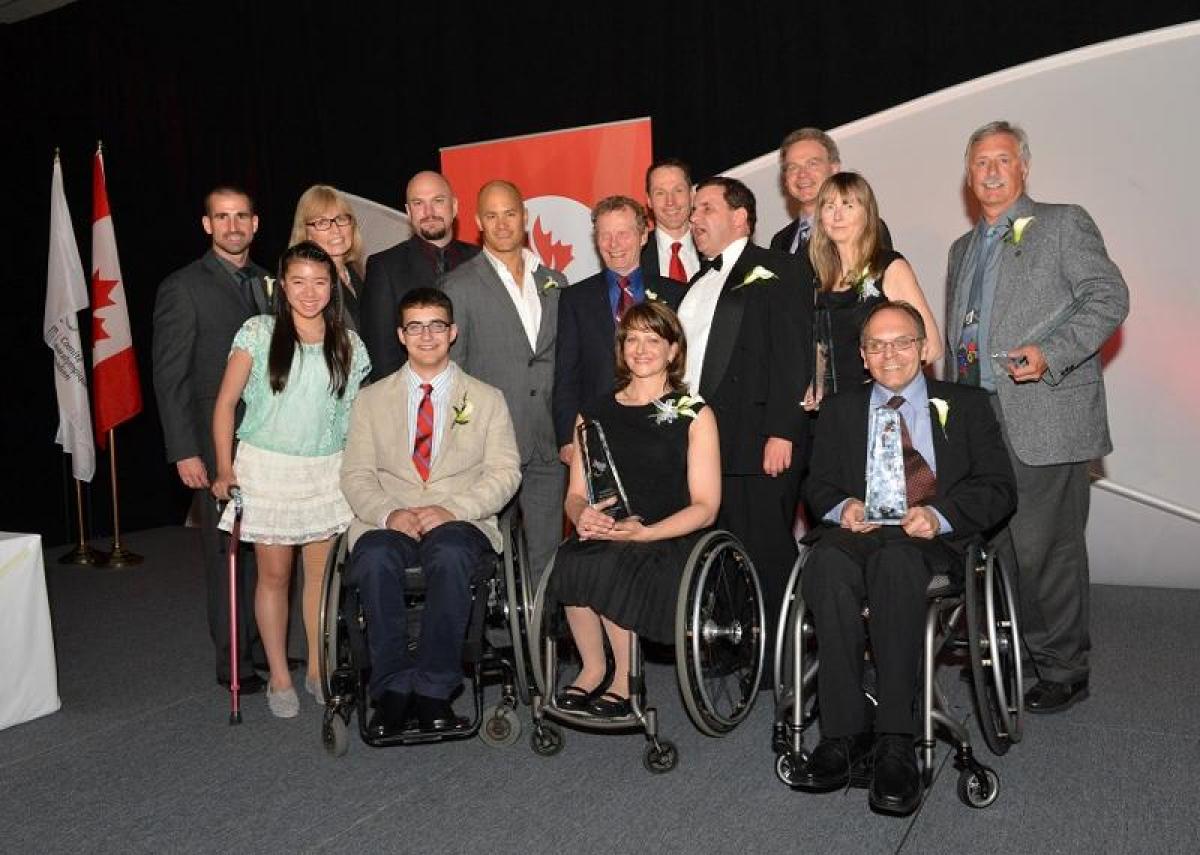 ⒸDan Galbraith/Canadian Paralympic Commitee
Before a sold out crowd on Friday night (10 May) at Toronto's Mattamy Athletic Centre, the Canadian Paralympic Committee celebrated champions past and present at the Paralympic Hall of Fame and Sport Awards Ceremony.
Honoured in person were the six 2013 inductees in to the Canadian Paralympic Committee Hall of Fame, announced last month:
• Athletes Robert Easton (Victoria, B.C, originally from Edmonton, Alta.), Jennifer Krempien (Richmond, B.C., originally from St. Albert, Alta.), and Tim McIsaac (Winnipeg, Alta.)
• Coach Tim Frick (Pender Island, B.C.)
• Builders Janet Dunn (Victoria, B.C., originally from Ogema, Sask.), and John Howe (Brantford, Ont.)
Two-time Paralympian and wheelchair racer Robert Easton who won eight gold and medals and one silver in 1984 and 1988.said: "I was a 14-year-old kid who one day asked, "Can I go to the Paralympics?" And nobody said no, so I assumed that was yes. We started on a journey that no one truly knew how hard it would be. The medals and the records were nice, but I truly did want to figure out just how fast I could go. I'm also really aware that part of the value of sport is what it leaves you with afterwards. What it leaves you with is the ability to set goals, to persevere, to overcome challenge you didn't even realize were challenges. Those skills served me well not only in sport but also throughout my career."
Speaking after his induction Tim Frick , who coached Canada's women's wheelchair basketball team to an 11-year winning, said: ""The Paralympic Movement has given me a lifetime of joy and accomplishment but really, the pleasure has been all mine. I've loved every single moment and continue to be involved."
Initiated in 2000, the Canadian Paralympic Hall of Fame recognises and celebrates those who have made a significant contribution to the growth and development of the Paralympic Movement in Canada. These individuals will be acknowledged within the Canadian Paralympic Hall of Fame Honoured Members section located in the Olympic and Paralympic Gallery at Canada's Sports Hall of Fame in Calgary. The Canadian Paralympic Committee holds an induction process every two years, during a non-Paralympic Games year.
Also announced and presented on Friday evening were the prestigious CPC Sport Awards for 2012, including:
Best Games Debut: Summer Mortimer, winner of two gold, one silver and one bronze medal in swimming at the London 2012 Paralympic Games
Best Team Performance: Men's wheelchair basketball team, who went undefeated and won the gold medal at the London 2012 Paralympic Games
Best Male Athlete: Patrick Anderson, top scorer among all wheelchair basketball players at the London 2012 Paralympic Games, averaging 25 points per game, who led Team Canada to gold
Best Female Athlete: Michelle Stilwell, winner of gold and silver medals in athletics at the London 2012 Paralympic Games
Para-Development Coach: Chris Holden: Accomplished grassroots program director and senior coach for para-alpine skiing, para-snowboarding, adaptive waterskiing and wakeboarding
Tim Frick Paralympic Coach Excellence: Jerry Tonello, Head Coach of the Men's wheelchair basketball team that won the gold medal at the London 2012 Paralympic Games
Michelle Stilwell said: "I want to especially thank my husband, Mark, and my son, Kai, who have consistently believed in me and given up and sacrificed so much so that I can achieve my goals and my dreams in sport. I also want to thank my coach Peter Lawless who has always given me the most amazing direction for me to be able to reach my goals and dreams in sport."
Patrick Anderson said: "I should say thanks to my coaches, teammates, and the staff, but "thanks" isn't really the right word. "Congratulations" is a better one. Teams win together and lose together, and that goes for awards as well. So, congrats!"
The Canadian Paralympic Committee created the Sport Awards after the Vancouver 2010 Winter Paralympic Games in order to recognize outstanding athlete and team performances at the Paralympic Games, as well as excellence in coaching at both the high performance and development levels.