PARAPANS: Highlights from Day 5
Take a look back at what happened on the fifth day of comeptition in Gudalajara.
18 Nov 2011
Imagen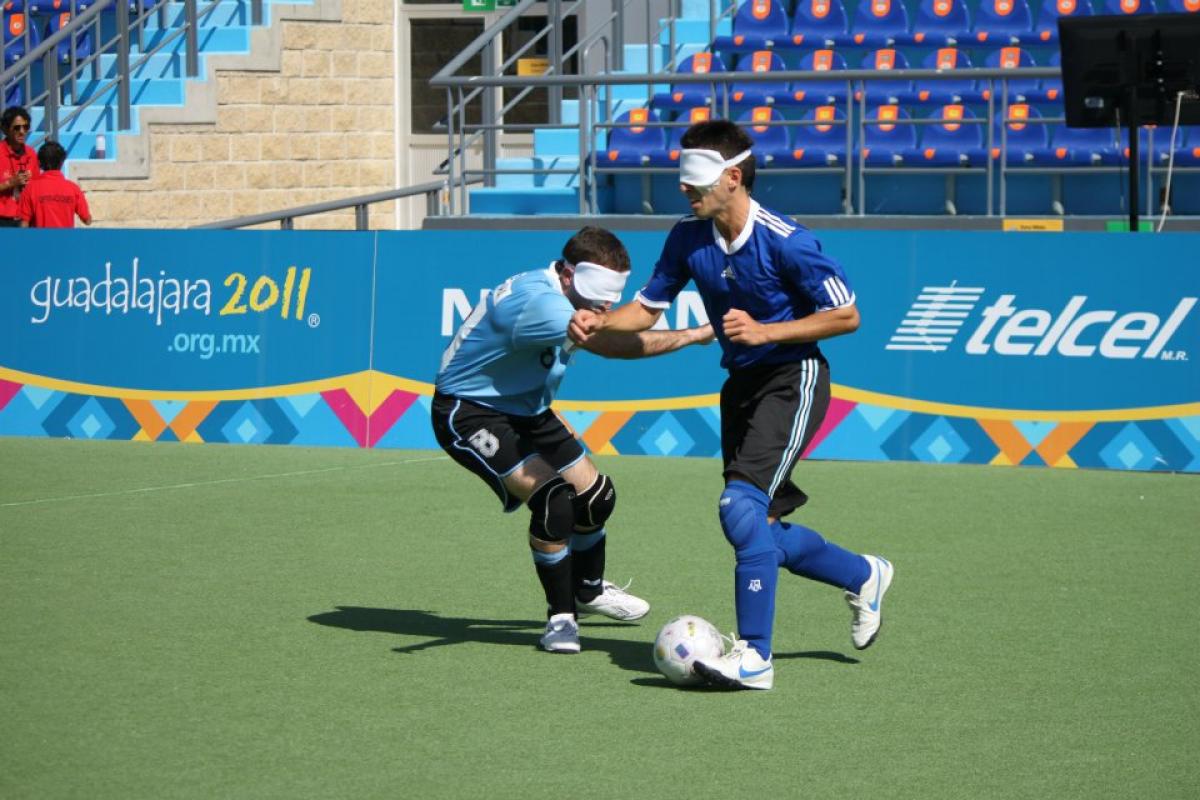 ⒸIPC
By IPC
Archery
On the final day of the Archery competition on Thursday (17 November) at the Parapan American Games in Guadalajara, Mexico, three gold medals were up for grabs.
Canada's Kevin Evans defeated teammate Robert Hudson for gold in the Men's Individual Compound Open to qualify for the London 2012 Paralympic Games.
"It was a beautiful competition. I'm very excited," Evans told the Canadian Paralympic Committee. "I needed to win here to go to London. Dreams come true. It seems like the stars were aligned."
Mexico's Jose Antonio Baez had no problem defeating the USA's Michael Lukow in the Men's Individual Recurve W2 final, while the USA swept the same event on the women's side, with Lee Ford winning gold, Natalie Wells taking silver and D'Arce Hess claiming bronze.
Football 5-a-Side
All three Football 5-a-Side games were one-sided shutouts Thursday. Brazil defeated host nation Mexico, 6-0, while Colombia beat Uruguay, 3-0, and Argentina handed El Salvador a 12-0 loss.
Competition continues on Friday with three contests: Mexico-Argentina, Brazil-Colombia and Uruguay-El Salvador.
Goalball
In the final preliminary round matches, Canada's men beat Mexico, 14-4, while Brazil beat El Salvador, 10-0, and the USA beat Argentina, 12-7.
On the women's side, the USA beat Canada, 5-2, and Brazil handed Mexico a 10-0 loss.
The elimination round begins Friday with a pair of semi-finals in both the men's and women's competition. For the men, Canada will face the USA and Brazil will challenge Mexico. For the women, the USA will play Mexico and Canada will go up against Brazil.
Sitting Volleyball
In Thursday's semi-final action, Brazil swept Canada in straight sets (25-9, 25-8, 25-13), while the USA dished Colombia a three-set loss as well (25-12, 25-12, 25-13).
Brazil will face the USA for the title and a London 2012 qualification spot on Friday, while Canada will play Colombia for bronze.
Mexico beat Costa Rica (25-20, 25-20, 25-15) for fifth place Thursday.
Para-Table Tennis
In the men's team C4-5 semi-finals, Brazil defeated the USA, as Ezequiel Babes and Claudiomiro won their matches, and Argentina took care of Mexico with the help of Ernesto Rodriguez and Gabriel Copola.
Brazil and Canada both advanced to the finals in the men's team C6-8 competition, and Brazil and the USA will play for the title in the men's team C9-10 category.
Wheelchair Basketball
The women's Wheelchair Basketball final for Saturday is now set, as the USA and Canada both won their semi-final contests Thursday and earned qualification spots for London 2012 in doing so. The USA beat Brazil, 66-32, and Canada defeated Mexico, 71-59, as Cindy Ouellet scored 25 points.
Brazil will play Mexico for bronze on Saturday as well.
In the men's quarterfinals, Mexico barely slipped past Brazil with a thrilling 60-58 victory, while the USA triumphed with a dominating 86-7 win over El Salvador. Canada took care of Guatemala with an easy 86-22 victory, while Colombia barely tipped Argentina, 54-53, with the help of 22 points from Rodney Hawkins.
In Friday's semi-finals, the USA will face Mexico and Canada will challenge Colombia for a place in Saturday's finals.
Wheelchair Tennis
In an all-USA final, Mackenzie Soldan battled back to strike gold in the women's singles competition with a three-set victory (1-6, 6-4, 6-4) over teammate Emmy Kaiser. Colombia's Angelica Bernal beat Chile's Francisca Mardones (6-4, 6-2) for bronze.
The USA's duo of Jon Rydberg and Stephen Welch beat Argentina's Gustavo Fernandez and Agustin Ledesma (6-2, 6-3) for men's doubles gold, and Brazil's Mauricio Pomme and Carlos Santos captured the bronze.
Friday will be the final day of competition for Wheelchair Tennis and will include an all-Argentinean men's singles final, as Fernandez and Ledesma will play for gold.
Soldan and Kaiser will team up in the women's doubles final against Bernal and Colombian teammate Johana Martinez.