PyeongChang 2018: Medal not enough for Millie Knight
British Alpine skier measuring Paralympic success by more than just podium places
09 Sep 2017
Imagen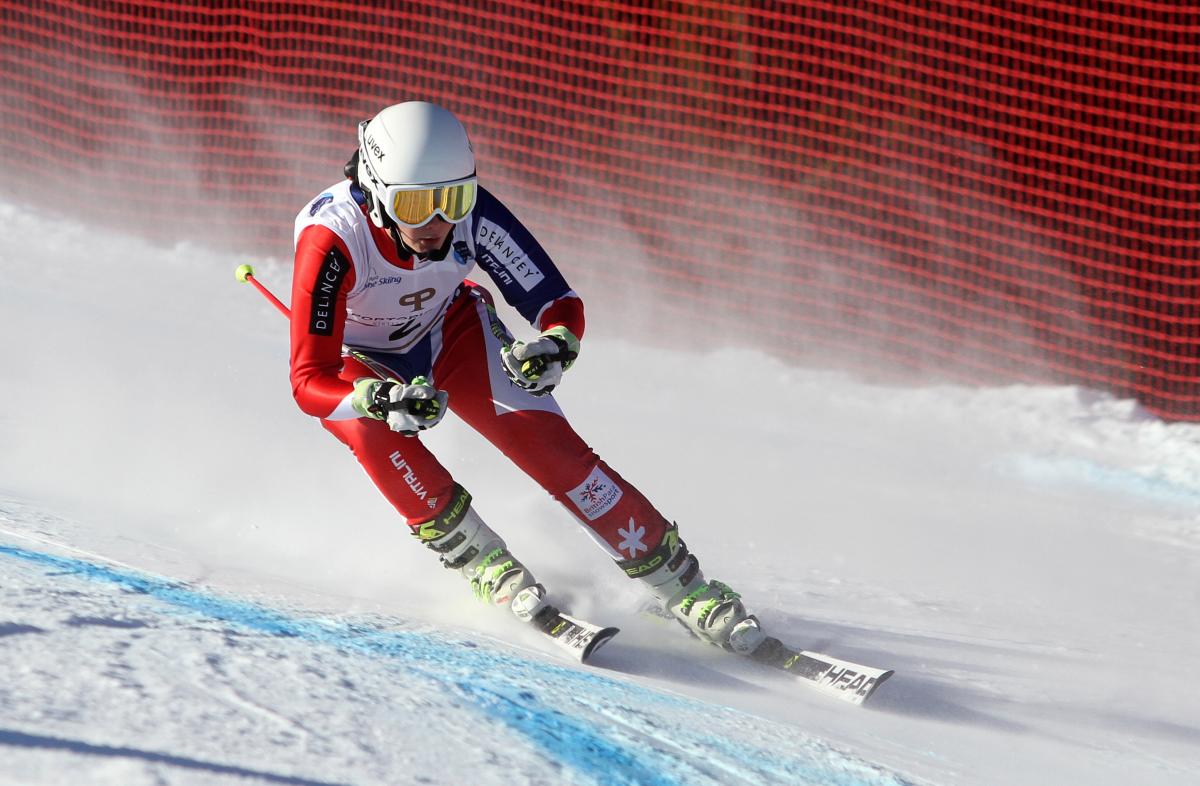 ⒸAndrea Carloni for the IPC
By Ryan Wilson | For the IPC
"It's really the process that you put in and being really pleased with our performance in the Paralympics. I think that is our number one priority and goal, really, sort of beyond on the medals. If you put the process in, the outcomes look after themselves."
Millie Knight has an idea of what she wants out of this upcoming season. Sure, a medal at the PyeongChang 2018 Paralympic Winter Games would be nice, but Knight, 18, is seeking something that is immeasurable. She is seeking self-satisfaction.
"At the end of the day, what we (guide Brett Wild and I) are focusing on is our performance, like the phrase, 'performance before outcome," she said.
"It's really the process that you put in and being really pleased with our performance in the Paralympics. I think that is our number one priority and goal, really, sort of beyond on the medals. If you put the process in, the outcomes look after themselves."
Knight grew up in Canterbury, England. Her and her family used to go on skiing trips once a year, and after a while, Knight became attached, and even "obsessed," with skiing. It gave her a sense of freedom.
"It was something you experience like no other," the visually impaired Para alpine skier said. "Life is somewhat restricting — I can't drive a car and things like that — but when I put my boots on and get the skies on, that's the feeling that I can't really relate to elsewhere in my life. And so it's an absolutely incredible thing and experience."
Knight had not known too many other skiers outside of her family and school trips. And she had not known any visually impaired skiers growing up. But, in 2010, she met Sean Rose. He is not visually impaired, but he was a sit-skier who had just come back from that year's Paralympics in Vancouver, Canada.
He shared with Knight his experiences, and it motivated Knight to take her skiing to the next level.
"It was so inspirational that I thought, 'you know what, that's what I want to do, and I want to represent my country and compete,'" she said. "And, well, two years later, I was put on the British Development Ski Team, and it just kind of went from there."
Two years after Knight was placed on the Development Team, 15-year-old Knight she became the youngest British athlete to be chosen at a Paralympic Winter Games. She was a flag bearer for Great Britain at Sochi 2014 and also a competitor where she claimed a pair of fifth-place finishes.
Stronger and faster
Four years and six World Championship medals later, Knight is training hard for her next Paralympics. And after getting "quite a bad concussion" in March that took four months to recover from, she and Wild said they feel stronger and faster than before.
"Since then [the concussion], both myself and Brett have trained really, really hard in the gym," Knight said. "We're now actually stronger than we were pre-concussion, so in that sense, we are getting stronger quickly, and we're now doing some speed training. I think [it's going] really well."
Wild adds: "We're stronger; we can feel it even in the slow-skiing. When watching the videos back [of ourselves skiing], the distance is better, there are so many different tweaks we're making already, and for us, to be four days into the season, I'm absolutely pleased with that. I'm really, really excited to see what we can do this season."
From now until Christmas, Knight and Wild said the longest time they will have off the snow is a week and a half. And the first indications of how the season is progressing will be in their first speed race in the middle of December.
Although they are expecting Slovakia Henrieta Farkasova and guide Nataly Surbtova and Australia's Melissa Perrine and guide Ander to pose a challenge this season, Knight and Wild said they plan to train and compete without any regrets, and a medal at PyeongChang 2018 would make the hard work worth it.
"That would be absolutely fantastic because, I guess, that is what we have been training for these last few years," Knight said. "Getting up in the morning when you don't want to get out of bed, and it's a bit dark outside and cold, [a medal] is that little goal that we sort of have that just keeps us focused and keeps us training hard."
But beyond the hopes earning a medal, both Knight and Wild are focused on their own progress and growth.
"It's our own performance and concentrating on our own selves that's going to make us a little bit faster," Knight said.