PyeongChang 2018 volunteer uniforms revealed
More than 30,000 people to become members of Winter Paralympics 'Passion Crew'
07 Nov 2017
Imagen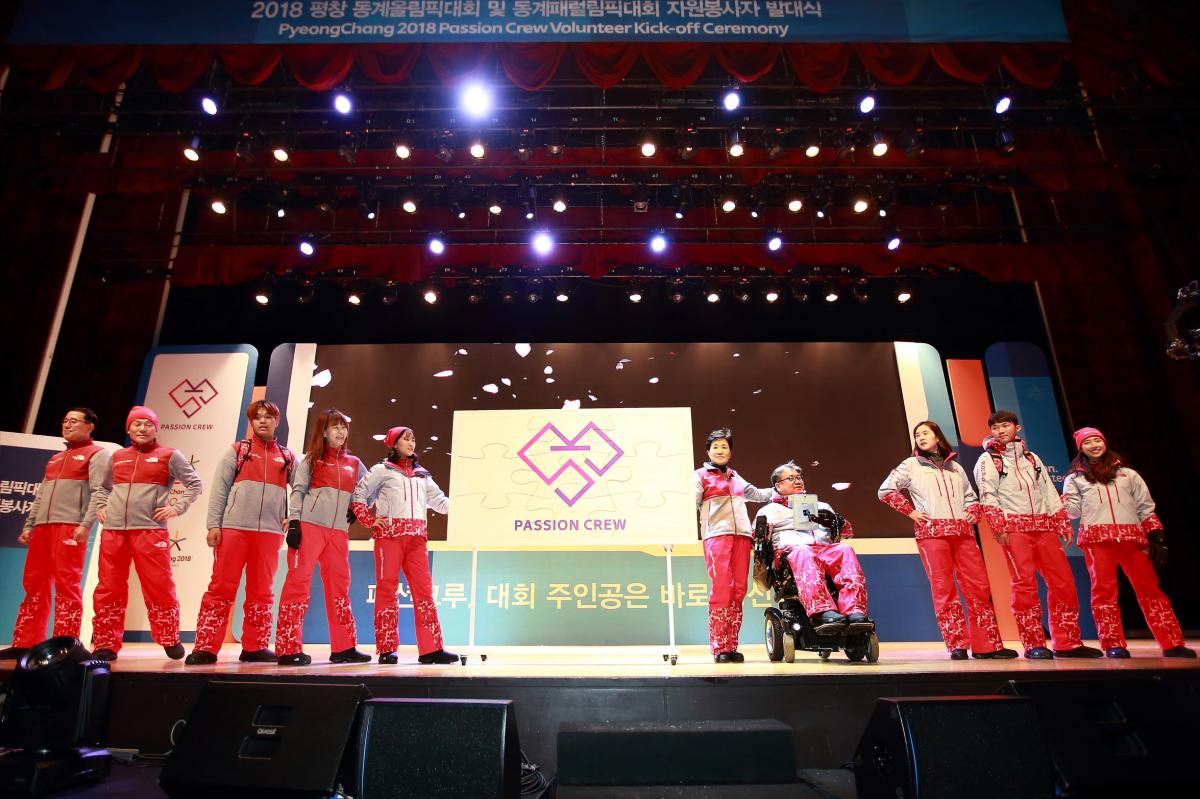 ⒸPOCOG
By POCOG
"I am so proud to be part of the Passion Crew for the Games next year and it was really exciting to see the uniform being unveiled today. I really like it and think we will all look really smart and be able to stay warm!"
The official uniform for the PyeongChang 2018 Passion Crew has been unveiled at a special kick-off event in Seoul attended by around 1,000 volunteers.
Passion Crew is the name that has been given to the Games workforce for the PyeongChang 2018 Olympic and Paralympic Winter Games. This title will unite all staff, volunteers, ceremonies cast, securities and contractors who are supporting the delivery of PyeongChang 2018. It amounts to more than 87,000 people - around 56,000 during the Olympic Games and 31,000 during the Paralympic Games. The title was chosen to complement the Games slogan "Passion. Connected."
The key design of the clothing is about being 'highly visible amongst the crowds' and showcasing the PyeongChang look and feel in bright and bold colours. Red was chosen as the main colour, to give it a festive feel, but also representing one of the main colours in the national flag. The contrasting metal grey was chosen to complement the bold and bright red and is one of the top trending colours for outdoor clothing. It has been created using waterproof, windproof, breathable shell fabric and stretch lining to ensure maximum comfort for all.
The North Face-designed collection consists of eight items – ski jacket, ski pants, mid jacket, t-shirt, knit cap, backpack, ski gloves and padding booties – which will be distributed to all Passion Crew (POCOG Workforce and Volunteers) before they begin their duties at Games time.
LEE Hee-beom, President of the PyeongChang 2018 Organising Committee for the Olympic and Paralympic Winter Games (POCOG) said, "It is wonderful to see so many of the Passion Crew here today to witness the unveiling of their Winter Games uniform. We know that it is important that our staff and volunteers feel comfortable and smart and we think that the North Face designs do exactly that and the feedback today is very encouraging.
"The Passion Crew are a very important element of the Games – they will provide service and support across all functional areas, and also help us connect to the general public and be the face of the Games at many locations. They will be able to wear this uniform with pride and share their passion for PyeongChang 2018 with everyone they come into contact with."
KIM Jong-bae, an enthusiastic volunteer who can't wait to be part of the Passion Crew said, "I am so proud to be part of the Passion Crew for the Games next year and it was really exciting to see the uniform being unveiled today. I really like it and think we will all look really smart and be able to stay warm!"