Royal visitor for Dutch Paralympians
IPC Honorary Board member Princess Margriet visits Dutch Paralympic athletes at Papendal.
02 Nov 2013
Imagen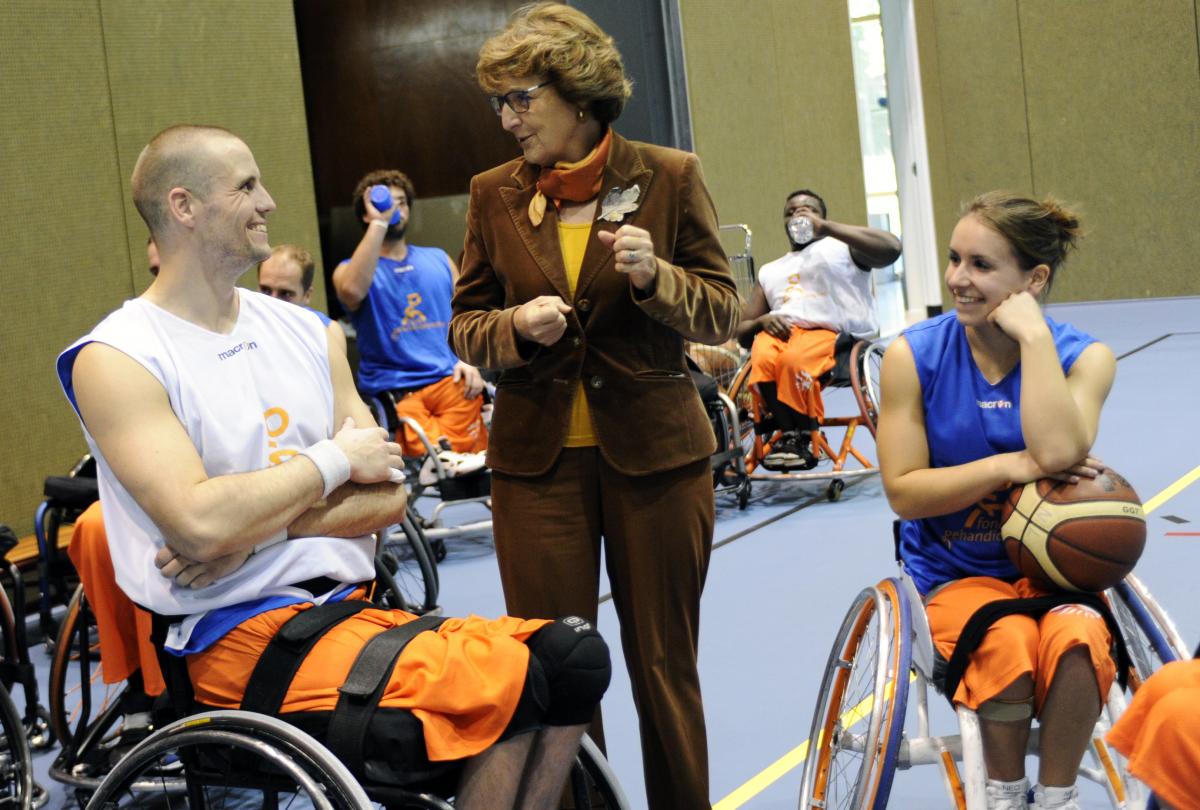 ⒸNOC*NSF
By NOC*NSF
"We are very happy with the long-term commitment of the Princess to Paralympic sport."
Her Royal Highness Princess Margriet of the Netherlands paid a visit to National Sports Centre Papendal this week to meet Dutch athletes who are preparing for the Sochi 2014 Paralympic Winter Games and other Dutch Paralympians.
Princess Margriet, a member of the International Paralympic Committee (IPC) Honorary Board, was welcomed by Jochem Schellens, manager of National Sports Centre Papendal, Rita van Driel, Secretary General of the Dutch Paralympic Committee, André Cats, chef de mission of Paralympic TeamNL, Gertjan van der Linden, head coach of the Dutch national wheelchair basketball teams, and Barbara van Bergen, captain of the Dutch women's wheelchair basketball team.
After a tour around Papendal, with visits to the Dutch Paralympic shooting team, the Dutch para-athletics Team and a fitness training session of the Dutch Paralympic skiers and snowboaders, André Cats gave the Princess an update about the preparations of ParalympicTeamNL on their road to Sochi 2014.
"We are very happy with the long-term commitment of the Princess to Paralympic sport," said Cats. "This connection leads back to the Paralympic Games of 1980 here at Papendal. Her close interest is very much appreciated by our athletes. During the last Games, the Princess and her husband Pieter van Vollenhoven were present in London, where they celebrated the many successes of Paralympic TeamNL with us."
During lunch, where President of NPC Netherlands Wim Ludeke was also present, Princess Margriet took the time to get to know the Dutch alpine skiers, snowboarders and the coaches, who were together at Papendal. After the lunch, the Princess attended part of a training session of the Dutch wheelchair basketball team.
Currently four Dutch athletes have qualified for Sochi 2014: alpine skiers Kees-Jan van der Klooster, Anna Jochemsen and Bart Verbruggen, and snowboarder Bibian Mentel. Five athletes are still in the race for qualification: skier Thomas Mulder and snowboarders Merijn Koek, Chris Vos, Lisa Bunschoten and Ilse van Rhenen.