Russia move into first with Canada in wheelchair curling
The host nation are now tied in the top spot with Canada at Sochi 2014.
10 Mar 2014
Imagen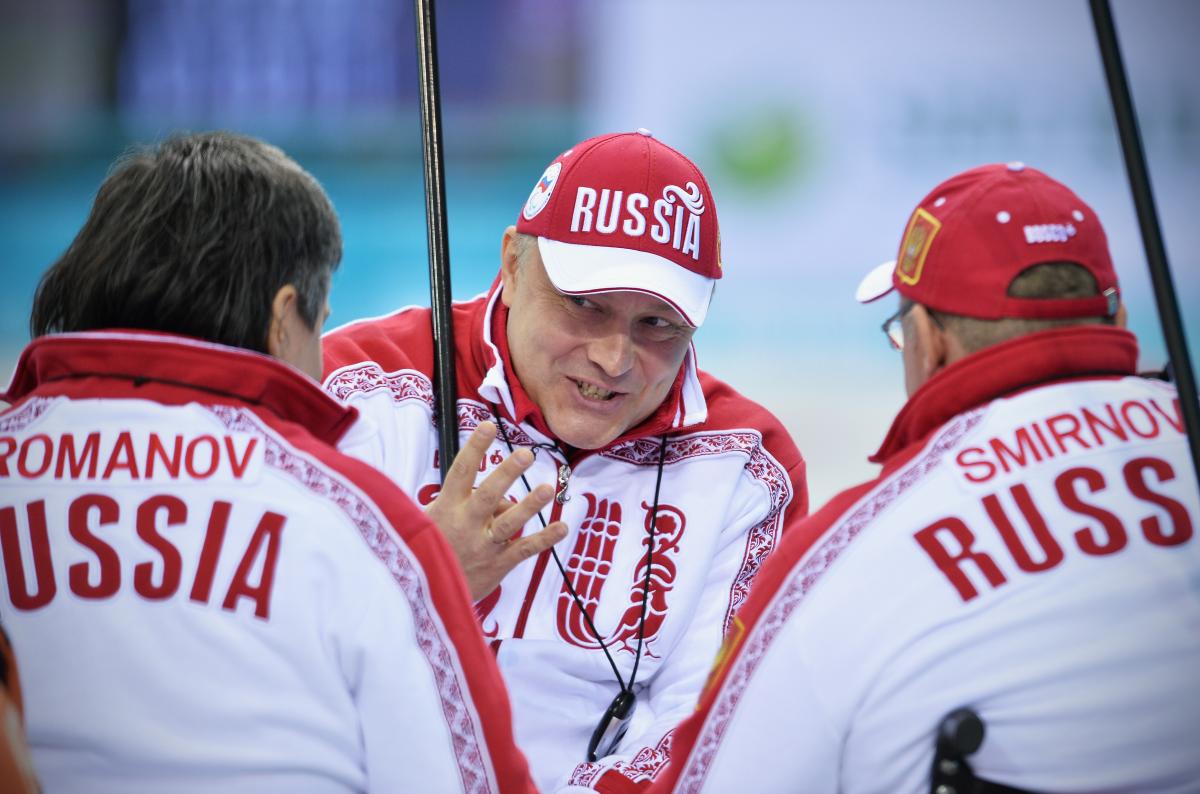 ⒸGetty Images
By World Curling
"I think as a team we played pretty well. The ice suited us and we could hit again, so that was kind of nice. When it gets a little heavier you have to have a lot more strength to make hits so this made it a little bit easier."
Despite losing their unbeaten record, Canada remain at the top of the standings alongside hosts Russia at the half-way point in the round-robin wheelchair curling competition after Day 3 of play at the Sochi 2014 Paralympic Winter Games.
Taking place in the Ice Cube Curling Centre, the morning session of play on Monday (10 March) saw defending Paralympic champions Canada come up against North American neighbours, USA.
Canada skip Jim Armstrong made a crucial breakthrough in the third end with his first stone as he made a draw around a guard. USA skip Patrick McDonald responded by attempting a difficult raise which didn't pay off.
This left Canadian skip Jim Armstrong with a draw to score two points and take a 3-1 lead after three ends.
In the second half of the game Canada took control, taking two points after the break, in the fifth end, before stealing two single points in the sixth and seventh ends.
With the score at 7-2 the USA conceded the game to give Canada their fourth win of the competition.
Afterwards, Canada third Ina Forrest said: "I think as a team we played pretty well. The ice suited us and we could hit again, so that was kind of nice. When it gets a little heavier you have to have a lot more strength to make hits so this made it a little bit easier."
Hosts Russia kept up the pressure on Canada as they defeated South Korea. The game was still tight going into the later stages, with South Korea leading 5-4 going into the eighth and final end.
With the last stone advantage, however, Russian skip Andrey Smirnov was able to hit the only Korean stone in the house to score three points and win the game 7-5.
Finland went into their game against Norway still looking for their first win. The game proved tight throughout, with the scores tied 3-3 at the fourth end break, but Norway emerged with the 8-6 victory.
The fourth game of the morning session was between last year's World Wheelchair Curling Championship silver medallists, Sweden, and bronze medallists, China.
In this game, China raced into the lead, taking four points from the first two ends. Although Sweden scored one point of their own in the third end, China took a substantial step towards their victory in the fourth end.
China skip Haitao Wang made a precise take-out around a guard to score three points which left the score at 7-1 at the fourth end break.
China picked up a steal of one point in the sixth end before Sweden gained three points from the next two ends before they decided to concede defeat, after seven ends of play, with the score 8-4 to China.
Afterwards, China skip Haitao Wang said: "We have a very good mood and we won with confidence. Today compared to the other day, we played much better. We never really had that much confidence (in earlier games), but each of us thought of winning the game (today), so that added confidence helped us win as a team."
In the afternoon, Canada lost their first match in Sochi, as Norway made a late comeback to defeat them in an extra end.
Norway found themselves 4-1 down after only three ends but managed to level the game in the eighth end by stealing one point to take the game into an extra end, their second of the day.
Although Canada had last stone advantage, Norway set up the end well as their lead, Terje Rafdal, positioned a guard that protected a Norwegian stone that was sitting shot.
Norway continued to protect this stone throughout the end and after Canada skip Jim Armstrong failed with a raise take-out attempt with his last stone, Norway stole two points to win the game, 8-6.
Like Norway, China won two games on the day, also defeating South Korea, 11-2.
Slovakia meanwhile lost their undefeated record as they were beaten by Great Britain, both teams having had a bye in the morning session of play.
Great Britain were already 6-2 ahead after five ends before Slovakian skip Radoslav Duris gave away a steal of four points to Great Britain after he was short with his final draw.
The teams played one more end where Great Britain stole another two points, at which point Slovakia conceded with the final score 12-2.
Hosts Russia were the other winners in this session of play as they defeated the USA, 6-5.
Play resumes on Tuesday (11 March) at 9:30 (MSK) followed by another session at 15:30 (MSK).
Standings
1. Canada 4-1
1. Russia 4-1
3. Great Britain 3-1
3. Slovakia 3-1
5. China 3-2
5. Norway 3-2
7. Sweden 1-3
8. Korea 1-4
8. USA 1-4
10. Finland 0-4