Samsung Group becomes domestic sponsor of PyeongChang 2018
The sponsor package is worth KRW 100 billion.
07 Apr 2015
Imagen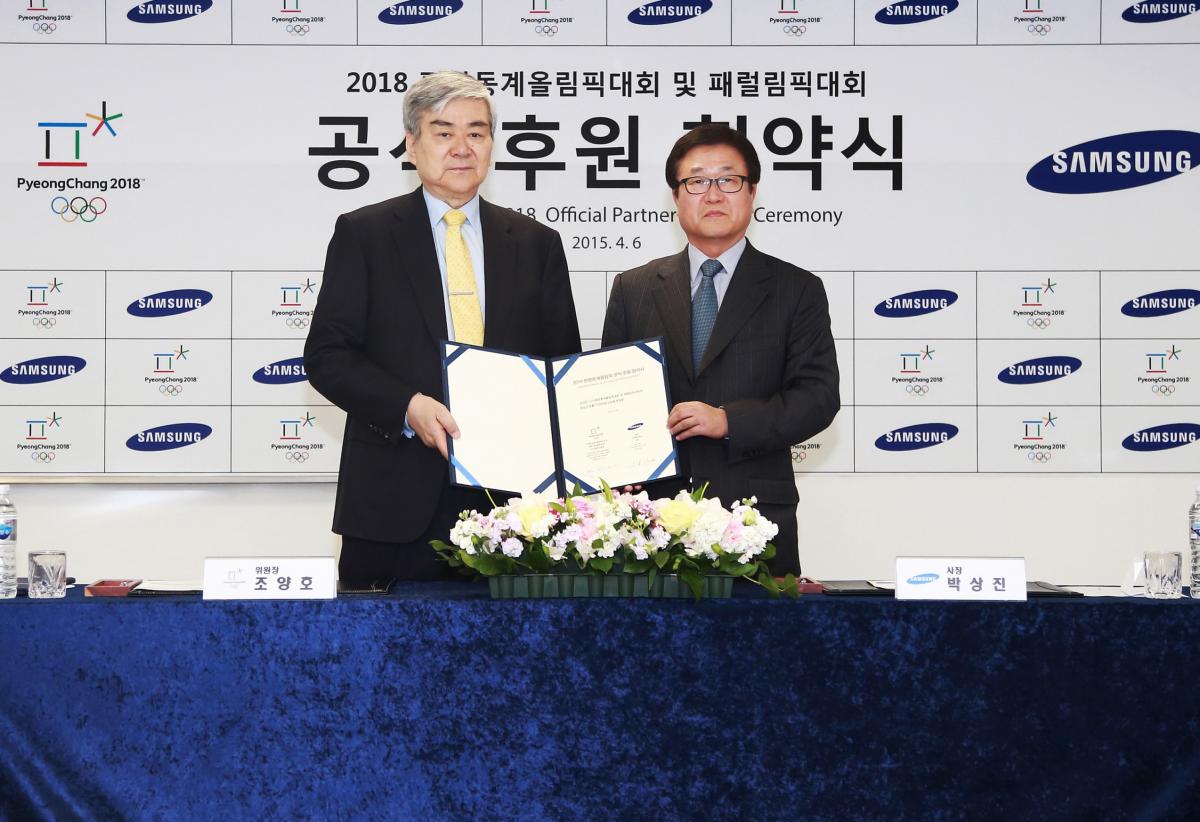 ⒸPOCOG
By POCOG
The PyeongChang Organising Committee for the 2018 Olympic and Paralympic Winter Games (POCOG) has signed an official local sponsorship agreement with Samsung Group.
Samsung Group has agreed to support POCOG with a sponsor package valued at KRW 100 billion to officially become a domestic partner working in various business areas across the Samsung group.
To date, the POCOG has signed a total of six domestic sponsorship agreements with Samsung Group, Korean Air, KT, Youngone Outdoor(The NORTH FACE Brand), Pagoda Education Group and Samil PricewaterhouseCoopers, and achieved 41 per cent of its sponsorship target.
The Samsung Group local support agreement with POCOG comes in addition to its Worldwide TOP Partnership with the IOC and its position of Worldwide Paralympic Partner of the International Paralympic Committee (IPC). The TOP sponsorship contract has been extended until 2020 and comprises the sectors for wireless communications equipment, tablet PC, notebook computer and desktop PC.
Samsung has been acknowledged as the key player in realising the 'Smart Olympics' by providing its innovative technologies. The corporation has provided outstanding products to previous Olympic and Paralympic Games as the Worldwide TOP Partner of the IOC in the Wireless Communication category since the Nagano 1998 Olympic Winter Games.
Commemorating the signing ceremony, PARK Sangjin, President of Corporate Relations, Samsung said: "Samsung Group is thrilled that Korea has won the right to host the Olympic Winter Games. The Corporation demonstrates its support by extending the domestic marketing rights for PyeongChang 2018 that are already in place through the TOP (The Olympic Partner) contract with the IOC."
He continued "Indeed, Samsung has made a meaningful decision to provide additional support for the PyeongChang 2018 organising committee to contribute to the successful Olympic Winter Games. This sponsorship agreement furthers our efforts to commit to social responsibility as a corporate representative of Korea."
POCOG President CHO Yang-ho noted: "We are happy to have Samsung support in addition to the TOP partner agreement with POCOG. We are confident that this sponsorship agreement will encourage other Korean companies to join as sponsors for the PyeongChang 2018 Olympic and Paralympic Winter Games."