Sao Paulo 2017 Closing Ceremony speech by Jose Luis Campo
The fourth Youth Parapan American Games closed in spectacular style in Sao Paulo, Brazil, on 25 March.
26 Mar 2017
Imagen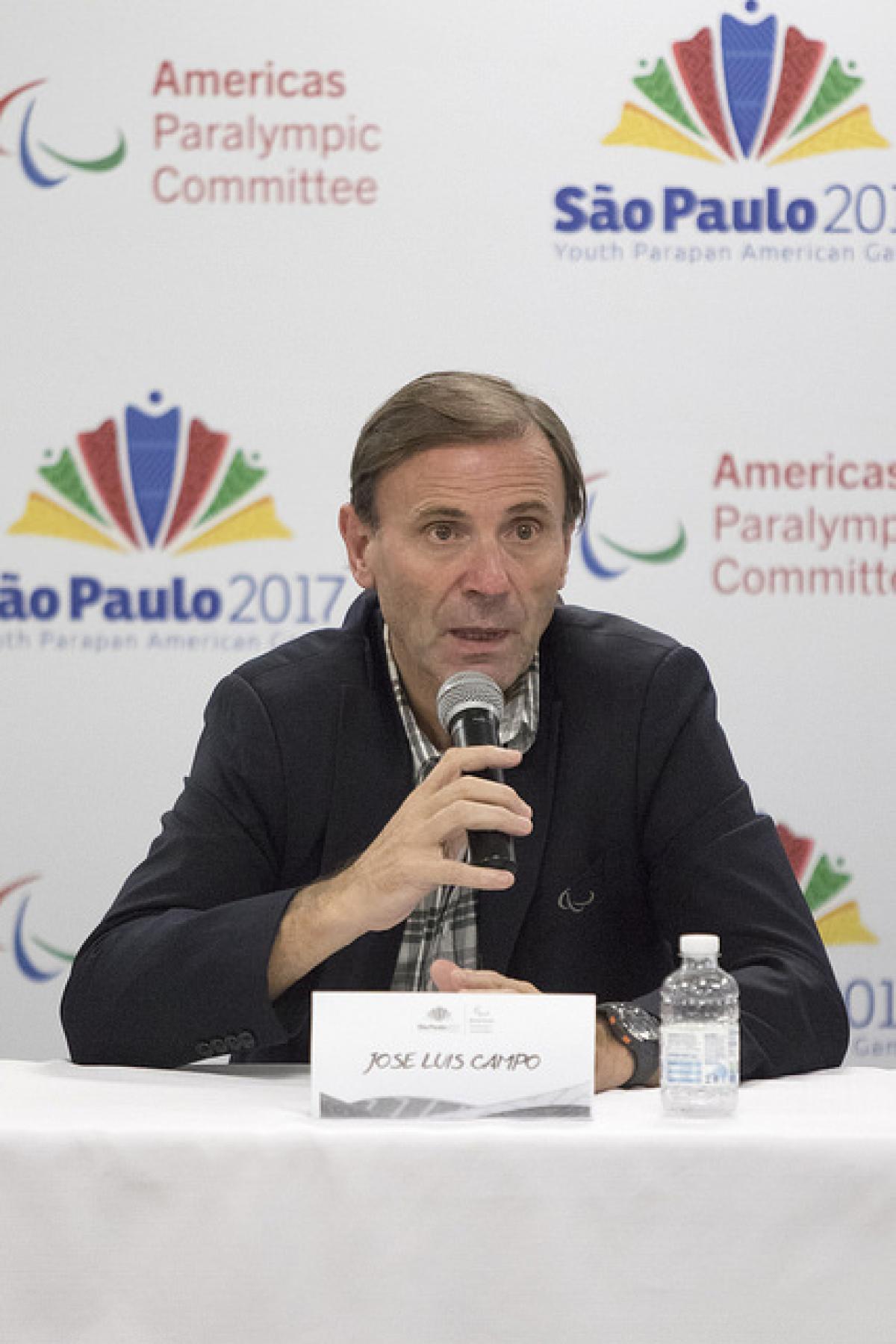 ⒸAlexandre Urch/MPIX/CPB
By IPC
Dear athletes, officials, classifiers, friends, ¡buenas noches, boa noite, good evening!
Over the last six days, we were amazed by the truly inspiring performances of over 800 young athletes competing in the biggest Youth Parapan American Games. Seventeen of the competing countries won at least one medal, proof that the growth of Para sports in the Americas now covers the whole continent.
Dear athletes, since Venezuela in 2005, the Youth Parapan American Games have acted as a platform for youngsters to launch their successful sporting careers. From what I have witnessed this week, I am convinced that there are a number of future Parapan American and Paralympic champions amongst you.
But becoming a great athlete and winning the coveted Paralympic gold depends on you and the strength of your dreams. Never stop dreaming. Only those who dream big can truly make a difference in this world.
You athletes show us every day that everything is possible.
You are an inspiration for us all.
This is why we will continue working tirelessly so that you can develop yourselves and achieve your full potential.
Thanks to the IPC and Agitos Foundation's "Proud Paralympian" education programme, hundreds of athletes now know that it is not just important to be a great competitor. It is even more important to be a great person, a great role model and fighter for a more inclusive and equitable society.
Thank you to the staff of the Americas Paralympic Committee, the International Paralympic Committee and the Brazilian Paralympic Committee. Thank you also to the Organising Committee, led by its President Andrew Parsons. Thank you for holding the doors of the Brazilian Paralympic Centre wide open for all of us and making it a home from home for all the athletes in the Americas.
Thank you also to the media for your presence in Sao Paulo. Without your indispensable work, the Paralympic Movement in the Americas would have never reached such heights.
Finally, I want to thank the magnificent volunteers. Always with a huge smile on their faces, they made of our stay in this beautiful city, a truly unique experience.
Together, the contributions of every single person involved in this event have ensured it will go down in history as the best ever.
Sadly, the time has come for me to declare closed the Sao Paulo 2017 Youth Parapan American Games.
Behind us we leave wonderful memories. Ahead of us, a fantastic future for the Paralympic Movement in this continent.
Sao Paulo 2017 is just the start of a journey that will lead many of you to the Lima 2019 Parapan American Games, the Tokyo 2020 Paralympic Games and other major events. See you soon! Thank you!
ESPAÑOL
Queridos atletas, oficiales, clasificadores, amigos, ¡buenas noches, boa noite, good evening!
Durante los últimos seis días, más de 800 jóvenes atletas nos maravillaron con actuaciones realmente inspiradoras en los más grandes Juegos Parapanamericanos Juveniles de la historia. En total 17 de los 19 países participantes ganaron al menos una medalla, prueba de que el crecimiento del Para deporte en América ahora abarca a todo el continente.
Desde Venezuela en 2005, los Juegos Parapanamericanos Juveniles han sido una plataforma desde la que los jóvenes atletas lanzaron sus exitosas carreras deportivas. Sao Paulo 2017 no será la excepción. Por lo que presencié esta semana, estoy convencido de que entre ustedes hay muchos futuros campeones Parapanamericanos y Paralímpicos.
Pero convertirse en un gran atleta y ganar la deseada medalla de oro en un Juego Paralímpico dependerá de ustedes y de la fortaleza de sus sueños. Nunca dejen de soñar. Solo aquellos que se atrevan a soñar en grande podrán hacer una diferencia en este mundo.
Ustedes atletas nos demuestran día a día que todo es posible.
Son una inspiración para todos nosotros.
Ésta es la razón por la que continuaremos trabajando sin descanso para que ustedes puedan desarrollarse en un ambiente ideal y así alcancen su máximo potencial.
Deseo también destacar el éxito del programa educacional del Comité Paralímpico Internacional y de la Fundación Agitos, ´Proud Paralympian´, gracias al cual centenares de jóvenes atletas ahora saben que ser un gran competidor no es lo único importante. Porque es aún más importante ser una gran persona que lucha por construir una sociedad más inclusiva y equitativa.
Gracias a los staff del Comité Paralímpico de las Américas, del Comité Paralímpico Internacional y del Comité Paralímpico Brasileño. Gracias también al Comité Organizador, liderado por su Presidente Andrew Parsons. Gracias por estos soñados seis días. Gracias por abrirnos las puertas del Centro Paralímpico Brasileño y por convertirlo en un hogar para todos los atletas Paralímpicos de América.
Gracias también a todos los medios de comunicación por su masiva presencia en Sao Paulo. Sin su imprescindible trabajo, el Movimiento Paralímpico en América nunca habría adquirido estas dimensiones.
Gracias a cada una de las personas involucradas en este evento. Todos ustedes han logrado que Sao Paulo 2017 se convierta en el mejor Juego Parapanamericano Juvenil de la historia.
Por último, quiero agradecer a los magníficos voluntarios. Siempre con una imborrable sonrisa en sus rostros, hicieron de nuestra estadía en esta hermosa ciudad, una experiencia única.
Lamentablemente, ha llegado el momento para mí de declarar oficialmente cerrados los Juegos Parapanamericanos Juveniles Sao Paulo 2017.
Nos llevamos unos recuerdos maravillosos. Pero ahora debemos mirar hacia el futuro. Un futuro que brilla más que nunca para el Movimiento Paralímpico en este continente.
Porque Sao Paulo 2017 no es sino el comienzo de un largo camino que conducirá a muchos de ustedes a los Juegos Parapanamericanos Lima 2019, a los Juegos Paralímpicos Tokio 2020 y a futuros grandes eventos. ¡Nos vemos pronto! ¡Gracias!