Schaffelhuber completes hat-trick of World Cup wins in Panorama
Brits Gallagher and Evans also secure second victory in successive days
14 Jan 2014
Imagen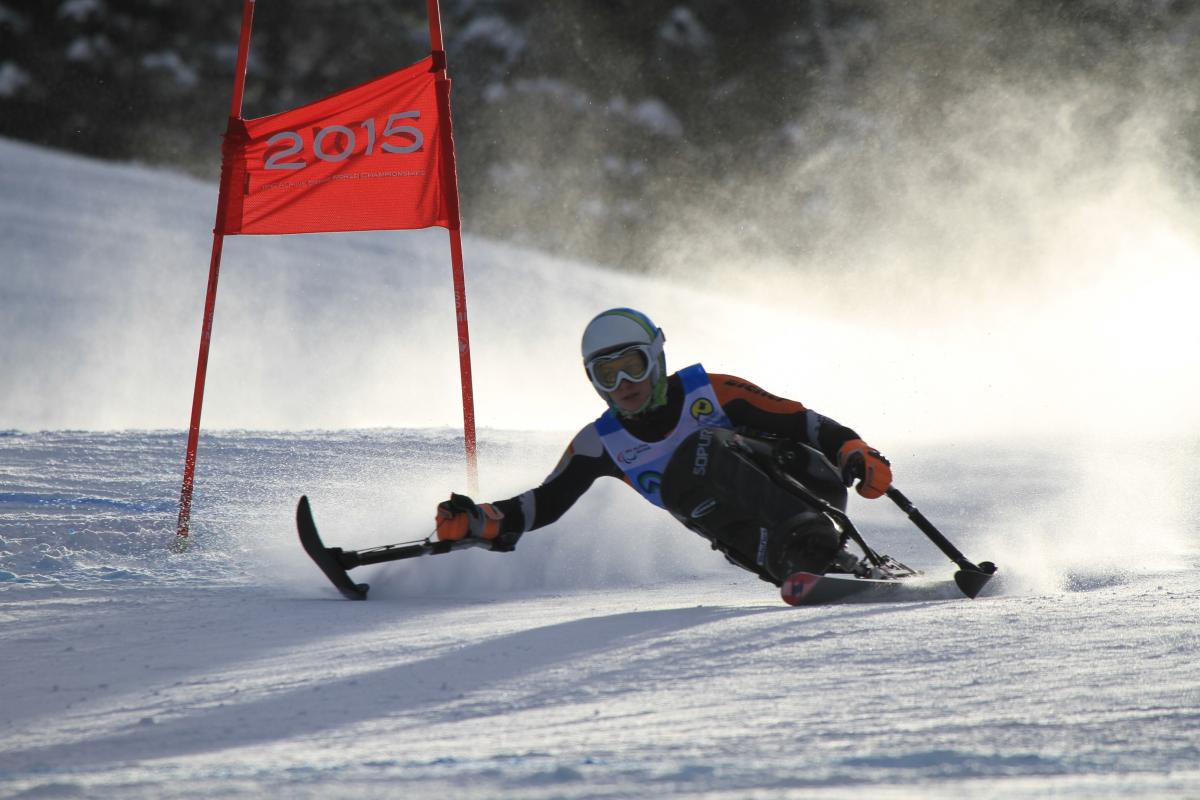 ⒸMichael Knaus
By IPC
"I knew my first run was a good one but I could do a little bit faster."
Germany's Anna Schaffelhuber completed a hat-trick of wins in as many events at the IPC Alpine Skiing World Cup in Panorama, Canada, on Monday (13 January) storming to victory in the women's giant slalom sitting class.
The 20-year-old, a super-G bronze medal winner at the Vancouver 2010 Paralympics and slalom world champion last year, now looks a strong favourite to land her first Paralympic gold at Sochi 2014 after yet another dominant display.
Despite wet and warm conditions in Panorama, Schaffelhuber (2:07.58) was fastest in both runs and eased to victory finishing well ahead of Canada's Kimberly Joines (2:16.30) in second who was competing in her first race of the season following injury. USA's Laurie Stephens (2:23.05) was third, whilst Austrian world champion Claudia Loesch failed to finish her second run.
Anna Schaffelhuber said: "I knew my first run was a good one but I could do a little bit faster. My position was good, so I wanted to really attack the second one. I'm very motivated, but for me it is important to develop my performance and develop myself. I don't want to look at the other times, I want to do better race-by-race.
"This season my performances are a lot better than last year. I'm real happy with that, but I know I can do better. For example, in the giant slalom when I'm in training, I'm a little bit better than in the race, so there is still some room to be better. But this was the first giant slalom of the year, so it is good."
On Monday there was also a second victory in successive days for Great Britain's Kelly Gallagher and guide Charlotte Evans in the women's visually impaired, the first race of the day.
Boosted by victory in Sunday's super combined, the British duo were in stunning form and were fastest in both runs to finish with an overall time of 2:13.28. For the second day in a row, Russian world champion Alexandra Frantseva and guide Pavel Zabotin (2:18.26) had to settle for second place whilst Friday's downhill winner Melissa Perrine of Australia and guide Andrew Bor (2:21.51) took third.
Gallagher's guide Charlotte Evans said: "The first run, I personally was out of control. Kelly was having a great time behind me, but I was struggling.
"That [second] run was a lot better and we made good time. It feels great, it's good fun and we're working extremely hard, so it's starting to pay off and it's nice to see.
"I think we've still got a process of where we're going and what we're doing with it, so we just need to stick with our goals and keep working hard."
The women's standing race was a close affair with Germany's Andrea Rothfuss (2:06.57) finally securing victory over her French nemesis Marie Bochet (2:06.83), who had beaten her in both the downhill and super-combined World Cup events in Panorama.
"I wasn't so happy to see the rain because it is everything we skiers hate, but it cleared up towards the start, so we could race," said Rothfuss who won four silvers behind Bochet's five world titles last year.
"The first run was really good. I started first so I didn't know when I finished if it was a good time or not. But, as every racer came down, it felt better and better. It's really good because to win is like getting paid for all the work you've done over the years and is a good sign on the way to Sochi," she added.
The men's standing race saw Austrian skiers take the top two podium positions. Matthias Lanzinger took top spot (1:59.28) after posting the quickest time in both runs to finish just over half a second ahead of in-form Markus Salcher (1:59.84), the victor in Friday's downhill and Sunday's super-combined. World champion Vincent Gauthier-Manuel (2:00.97) was third.
"I know we have very close races here so I had to give 100 per cent. I think today was a good race for me. I knew the second run would be the same and that my teammate Markus would be very close behind me, so the second run would have to be perfect," said Lanzinger who was delighted after securing his first World Cup win of the year.
After a third place finish in Sunday's super combined, Russia's Valerii Redkozubov said he was "proud" after winning the men's visually impaired race together with guide Evgeny Geroev. The pair were fastest in the first run (1:00.17) and, despite being nervous going into the second leg, still posted the third fastest time (1:01.95) to hold on for victory in 2:02.12.
In second place was USA's Mark Bathum and his guide Code Yamamoto (2:04.04) after they edged Slovakia's Jakub Krako and guide Martin Motyka (2:04.45) into third.
The final race of the day was also the closest with just 0.25 seconds separating the podium finishers in the men's sitting. After going second fastest in both runs Japan's Taiki Morii said it was a "good feeling" to take victory with an overall time of 2:01.44. In second, fractionally behind Morii, was German Georg Kreiter (2:01.52), whilst Austria's Roman Rabl (2:01.69) was third.
The IPC Alpine Skiing World Cup in Panorama will conclude on Tuesday (14 January) with the super-G before competitors head to Copper Mountain, USA, later this week for the next World Cup event.
In 2015, Panorama will again welcome the world's best para-skiers when it stages the 2015 IPC Alpine Skiing World Championships.