Season concludes with banked slalom, overall winners
Narita stuns Suur-Hamari in men's SB-LL2, while overall World Cup winner Minor avenges World Championships loss.
13 Mar 2017
Imagen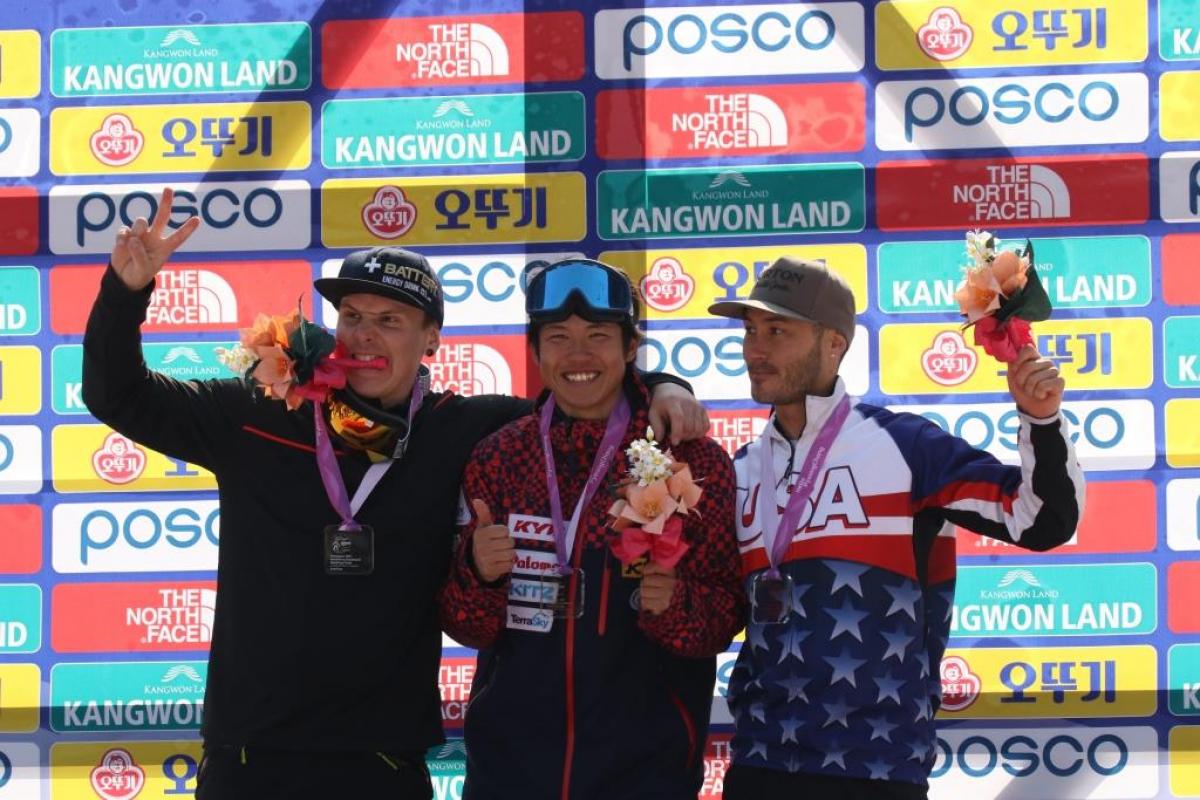 ⒸPyeongChang2018
By IPC
"It felt great, let's be real. Even if she passed me on the end it was still awesome."
The banked slalom and overall World Cup winners were decided on Monday (13 March), as the PyeongChang 2018 Paralympic Winter Games Test Event in Para snowboard wrapped up in South Korea.
Gurimu Narita was among the highlights after winning the men's SB-LL2 race. In his first season, the Japanese newcomer made up for a sixth-place first run to beat Finland's reigning world champion Matti Suur-Hamari by .29 seconds. The USA's Mike Shea was able to squeeze into the top three with his fastest time of 42.02.
"I was really surprised," said Worlds bronze medallist Narita. "Still Matti is really strong. He is so strong, so fast, faster than me. … But I got first place and am very happy."
Suur-Hamari's silver medal was still enough to give him the banked slalom World Cup title. In the overall rankings, he was just 300 points behind US winner Evan Strong.
Already the overall and banked slalom SB-UL World Cup winner entering Monday, the USA's Mike Minor avenged his loss to France's Maxime Montaggioni from the 2017 World Championships last month. Minor was in second place after the first run, but the defending World silver medallist managed to lower his time enough to take the win. Italy's Manuel Pozzerle was third.
"I came out in the first run and put a run down and was sitting in first, and then my buddy from France ended up bumping me down to second," Minor said. "I was thinking I don't know how much more I can get. And I juiced it out and was able to drop over a second off my time and come out first. So it was an amazing feeling."
Despite a fall in the second run and losing his first place position, the Netherlands' Chris Vos salvaged himself with a final-run time of 44.33 to win the men's SB-LL1. It was .80 seconds faster than Croatia's Bruno Bosnjak, who saw his first career podium finish. The USA's Mike Schultz came in third.
For the Dutch teenager, the victory completed a dominant season, which he added the banked slalom and overall World Cup globes to the two World Championship gold medals he won in February.
"It [the fall] put me in a nervous position but I managed to get a better result in the last run and it's awesome to win here," the 19-year-old said. "It's a good feeling toward the Games."
The USA's reigning world champion Brenna Huckaby won the women's SB-LL1 race by nearly two seconds ahead of France's Cecile Hernandez-Cervellon. Hernandez-Cervellon was still able to hold onto the banked slalom and overall World Cup globes. The USA's Amy Purdy rounded off the podium on Monday.
"I really liked the course. I thought it was super wide open, which is not what we're used to," Huckaby said. "My first run I fell, and so as it started to heat up the course got slower so it was harder to catch up and make up time for that fall but it all worked out.
"I not only walked away with gold but I also walked away with just feeling strong about my riding and just feeling great going into the Games.
"I was not super excited on the snowboard-cross course [on Friday, 10 March] but I love just where we are. It's so crazy to look around and see green. It's beautiful and everyone is so friendly here."
The 21-year-old was also happy that her winning time of 45.58 was faster than world and Paralympic champion Bibian Mentel-Spee – only for a moment.
The Dutch snowboarder showcased her talent producing the fastest women's time on the course with 45.36 to win the SB-LL2 category.
"Bibian being Bibian sped her time up and beat me by .2, but it was the first time ever in my life that I had ever been that close to her so I'm so excited about that," Huckaby added. "It felt great, let's be real. Even if she passed me on the end it was still awesome."
Australia's Joany Badenhorst came close to reaching Mentel-Spee's speed in the second run but left with second place. Dutch rider and overall World Cup and banked slalom title winner Lisa Bunschoten came in third.
"I had to step it up after my second run and I thought I just need to go and do it, and I was really happy," Mentel-Spee said.
Complete banked slalom results from the World Para Snowboard World Cup Finals, as well as updated rankings, can be found at www.worldparasnowboard.com.