Slovakia, Canada remain undefeated
Both Slovakia and Canada have yet to lose a Sochi 2014 wheelchair curling match after two days of play.
09 Mar 2014
Imagen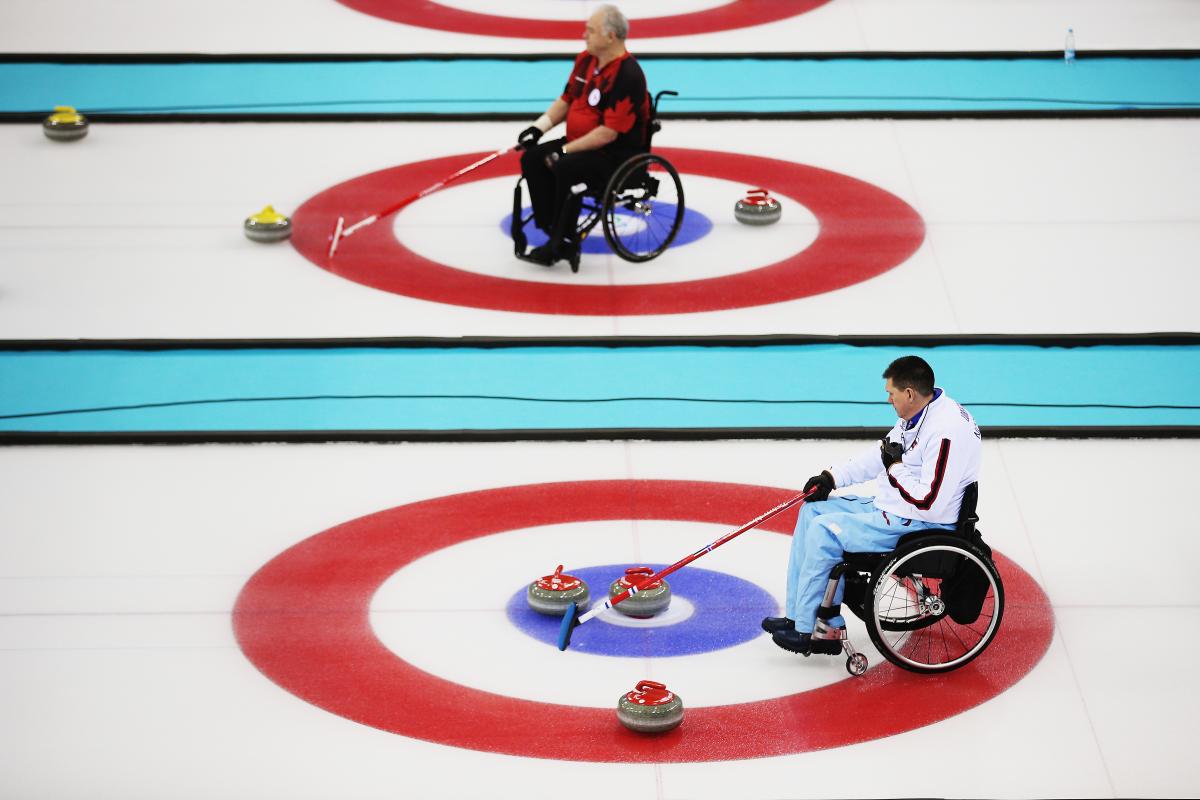 ⒸGetty Images
By World Curling
"We are so happy that we have won this match. To have imagined before that we would come here and after two games have a 2-0 record was just a dream to us."
Defending Paralympic champions Canada and debutants Slovakia finished the second day of play at the top of the standings as the only unbeaten teams in the Sochi 2014 Paralympic Winter Games wheelchair curling competition.
In the morning session, Slovakia earned their second win of the competition against China.
After three ends they were leading 4-1 and although China battled back to 4-3 after five ends, Slovakia made a breakthrough in the sixth end when their third Branislav Jakubec managed to clear a Chinese stone sitting in the four foot ring behind several guards.
This play eventually led to Slovakia taking two points before they claimed a steal of two points in the seventh end before China conceded with the final score 8-3.
Slovakia skip Radoslav Duris said: "We are so happy that we have won this match. To have imagined before that we would come here and after two games have a 2-0 record was just a dream to us."
Great Britain picked up the first of their two wins today by defeating Vancouver 2010 bronze medallists Sweden, 6-4.
Although Sweden were leading 4-2 after five ends of play, Great Britain took two points in the sixth end before stealing a single point in the seventh end to take a 5-4 lead.
In the eighth end, Great Britain skip Aileen Neilson made a draw to the four foot rings against two Swedish counting stones and when Swedish skip Jalle Jungell missed a take-out with his last stone Great Britain took a steal of one point and a 6-4 victory.
The USA secured their first win of the competition as they defeated Norway. Whilst USA raced to a 4-1 lead after three ends, the main turning point came in the fifth end.
USA skip Patrick McDonald was forced to make a difficult take-out through a narrow port to score three points and give them a substantial lead that they would never lose as they eventually won 8-5.
Host nation Russia recorded their second win of the competition so far as they subjected Finland to their second defeat.
Although the teams were tied 2-2 at the fourth end break, Russia took control of the game in the seventh end. Finnish skip Markku Karjalainen came up short of the house on two of his draws after Russia skip Andrey Smirnov made a draw through a port which eventually led to a score of three points.
This was enough to make Finland concede the game with the final score 7-4 to Russia after seven ends of play.
Russina skip Andrey Smirnov said: "There is just one strategy - to win. In the eighth end, it was simply to take out all (the opponents' stones). There were no challenges today, just to correct our mistakes. By winning today it means we have corrected our mistakes."
Slovakia then went on to make it two wins from two, as they came from behind to defeat Finland in the afternoon session of play.
Finland were leading 6-3 after six ends before Slovakia turned the game around. Slovakia skip Radoslav Duris took advantage of several mistakes by Finland which left him with the task of drawing into a house containing only three Slovakian stones and no Finnish stones, to score four points.
Slovakia then stole two points in the eighth and final end to record a 9-6 win which left them in join top spot in the standings after two days of play.
Canada joined Slovakia in top spot as they won their game against Sweden. By the fifth end Canada were ahead 5-2 thanks in part to a hit and roll made by Canadian skip Jim Armstrong with his last stone in the fourth end which eventually proved to be the stone that stole a single point for Canada and gave them the lead for the first time in the game.
Canada went on to win by 7-4 to keep their 100 per cent record intact, matching Slovakia's record of three wins from three games so far.
Great Britain completed a successful day as well as they defeated Korea in the only other session of afternoon play, 8-4.
Play resumes on Monday (10 March) at 9:30 (MSK) followed by another session at 15:30 (MSK).