Sochi 2014 Paralympics watched by over two billion viewers
IPC President praises Sochi's record breaking success and legacy at the start of two day debrief into the 2014 Paralympic Winter Games
05 Jul 2014
Imagen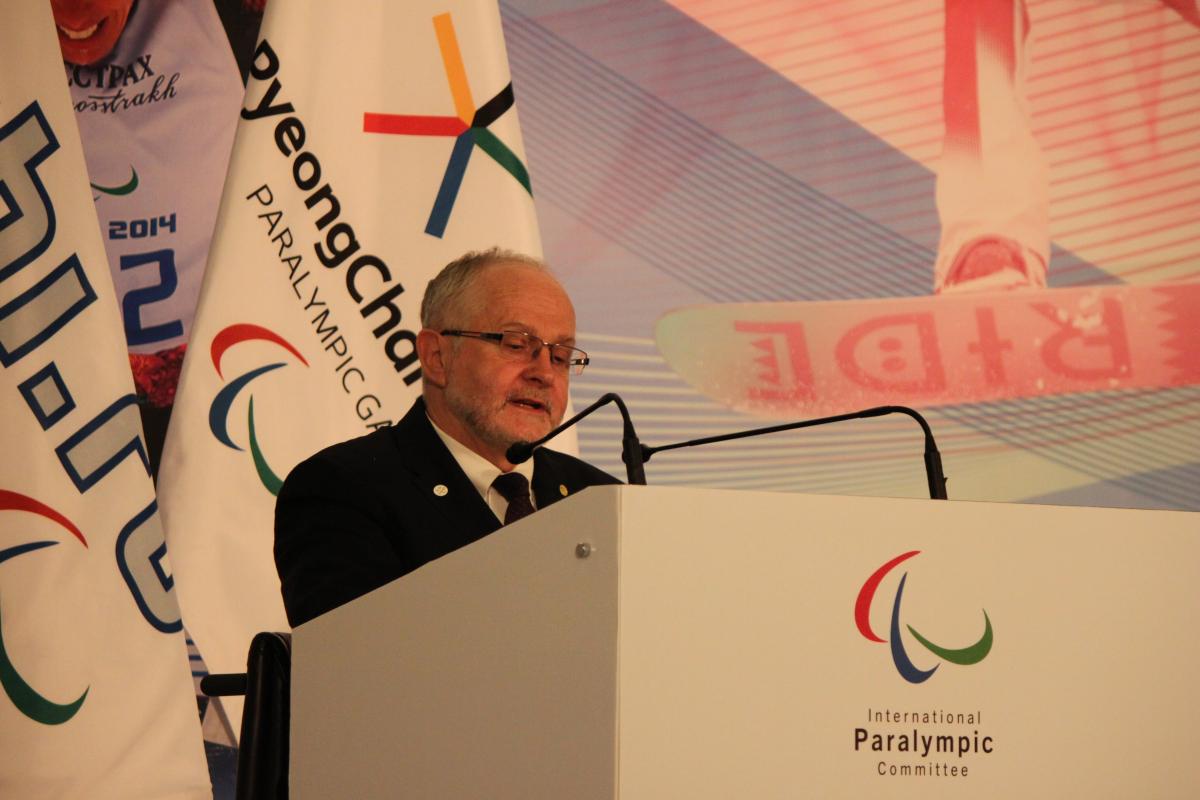 ⒸIPC
By IPC
"As a result, I'm delighted to reveal that the Sochi 2014 Paralympic Winter Games were the most watched in history attracting a global cumulative audience of over two billion people."
The Sochi 2014 Paralympic Winter Games attracted a record cumulative global TV audience of nearly 2.1 billion people, the International Paralympic Committee (IPC) announced on Friday (4 July), smashing all previous records.
Speaking at the Opening Plenary of the Sochi 2014 Paralympic Winter Games Debrief in PyeongChang, Korea, IPC President Sir Philip Craven said the Games were a stunning success "exceeding all our expectations" with record tickets sales, number of participating countries and global TV audience.
In total, 1,378 hours of action was shown on TV from the Games across 125 channels in 55 countries. This attracted a cumulative TV audience of 2.094 billion, a 32 per cent increase on the 1.588 billion who watched the Vancouver 2010 Games.
In Russia alone, a cumulative TV audience of 625 million tuned into watch Sochi 2014.
Sir Philip highlighted TV coverage in the USA, in particular NBC's live coverage of the Russia USA ice sledge hockey gold medal match as one of the most historic moments in Paralympic broadcasting history.
"Having received criticism for their lack of London 2012 coverage, NBC, NBC Sports Network, and the USOC teamed up to ensure there would be no repeat in Sochi," Sir Philip said.
"The U.S was not the only country to receive more TV coverage than ever before. The Games saw a record number of hours shown in a
host of countries including Japan, Great Britain, Russia, Brazil and the whole of the Americas.
"As a result, I'm delighted to reveal that the Sochi 2014 Paralympic Winter Games were the most watched in history attracting a global cumulative audience of over two billion people."
Sir Philip was also full of praise for the athletes who lit up Sochi 2014 and the crowds who supported them.
"The athletes, as they should, took centre stage. They came as the best prepared athletes ever to a Games and certainly did not disappoint.
"Few of us will forget the performances of Russia's Roman Petushkov, a winner of a record six Nordic skiing gold medals or Anna Schaffelhuber, the German sit skier who won five gold medals from five events."
"The vocal crowds and packed venues became a trademark of the Games.
"Traditionally Russian spectators only cheer on their own athletes. But what was so great was that within hours of the opening day of competition all of them had been infected by the Paralympic Spirit and were going wild, supporting and celebrating the performances of every single athlete."
One of the biggest legacies of the Games according to the IPC President is the impact they have had on the Russian government and Russian society.
"Because of the Games new legislation was passed at the highest levels of Government and the Sochi 2014 Organising Committee created a new barrier-free infrastructure, ensuring that everything constructed for the Games was accessible for all. Sochi is now a blueprint for the rest of Russia with 200 cities already using what was created for the Games as a guide for furthering their own accessibility.
"To hear President Putin confirm that this work will continue post Games is tremendous news and highlights the seismic impact staging the Paralympic Winter Games can have.
"Thanks to the Sochi 2014 Paralympic Winter Games, the lives of millions of Russians will be improved and enriched forever."
Looking ahead to PyeongChang2018, Sir Philip said teamwork would be instrumental to their success and forecast they have the potential to surpass Sochi 2014's success, especially in terms of athletes and their sports. He also stressed the need for Korean athletes to do well on home snow and ice in four years' time.
Sir Philip said: "Looking at the age range of athletes who competed in Sochi there was so much young talent. For example, in alpine skiing, nearly half of all gold medallists were aged 23 or under.
"This talent pool will be even stronger in four years' time, whilst more youngsters are sure to make their breakthrough between now and 2018.
"As a result, PyeongChang has the potential to deliver the best sporting competition ever in 2018 however this will only happen if some of the medallists come from the host nation."
"It would be a tragedy for us all if the Korean team failed to win a medal in 2018, like they did in Sochi.
"A successful home team is essential as it creates a really strong feel good factor across the whole country, makes athletes household names and generates far more reasons for domestic media and broadcasters to cover the Games."
Following the Opening Plenary, the Sochi 2014 Paralympic Winter Games debrief continues covering three streams – Paralympic Games clients, delivery and product – until it concludes on Saturday evening (5 July).
* All figures quoted, provided by Repucom.
Related Images