South Korea upset Russia's sledge squad in shoot-out
Two of the first four ice sledge hockey games at Sochi 2014 went to overtimes and shoot-outs.
08 Mar 2014
Imagen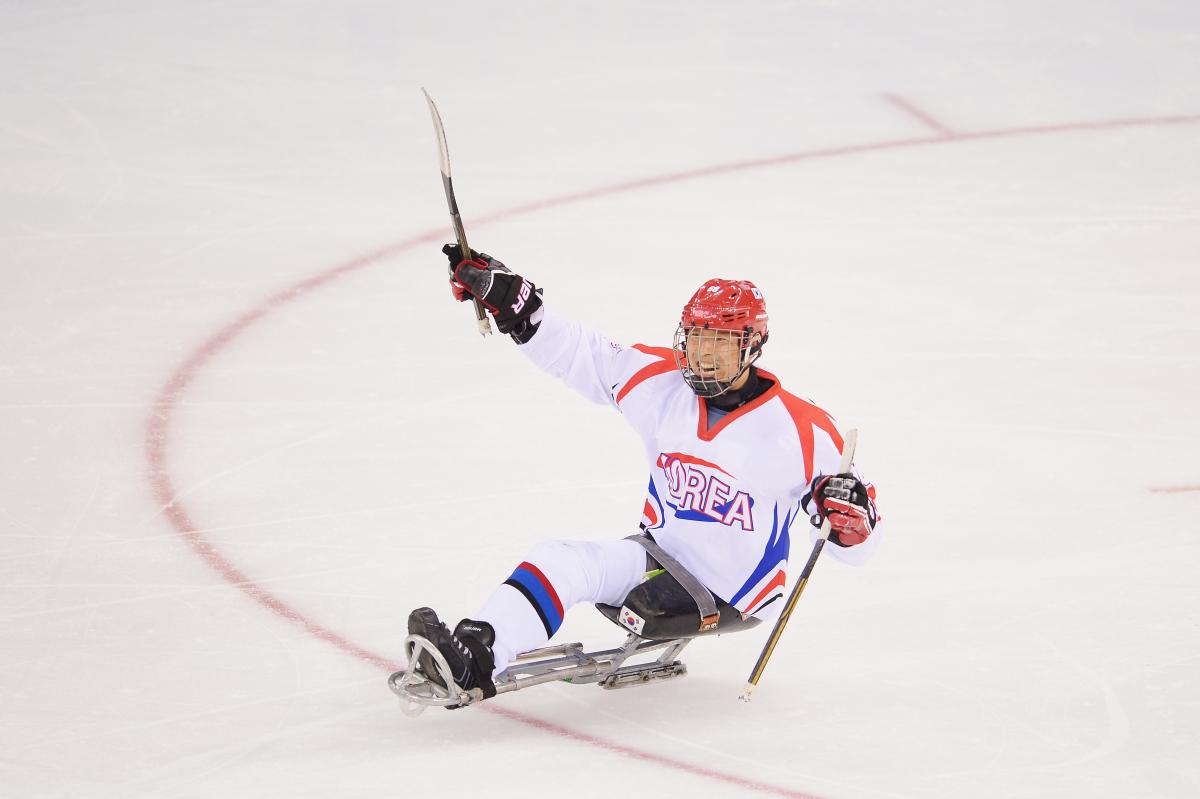 ⒸGetty Images
By Ryan McKenna | For the IPC
"Maybe we were too nervous, maybe somebody's head went round. It's difficult to talk right now. I feel devastated."
Day 1 of ice sledge hockey at the Sochi 2014 Paralympic Winter Games started off with a bang at Shayba Arena on Saturday (8 March) as two games were decided by shoot-outs.
A loud, near capacity crowd was on hand to cheer on their home country Russia, but it did not end the way they wanted it to, as No. 6 South Korea defeated No. 3 Russia, 3-2 in a shoot-out in Group B action.
In the fourth round of the shoot-out, Min-Su Han played the hero, scoring on Russian goaltender Mikhail Ivanov to give South Korea the victory.
"I'm proud of (Han), he has always been a good shooter. I had the belief that he could score for us," Ik-Hwan Kim, South Korea's head coach, said.
Every time that Russia touched the puck, the crowd cheered, something that may have rattled the nerves of the home team.
"Maybe we were too nervous, maybe somebody's head went round. It's difficult to talk right now. I feel devastated," Russian captain Dmitry Lisov, said.
Vasilii Varlakov and Evgeny Petrov led Russia offensively by each notching a goal and an assist. Han was the big threat offensively all night long for South Korea scoring two goals and helping his team come back from a two-goal deficit.
The other game that went to a shoot-out was between No. 4 Czech Republic and No. 5 Norway.
Veteran defenceman Rolf Pedersen scored in the third round of the shoot-out to lead Norway to an opening day 2-1 victory over Czech Republic in Group A preliminary round action.
Audum Bakke's second period goal got Norway on the board but it would be Michal Geier's goal just 1:17 into the third period would equalise the game.
Overtime would solve nothing before eventually Pedersen got one by Czech Republic's starting goaltender Michal Vapenka in the third round of the shoot-out.
Pedersen said after the game that his team's semi-final hopes rested on that game and it was a relief to notch the winning goal.
"I've done a few shoot-outs in my life," Pedersen said. "Last time it was in the Vancouver 2010 bronze (medal) game, then I did another trick (shot). This time I had a clear plan that I went 100 per cent for and it was beautiful to see the puck in the net."
The second game of the day featured No. 1 Canada and No. 8 Sweden, and right from the start, Canada dominated, and would end up winning 10-1.
The line of 17-year-old Ben Delaney, Tyler McGregor and Anthony Gale was on fire all afternoon long, combining for seven points.
Both Delaney and defenceman Adam Dixon had big afternoons, both finishing the game with four points including two goals and two assists.
For Delaney, scoring a goal in his Paralympic Winter Games debut and at such a young age was a great feat.
"Really exciting, I didn't expect it at all," Delaney said on his goal. "I went out wanting to play strong and I just kept hacking at it and it went in eventually,"
Forward Per Kasperi scored the lone Sweden goal in the third period, much to the joy of the loud Swedish crowd on hand.
Italy gave USA a run for their money in Group B preliminary round action but the USA offence proved to be too much, defeating Italy 5-1.
Fifteen-year-old sensation Brody Roybal, playing in only his ninth career game, scored two goals to lead his team offensively.
"Man, I was so excited," Roybal said after scoring his first goal.
"It was an amazing feeling to have my first goal here on the Paralympic stage. But we know it was my linemates who got me the (first) goal. Declan (Farmer) got the puck on net, I was right there for the rebound and buried the puck."
Florian Planker scored the lone Italian goal off a nice tip in front which prompted Italy chants to ring through Shayba Arena.
Steve Cash logged 40-plus minutes of shutout hockey in goal for USA to extend his Paralympic shutout streak to more than 256 minutes.