SP2017: Brazil dominates table tennis singles events
The hosts lead the sport's medals table after winning seven medals, including three golds, on Wednesday (22 March) at the Youth Parapans.
23 Mar 2017
Imagen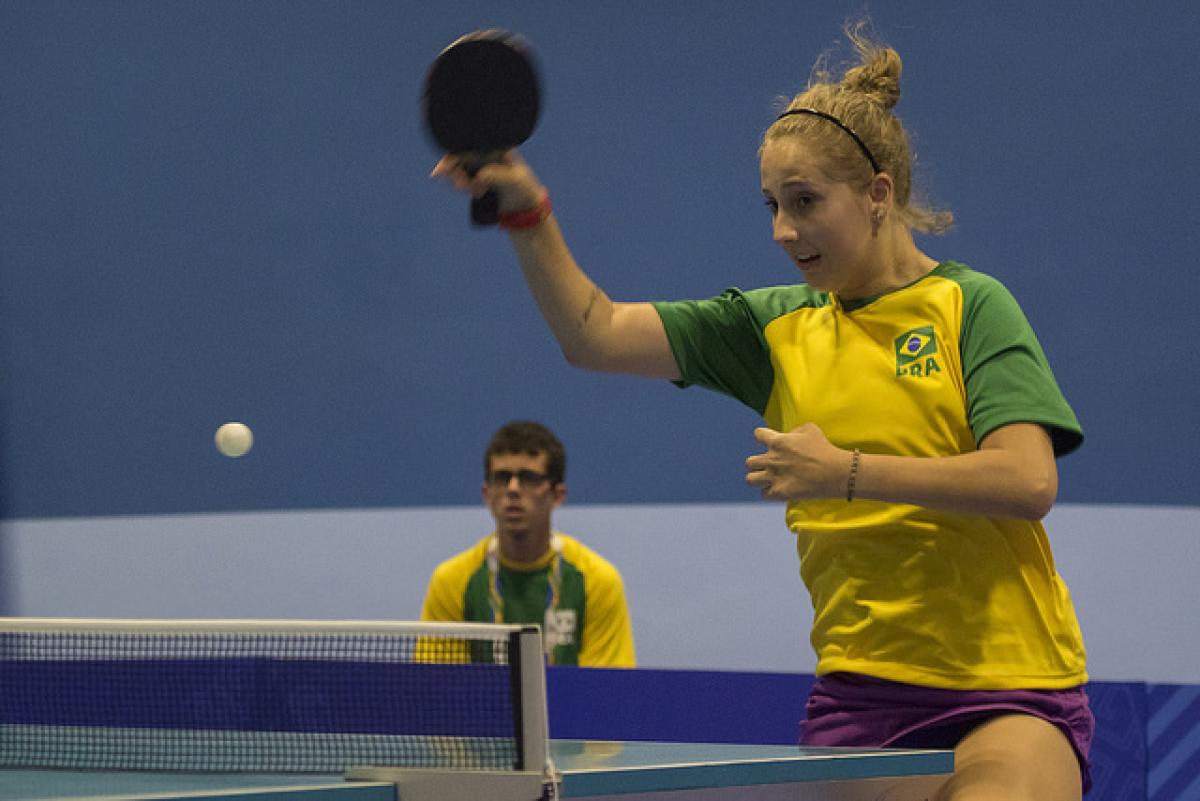 ⒸAlexandre Urch/MPIX/CPB.
Hosts Brazil dominated the table tennis singles events on Wednesday (22 March) at the Youth Parapan American Games in Sao Paulo by claiming three gold, two silver and two bronze medals.
Rio 2016 bronze medallist Danielle Rauen was crowned champion in the women's class 9, so was Lethicia Rodriguez in the women's class 8 and Gustavo Laskosky in the men's class 7.
"It was important to have the support of the crowd," said Laskosky. "I had not lost a single set in the previous matches but conceded the first set in the final. But, after that, the Brazilian crowd started cheering for me louder and that motivated me and made my rival feel more nervous."
Guilherme Rocha and Camila Ribeiro claimed silver in the men's and women's class 5, respectively, whilst Lucas Carvalho (men's class 10) and Marlison Alfaia (women's class 6) were Brazil's two bronze medal winners.
Colombia landed gold through Oscar Grueso Herrera (men's up to 72kg) and Brayan Rivera (men's up to 59kg) in the last day of powerlifting. In the women's up to 79kg, Marion Serrano gave Chile its fourth gold at Sao Paulo 2017.
Colombian swimmers excelled in the pool, winning six golds through Richard Vega, Omar Osorio, Diego Maldonado, Juan Mancilla, Brayan Sepulveda and Hilary Choachi.
Track athlete made history by becoming Aruba´s first medallist ever at any Paralympic, Parapan American or Youth Parapan American Games, after winning silver in the women´s 100m T12/13.
Argentina excelled in team sports, defeating Mexico 4-1 in football 5-a-side, and beating Chile and Peru in women's wheelchair basketball.
Argentina's world junior No.2 and strong favourite Antonella Pralong stood out on the second day of wheelchair tennis competition, sealing a 6-0, 6-0 win over Brazil's Jade Moreira to qualify for the next round.
Following their opening game loss to Argentina in football 5-a-side on Monday, Brazil bounced back with a 2-1 win over Colombia.
"I am so happy for winning, my legs hurt," said Brazilian player Maxwell.
Brazil's women's goalball team had a day to remember, defeating Mexico 12-2 to achieve their second victory in the competition.
"It was a tough game. The result implies it was an easy game, but we had to work hard to win," said Brazil's Geovana Moura.
The competition at the fourth Youth Parapan American Games will continue on Thursday, with medals being decided in athletics, judo, swimming and wheelchair tennis.
Brazil currently tops the overall medal standings with 32 gold, 17 silver and 19 bronze medals.
-------------
The 12 sports at Sao Paulo 2017 are athletics, boccia, football 5, football 7, goalball, judo, powerlifting, sitting volleyball, swimming, table tennis, wheelchair basketball and wheelchair tennis.
The 2017 Youth Parapan American Games will run until 25 March and feature a record over 800 athletes from 19 countries.
The last edition at Buenos Aires 2013 attracted more than 600 athletes from 16 countries, who competed across 10 sports. Brazil topped the medal table and 15 countries reached the podium at least once.
Barquisimeto, Venezuela, staged the inaugural edition in 2005, with athletes from 10 countries competing, whilst a total of 14 countries attended the event in Bogota, Colombia, in 2009.
For more information, visit Sao Paulo 2017's website.