Top 10 para-equestrian dressage moments of 2014
2014, the Chinese Year of the Horse, was a great year for para-equestrian dressage, both in and out of the arena.
28 Dec 2014
Imagen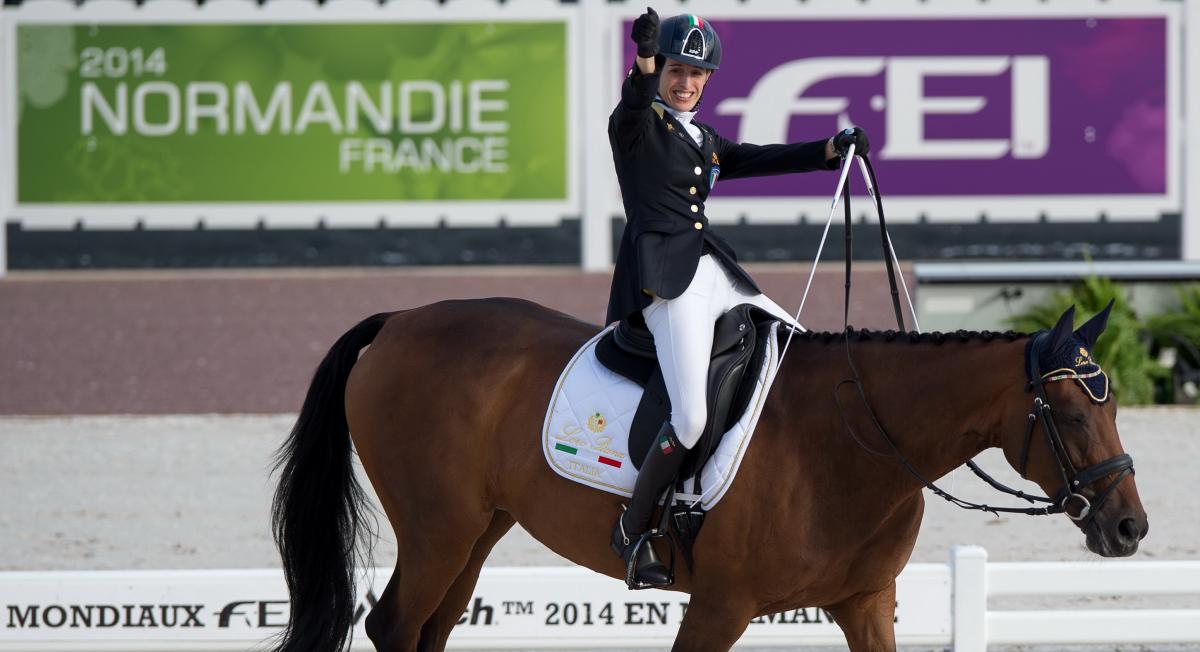 ⒸJon Stroud
By Robert Howell | For the IPC
Some of these special moments of efforts, challenges, emotion and friendship that come with a genuine top sport will definitely be engraved in our memories and hearts.
Here are our top 10 para-equestrian dressage moments of the year:
1. South Africa's double Beijing 2008 gold medallist Phillipa Johnson marries Ireland's London 2012 bronze medallist James Dwyer, a beautiful para-equestrian dressage love story.
2. The British Festival of Dressage at Hartpury College attracts a high number of overseas competitors for its para-equestrian dressage competition, with riders from as far afield as Singapore, Hong Kong, Brazil, Canada, Australia, and the US competing.
3. Great Britain's Natasha Baker throws herself out of an aeroplane to raise money for Dreamflight, a charity which takes disabled children on holiday to Florida every year.
4. Baker and fellow Brit Lee Pearson guest star on the British leg of the world famous Spanish Riding School of Vienna's UK tour.
5. Italy's Sara Morganti is a surprise, and surprised, winner of a gold and silver medal at the Alltech FEI World Equestrian Games in Normandy, France, in the Ia category. She is voted the Allianz Athlete of the month as a result, and comes 21st in the Top 50 Paralympic Moments of the year.
6. Holland's Rixt van der Horst goes one better and is a double gold medallist at the Games, her first World Championships, and collects a silver team medal. After these great achievements, she is nominated for the national all-sports awards in the Netherlands, the famous SportGala.
7. The competitors and officials at the para-equestrian dressage competition at these Games fall in love with Journey, the service dog of Team USA athlete Sydney Collier, the youngest athlete at the Games. Journey is the first dog ever to get his own accreditation for the event. In December, Journey creates a buzz again at the FEI Awards Gala 2014, presented by Longines, when he arrived on stage at the Buta Palace in Baku, Azerbaijan, complete with bow tie. After travelling over 9,000 kilometres from New York, Journey took to the stage to receive his own FEI Award, a personalised dog bowl, together with Sydney Collier, winner of the Against All Odds Award.
8. Continued growth of Singapore's Equal (Equine-Assisted Learning for At Risk Kids) Ark, a programme of horsemanship lessons for children experiencing a range of difficulties at home and at school. Equal Ark will enrol 400 students annually from 2015, and is aiming to double this from 2017. The programme wins the FEI Solidarity Award 2014.
9. On a slightly sadder note, 2014 also saw the end of the partnership between Great Britain's multi-gold medallist Sophie Christiansen and her long-time trainer and mentor Clive Milkins. Their last ride was in the freestyle competition at WEG, where Christiansen took silver, before Milkins headed off for a new job in Hong Kong.
10. HRH Princess Haya stood down from her presidency of the International Equestrian Federation. During her eight-year tenure the princess has seen a massive increase in the popularity and status of para-equestrian dressage, and leaves a strong legacy behind her. "She's brought inclusion from many countries that thought equestrianism was kind of elitist. She's kept us in the Olympics by making sure London was such a success, and she's modernised it. We're not riders, we're athletes," said the 10-time Paralympic champion Lee Pearson about HRH in an interview for CNN.
Related Images