Ukraine shine at Nordic Skiing Worlds
On day four of the 2013 IPC Nordic Skiing World Championships, Ukraine racked up six titles.
28 Feb 2013
Imagen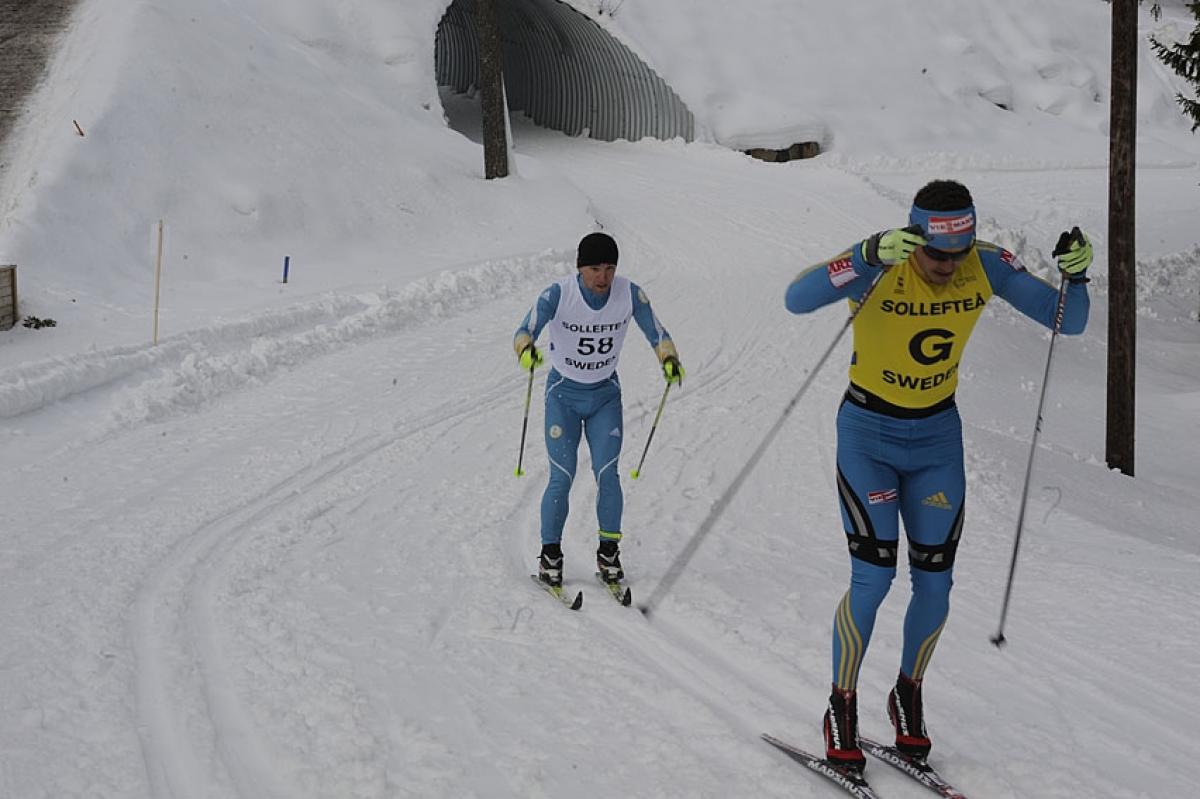 ⒸMartin Nauclzr
By IPC
"After the first cross-country race I had two days of rest, to relax and gather all my strength and I could feel the power today."
The fourth day of competition of the 2013 IPC Nordic Skiing World Championships in Solleftea, Sweden, was dominated by skiers from Ukraine, who secured a total of six medals on Thursday (28 February).
Defending world champion Olena Iurkovska started the Ukrainian medal spell by winning the women's sitting 6k biathlon race in a time of 21:17.3. With only one missed shot, which resulted in a penalty lap, the five-time Paralympic gold medallist was 43 seconds ahead of silver medallist Anja Wicker from Germany.
After crossing the finish line Iurkovska said: "The race went smooth today, except that I missed one shot and I broke one of my poles. Other than that the race was perfect.
"After the first cross-country race I had two days of rest, to relax and gather all my strength and I could feel the power today."
Second-place finisher Wicker missed two of her 10 shots but showed a strong performance on the slope to win her first international medal.
The 21-year-old, who will now be a German medal hope for Sochi, said: "It is so exciting. I can't believe it, I am speechless at the moment. I think it needs to sink in first.
I did not expect to win a medal, not in this field. But on the course it went really well. I am just really happy right now."
The bronze medal went to 22-year-old Marta Zaynullina from Russia, who finished her race with one missed shot in a time of 22:13.2
Iuliia Batenkova and Oleksandra Kononova added a gold and a bronze medal to the Ukrainian medal tally in the women's standing 6k biathlon race. It was the second gold medal for Batenkova in as many days, as she had already won the women's standing long distance race on Wednesday (27 February).
The multiple Paralympic medallist clocked an overall time of 18:54.6, missing just one out of 10 shots.
Kononova and Russia's Anna Milenina swapped places on the podium from Wednesday's cross-country long distance race.
This time, Milenina took home the silver medal, missing four shots and finishing in a time of 19:35.3. Kononova missed one shot more than Milenina, and crossed the finish line 16 seconds behind Kononova.
Team Ukraine bagged two more medals in the men's standing category with Grygorii Vovchinskyi finishing in second and Ihor Reptyukh in third place. The gold medal in this category went to Canada's Mark Arendz. The Canadian, who will turn 23 on Sunday (3 March) won himself an early birthday present by missing just one shot and finishing 20 seconds ahead of Paralympic medallist and double world champion from 2011, Gregorii Vovchinskyi.
Reptyukh added a second bronze medal to his personal tally, after already winning bronze in the cross-country skiing long distance race.
The last Ukrainian medal of the day was won by Anatolii Kovalevskyi and his guide Oleksandr Mukshyn, who finished second in the men's visually impaired category with a perfect shooting performance and a time of 22:04.1.
They had to leave the gold medal to Russia's Nikolay Polukhin and his guide Andrey Tokarev, who were unbeatable on the slope today and finished 57 seconds ahead of the Ukrainians.
The bronze medal went to Belarusian Vasilii Shaptsiaboi and his guide Mikhail Lebedzeu. The Paralympic medallist from the Vancouver 2010 Games missed just one shot and was only six seconds behind silver medallist Kovalevskyi.
The closest race of the day was the men's sitting 7.5k biathlon event. Grigory Murygin from Russia, one of the youngest athletes at these World Championships at 18, and Japan's Kozo Kubo both put on a perfect performance in the shooting range with no missed shots, as well as on the slope.
In the end, Murygin was just 0.5 seconds ahead of Kubo to win the gold medal. For Kubo, it was already the second silver medal of these championships.
Double world champion Roman Petushkov or Russia had to settle for the bronze medal this time, missing two of 10 shots and finishing in a time of 21:46.5.
In the women's visually impaired category, it was once again an all-Russian podium, which has been the pattern all week in Solleftea.
This time, Mikhailina Lysova and her guide Alexey Ivanov secured the gold medal. Lysova missed only one shot overall and proved to be unbeatable on the slope, finishing almost one minute ahead of her compatriot Iulia Budaleeva.
"It's a gold medal and I am very happy, even though my last shooting part was not so good," Lysova said.
Looking ahead to her home Games in Sochi in 2014 she added: "My goal will be to win six medals, ideally six gold medals."
Budaleeva had also missed one shot, but was not as strong on the slopes.
With six missed shots, Russia's Elena Remizova seemed to have lost all her medal chances, but she put in everything she could on the slope to win that bronze medal.
All events from the Championships will be streamed live on the IPC's YouTube channel, www.YouTube.com/ParalympicSportTV.
For more information on the 2013 IPC Nordic Skiing World Championships, please visit the event website at www.ipcnordicskiingworlds.org.
You can also follow the action on Twitter @IPCNordic and like the sport's Facebook page, www.Facebook.com/IPCNordicSkiing.