Ulset tips Bye as next big thing in Nordic skiing
Norway's Paralympic and world championships medallist believes that his up-and-coming teammate Eirik Bye has the potential to make a big impact.
05 Nov 2015
Imagen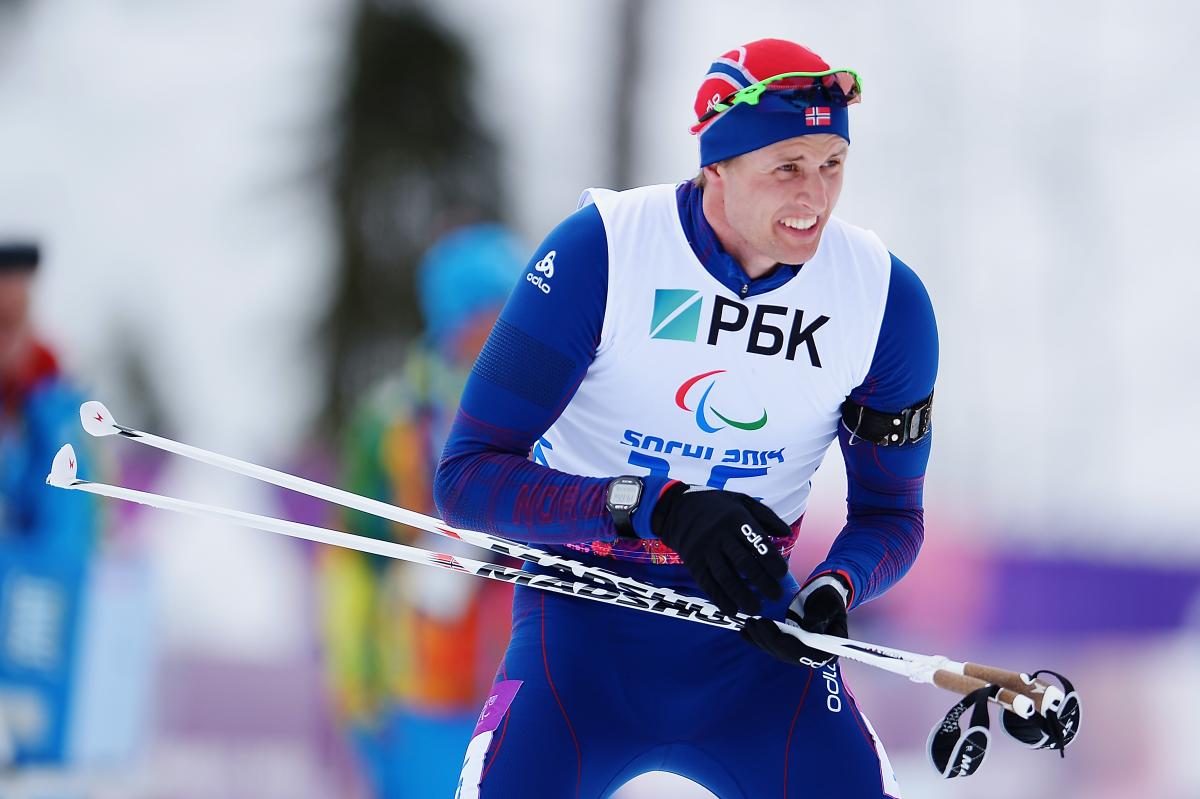 ⒸGetty Images
By By Richard Waterhouse | For the IPC
"He's definitely going to be one to watch in the future - he'll be ready and skiing fast in 2018."
Norwegian triple Paralympian Nils-Erik Ulset has tipped his 20-year-old teammate Eirik Bye for greatness ahead of the start of the 2015-16 IPC Nordic Skiing season.
On his debut, Bye won the 2014-15 overall men's visually impaired World Cup title with guide Kristian Myhre Hellerud. Ulset, a standing skier, believes that in the build-up to the PyeongChang 2018 Paralympic Winter Games Bye will continue to improve.
"He's definitely going to be one to watch in the future - he'll be ready and skiing fast in 2018." Ulset said. "A lot of his competitors didn't enter all the World Cup rounds but still he is strong and motivated and he has got a very supportive team around him so he'll continue to be a challenger."
Ulset's prediction is also not just based on instinct, but on his own experience.
"I went to the same high school and skied there so we have the same background and the same training philosophy and I remember how important my time there was," he said. "That could be a big factor for him going into the future."
Ulset won two gold medals at the Paralympic Winter Games in Salt Lake City in 2002 at the beginning of his Paralympic career, going on to grab a further nine medals in 2006, 2010 and 2014. Since his debut he has witnessed a lot of changes which he feels will help Bye with his progress.
"When I started we had our own disabled sport federation and we did not have the competence or dialogue with the IBU [International Biathlon Union] and the FIS [International Ski Federation] athletes like we have today,2 he said."We didn't go to training camps with them like we do today and so having the support like we have now is a big improvement since I started skiing."
Thinking about his own season, Ulset was encouraged by his performances in 2014-15.
At the 2015 World Championships in Cable, USA, he sealed three podium finishes. He rounded off the season at the World Cup in Surnadal, Norway, where he finished second in the men's cross-country long distance standing - one of the closest races. He crossed the line just one second behind Ukraine's Ihor Reptyukh and ahead of Russia's Vladislav Lekomtcev who won the overall men's standing title.
Since the final meeting in his native Norway, Ulset has switched up his training and the transition has allowed him to see more of his local surroundings.
"Over the summer I have been doing a lot more roller skiing and running. In past seasons I have done a lot of biking and bike races but this time I wanted to vary it up to work on my endurance," He explained.
"At the same time I got to discover how beautiful some of the mountainous areas are around where I live."
The 32 year-old has outlined his team's ambitions for the upcoming season and where they will be looking to make ground.
"This season we are focussed on the World Championships [scheduled for 2017] and so I'm aiming to be at my peak around that time. We will be going Tyumen, Finsterau and then Vuokatti the month after.
"We will see what everybody wants to do in January. I would like to see another World Cup event around that time but I will be competing in some more able-bodied races in Norway as well during the season."
The IPC Nordic Skiing World Cup begins on 2 December in Tyumen, Russia, continuing on 24-28 February in Finsterau, Germany, and then Vuokatti, Finland on 15-20 March.