WeThe15 named best inclusion campaign at 2022 Leaders Sports Awards
The campaign won the Inclusion Award on 27 September for making a difference in sport and beyond
28 Sep 2022
Imagen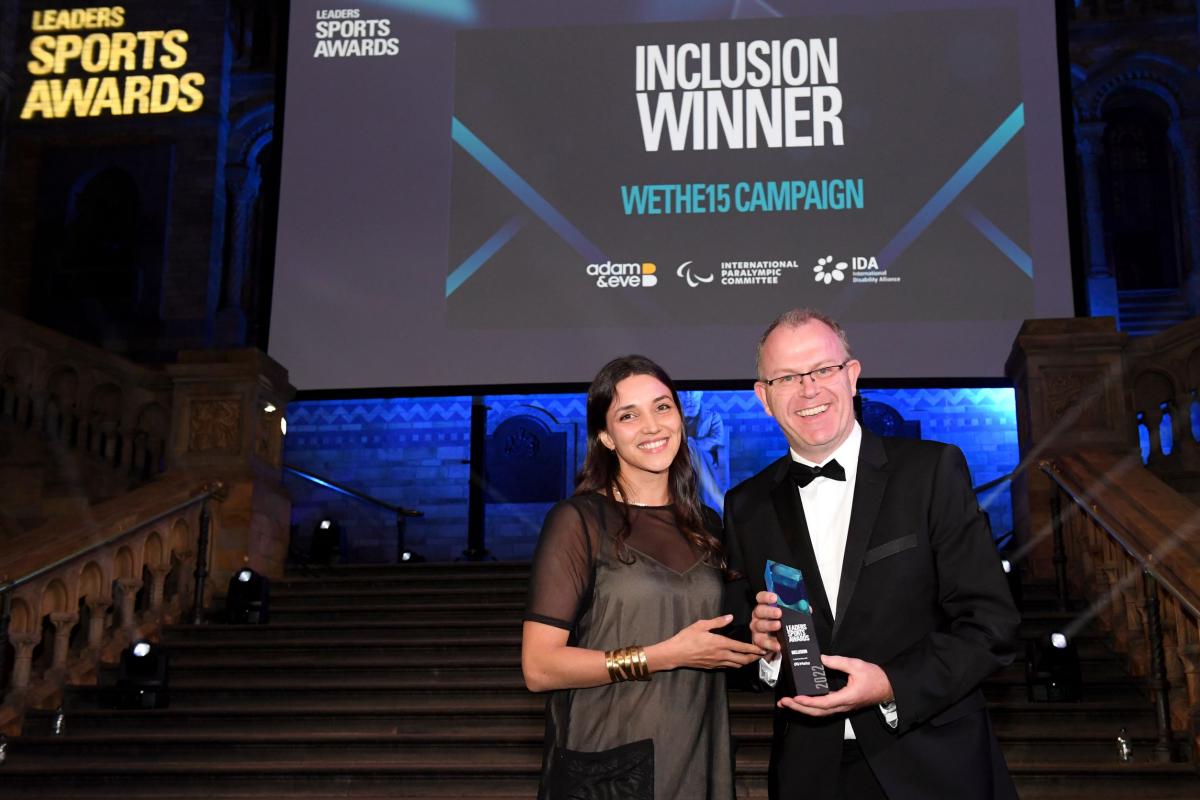 Ⓒ2022 Leaders Sports Awards
By IPC
WeThe15, which aims to become the biggest ever human rights movement to represent the world's 1.2 billion persons with disabilities, was named best inclusion campaign at the 2022 Leaders Sports Awards. 
WeThe15 won the Inclusion Award at a ceremony held in London on 27 September. The award, which was presented in partnership with Meta, is designed to celebrate and award projects and initiatives that foster inclusion, equality and diversity. 
WeThe15, which was launched ahead of the Tokyo 2020 Paralympic Games, aims to end discrimination and transform the lives of persons with disabilities and campaign globally for disability visibility, accessibility, inclusion and equality of rights.
Craig Spence, Chief Brand and Communications Officer at the International Paralympic Committee (IPC), who collected the award on behalf of the WeThe15 campaign, said: "Thank you to the judges of the Leaders Awards for recognising the impact that the WeThe15 campaign is having on raising awareness that 15 percent of the world has a disability and the voice it can give the 1.2 billion persons with disabilities. 
"Sport is an important element of WeThe15, with the IPC, Special Olympics, Invictus Games Foundation and the Deaflympics working together for the first time. We are committed to using our international sport events over the next decade as a campaigning platform for disability visibility, accessibility, inclusion, and equality of rights. Working together we can create a sports industry that has persons with disability at the table and on our television screens."
The campaign brings together the biggest coalition of international organisations from the worlds of sport, human rights, policy, business, arts and entertainment, including representative organisations of persons with disabilities. Together they will work with governments, businesses, and the public over the next decade to initiate change.
The IPC and International Disability Alliance (IDA) have been spearheading the movement, which has picked up numerous major international awards since its launch.
"All of the founding partners are pleased that the launch of WeThe15 created such global awareness, but it is also important that we turn that initial awareness into action," Spence said.
"Shortly there will be an important update on the next stage of the campaign that will endeavor to engage the 85 percent without disabilities. We plan to bring disability into the diversity and inclusion conversation in a way that it hasn't been to date."
The founding partners of WeThe15 are the IPC, International Disability Alliance, Special Olympics, Invictus Games Foundation, the International Committee of Sports for the Deaf (Deaflympics), UN Human Rights, UNESCO, the UN SDG Action Campaign, the European Commission, The Valuable 500, Global Citizen, Global Disability Innovation Hub, the UN Alliance of Civilizations (UNAOC), International Disability and Development Consortium, C-Talent, Global Goals Advisory, ATscale – the Global Partnership for Assistive Technology, Zero Project, and the Global Alliance of Assistive Technology Organisations (GAATO).