Wheelchair Basketball Finals Set at BT Paralympic World Cup
USA and Great Britain will play for gold on the men's side and Germany will challenge Australia for the title on the women's side on Saturday in Manchester.
26 May 2012
Imagen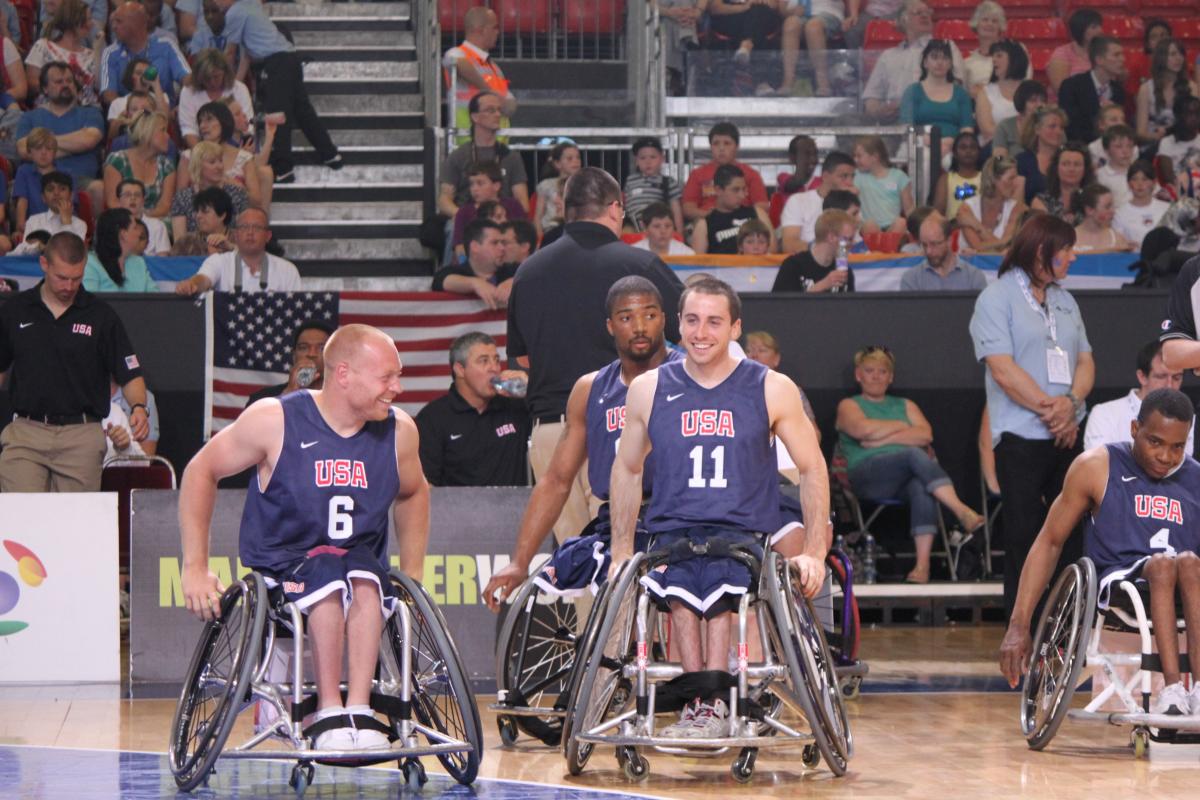 ⒸIPC
"We didn't capitalize on everything we wanted to capitalize on, but it was nice to dig deep and still come out with the win."
After a fierce day of competition the Wheelchair Basketball finals are set at the BT Paralympic World Cup, with Great Britain set to challenge USA on the men's side and Germany ready to face Australia on the women's side.
Japan will face Germany for the men's bronze medal and USA will face Great Britain for third place in the women's competition, with all the action starting at 9:15 local time on Saturday (26 May) morning.
In arguably the closest back-and-forth battle yet on the court in Manchester – a game that included 22 lead changes – USA pulled out a 64-59 win against Germany on Friday to remain undefeated heading into the finals.
While the Germans won the rebounding battle and brought an unexpected intensity to make it a tie game at 30 apiece by halftime, USA's 16 fast-break points on the day and a key upsurge by Steve Serio and Paul Schulte in the second half kept the Americans on top until the end.
"We've been real happy with our performance overall," Schulte said. "We were a little bit colder shooting today than in our GB game where we just couldn't seem to miss, but we know we're going to play games like this.
"We didn't capitalize on everything we wanted to capitalize on, but it was nice to dig deep and still come out with the win."
Sebastian Wolk finished the game with 16 points and grabbed 14 rebounds for the Germans, and Thomas Boehme bucketed 14.
Great Britain than made a major comeback in the second game, falling behind by as many as 16 points early, but Simon Munn and Ian Sagar worked together to muster enough of an offensive spark to rally the home team to a 59-50 victory in front of a rowdy crowd.
Munn finished the game with 20 points and 15 rebounds, while Sagar tallied 19 points and snagged 11 rebounds to ensure both recorded double-doubles.
"We fought hard to come back, but we can't play like this if we want to do well and medal at the Paralympics," Munn said.
Japan's Hiroaki Kozai and Reo Fujimoto both had stellar performances with 19 points and 10 rebounds and 19 points and 11 rebounds, respectively, but they received little help from their teammates to close it out in the second half.
In the women's competition, Germany defeated Great Britain, 52-42, to remain undefeated heading into the gold-medal game. In a testy matchup that included 23 turnovers – many which were forced – Gesche Schunemann anchored Germany with 20 points and 13 rebounds.
"Everyone can score on the team, so it doesn't matter who the high scorer is, if it's me or anybody else," Schunemann said earlier in the week.
Marina Mohnen helped her out by playing tough defense and adding seven points and grabbing six rebounds.
Mohnen insists the finals, meanwhile, will be at a whole different level than playing against Great Britain.
"That will be a different game than today, so we have to focus and prepare and it will be a tough game," she said.
Helen Freeman was the lone Brit to crack double figures, putting up 11 points to go along with five points and four assists for the home squad, which has yet to win a game in Manchester.
In the final game of the day, Australia upended tournament favourites USA, 54-40 to advance to the women's final, leaving the Americans to challenge the British for third place.
Cobi Crispin led the Australian attack with 13 points, and Sarah Stewart added 10 points. Desiree Miller had a standout performance for USA with 16 points and Becca Murray chipped in 12.
Related Images