Wheelchair tennis draw made at Eton Manor
Esther Vergeer looks to continue remarkable winning record
30 Aug 2012
Imagen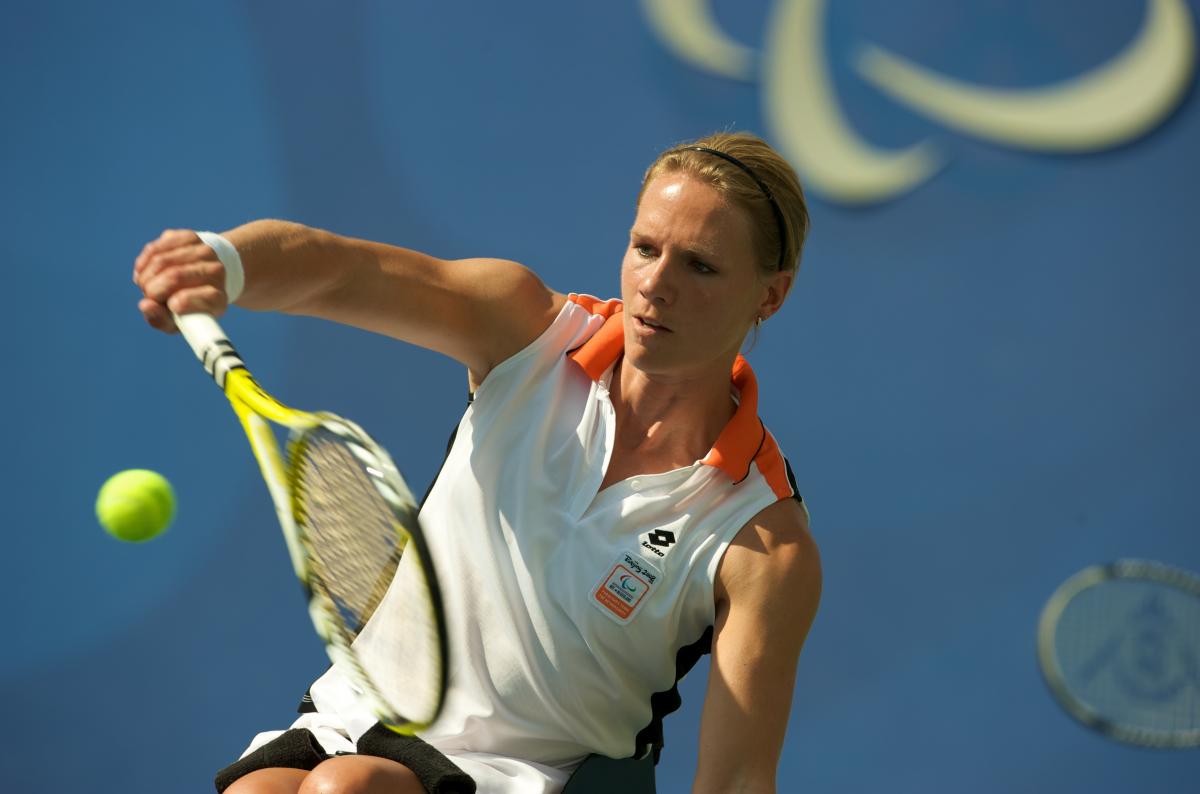 ⒸLieven Coudenys
Vergeer now has a winning streak that stretches to 465 matches, and remains a real force to be reckoned with on the court, but she doesn't take her opponents lightly.
The draw for the London 2012 Paralympic wheelchair tennis took place at Eton Manor on Thursday (30 August), in front of a packed crowd of players and national team members, all keen to see how the line-up for the first round would unfold.
Referee Anders Wennberg presided over the draw for the six medal events - men's singles, women's singles, quad singles, men's doubles, women's doubles and quad doubles - which were randomly processed by computer.
In total, 112 players from 31 nations will take part, with the opening matches starting on court on Saturday at Eton Manor, the only purpose-built Paralympic venue for London 2012.
In the women's singles, top seed and three-time Paralympic champion Esther Vergeer kicks off the defence of her title with a match against Kanako Domori of Japan, whilst in the other half of the draw, her compatriot and number two seed Aniek Van Koot faces Australian Janel Manns.
Vergeer now has a winning streak that stretches to 465 matches, and remains a real force to be reckoned with on the court, but she doesn't take her opponents lightly.
She said: "Looking at the girls on my side of the draw, it is going to be a tough one. Katharina Kruger from Germany, Daniela Di Toro from Australia and Jiske Griffioen from Holland – they are all girls that I've played before and I know I can beat, but it's going to be a big challenge and a big fight to come all the way through to the final.
"It's a good first round to get started and to see how the level is, and what the atmosphere is when there are people in the stands. I'm ready and I want to play. I'm confident and I would really like to add a gold medal to what I have already."
In the men's singles, top seed and 2012 French Open champion Stephane Houdet plays Suthi Khlongrua of Thailand, whilst Japan's defending Paralympic champion Shingo Kunieda takes on Rafael Medeiros Gomes from Brazil.
In the men's doubles the top four teams received a bye through to the next round due to the total number of teams competing overall, allowing Houdet, who plays alongside fellow Frenchman Michael Jeremiasz, some respite from a demanding schedule.
Similarly in the women's doubles, 12 teams take part in a 16 team draw required to make up the numbers for the quarter-finals, with the top four seeds receiving a bye into the second round.
In the quad singles, US athlete and top seed David Wagner faces South Africa's Lucas Sithole in his opener.
"It's great to be here in London, although it is a little cold," Wagner said. "Even before I saw the draw I was excited about this tournament. It's a great opportunity to play the best tennis you can play and showcase what you can do.
"Just because you now know who you're playing doesn't make it any easier. It's a tough draw, all 16 players in our draw are the best 16 in the world, so from day one you have to give it everything you've got.
"I'm healthy and I feel good, I'm just anxious and excited to get started. I think I've only played Sithole a couple of times in doubles, so I'll go home and go over some of my notes and see what I can find out, then get out there and do the best I can."
Global football legend Johan Cruyff, founder of the Johan Cruyff Foundation which supports and promotes wheelchair tennis in developing countries, was also in attendance.
The Dutchman, who was voted football's European Player of the Century in 1999, and now dedicates much of his time to wheelchair tennis, said: "It's an exciting game to watch. This sport teaches you a lot about life and what sport can do for everybody to be independent. What I admire the most is the character of the players - they know no limits."
To see the full story view here